This guide will demonstrate how to set up and use Apollo Group TV IPTV on Amazon Fire TV devices, including Amazon's FireStick Lite, FireStick 4K, Fire TV Cube, and Fire TV devices in general. We will also go through the pricing, the service's legal status, and whether or not it should be worth your money.
In 2022, you can enjoy a seamless cord-cutting experience on Amazon FireStick without spending hundreds of dollars across numerous OTT apps like Netflix, Amazon Prime, Disney+, etc. You get the picture. With the emergence of IPTV services, there are now pretty powerful alternatives to the streaming industry. On FireStick alone, you can effortlessly access thousands of TV series, movies, and live TV channels using a reliable IPTV provider like Apollo Group TV.
There are a ton of IPTV services available online. It can be challenging to select the one that best suits your requirements and preferences. Apollo IPTV easily merits our endorsement for many reasons.
Apollo Group TV IPTV is available on most platforms you can think of: FireStick, Android, Android TV, iOS, Mac, Windows, NVIDIA Shield, and a plethora of others.
Please read through the following disclaimer before we dive into our Apollo IPTV Review.
Disclaimer: This tutorial is meant to be educational only. No streaming apps, addons, IPTV, or services are owned, hosted, operated, resold, or distributed by us. Some of the services on the page are unconfirmed, and we are unsure if they have the right to disseminate the content. We do not independently confirm the legitimacy of any software or service. Use caution if you use any unreliable apps or services and only stream content that is freely accessible. The media accessed shall be the sole responsibility of the end-user.
What Is Apollo Group TV?
Apollo Group TV is a great IPTV service that give you access to many TV shows & live TV channels, and movies for a reasonable monthly price. You can access all content with the default Apollo app, or you can stream high-quality content straight to your phone, Android TV Box, or Amazon Firestick whenever you want.
To sign up for Apollo Group TV, visit their homepage and scroll down. You'll find the different pricing tears and can sign up there. You'll receive all necessary login information shortly afterward per email, including your credentials and password.
One significant aspect of Apollo IPTV is it not being limited to only its native Apollo Group TV app. The service can be easily used with other IPTV players like IPTV Smarters, Flix IPTV, or TiviMate IPTV. This means you can get the best out of your Apollo IPTV subscription on any Smart TV and device
Is Apollo Group TV legal? Is Apollo Group TV safe?
There's no simple yes or no answer here. It's a bit more complicated. Although you can install Apollo Group TV service legally, accessing copyrighted material is not. That's the case in most jurisdictions and countries. All major platform, Apple, Google and Amazon have decided not to allow Apollo Group TV on their app stores to avoid potential issues for them. So you won't find a native Apollo Group TV app on the Apple Appstore, the Google Play Store or Amazon's App Store.
So as with many things, the answer is that it depends. More than 7300 live TV stations from various countries are available on Apollo IPTV. If the content has officially been licensed in your country by a media organization, it's not illegal to watch it. But you could get in legal trouble if you attempt to use Apollo IPTV to watch unlicensed content.
We don't encourage you to violate copyright laws. But it can be tricky. How do you know which content has been correctly licensed? You might accidentally watch unlicensed content on your Firestick via Apollo IPTV. Then, how do you protect yourself? Use a trustworthy VPN service like NordVPN to keep yourself safe. The VPN hides your IP address from traffic from any authorities, making you as the viewer untraceable.
Apollo IPTV Plans & Pricing
Unlike many IPTV services, the Apollo Group TV service offers flexible pricing to help people sample the product before they sign up fully. Apollo Group used to offer a 10-day free trial to test our the service but later got rid of it. It's back now, as you can sign up for a 10-day trial account on their website as of July 2022. Should they decide to remove it again, you'll need to just sign up for the monthly plan.
What's great is that even the entry-level plan allows for connections for five devices, allowing you to simultaneously utilize Apollo IPTV on five devices. Other IPTV providers charge more for additional connections in contrast to Apollo IPTV.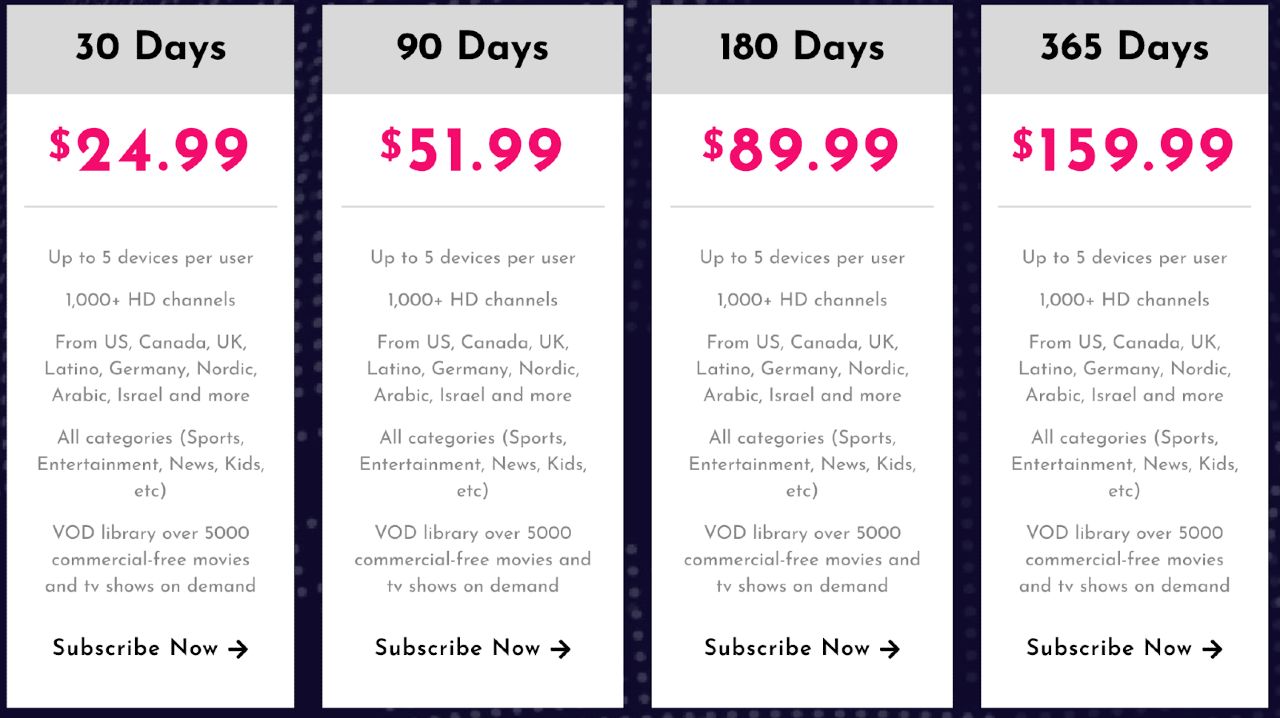 Let's take a look at the different Apollo TV pricing plans. As you can see the only thing that changes is the subscription length and price:
$24.99 – 1 month. Five simultaneous connections, Access from the US, CA, UK, DE, Latin America, Nordics, Middle East, Israel, and many more countries, All categories (Sports, Entertainment, News, Kids, etc.), and over 5000 commercial-free movies and TV shows on demand.
$51.99 – 3 months. Same features as 1 month plan
$89.99 – 6 months. Same features as 1 month plan
$159.99 – 1 year. Same features as 1 month plan
Apollo IPTV accepts payments using all the popular credit cards, including Visa, Mastercard, and PayPal as well as payments in Bitcoin.
If you want to check out Apollo Group IPTV, get the monthly plan first or check out if the 10-day trial is currently available. If you like the service, you can switch to a three or six-month subscription after the first month. You should only go with the yearlong plan if unexpected downtime isn't a big issue for you. Apollo IPTV has a habit of abruptly going down from time to time.
Apollo TV IPTV Overview
A lot of live TV Channels are simply one aspect of Apollo IPTV service. It includes a lot of goodies that make the subscription worth it. Let's take a look at all of the Apollo IPTV features available with even a one-month subscription.
More than 1000 live TV channels across different categories incl. Sports, Entertainment, News, Kids, etc.
Electronic program guide (EPG) to research upcoming and past shows
M3U URL support
Mobile video recording capability
Catch-up option
Works well with most IPTV players
Compatible with NordVPN
Up to five simultaneous device connections
Support for external video players
Cross-platform availability
Movies and TV Shows as VOD (video-on-demand)
Multiple payments options (Visa, Mastercard, PayPal, Bitcoin)
Subscribing to Apollo Group TV
Apollogroup.tv is the official website for Apollo Group TV IPTV.
Check out the various plans on the homepage of the Apollo website by clicking the link mentioned earlier. Create an account by clicking the Subscribe Now button at the bottom.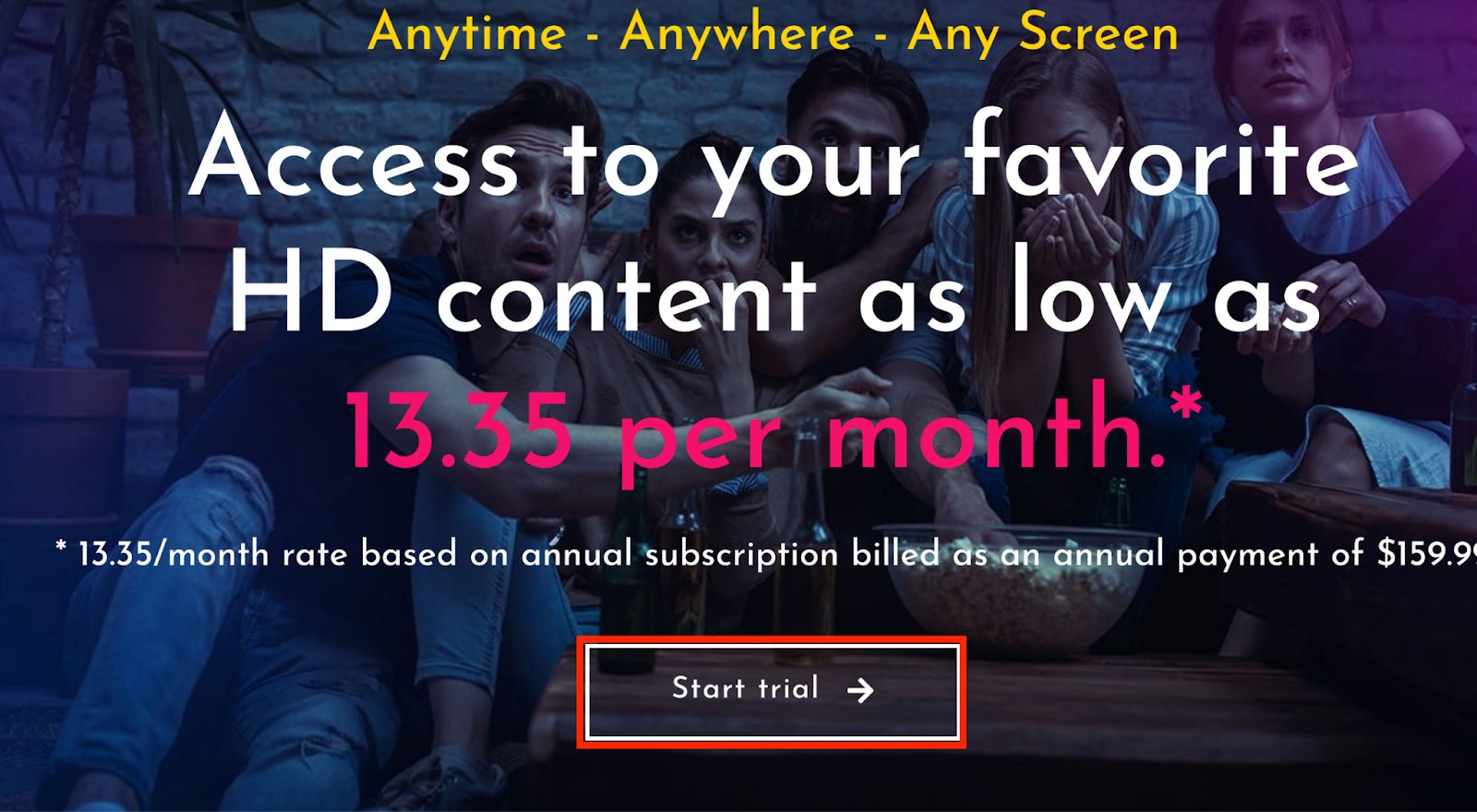 Add your first and last names and email address, and choose your payment option to join the service. Your email inbox will soon contain a confirmation email, including all necessary account information.
How to Install Apollo Group TV on FireStick
We'll walk you through all the steps necessary to download, install and set up Apollo Group IPTV to work on your FireStick. As previously discussed, we can't just download the Apollo app from the Amazon App Store since it's unavailable due to the Apollo Group TV legal aspects. So, we'll use the Downloader app to install Apollo Group TV on your Fire TV Stick. Let's prepare.
Preparing the Installation of Apollo Group TV on FireStick
First, you need to set up your Firestick so that it doesn't stop you from installing third-party apps. By default, Firesticks are set to block potentially harmful applications before they are installed. But if you know what you're doing, you'll be completely fine.
But more importantly, you want to stop the folks at Amazon peeking into what you're up to. If Amazon sees that you could potentially use your Firestick to use an IPTV service to access unlicensed material, they'll shut it down.
Turn Off The FireStick Snooping Settings
1. Find Preferences
Navigate to the Amazon Firestick menu and then find Preferences.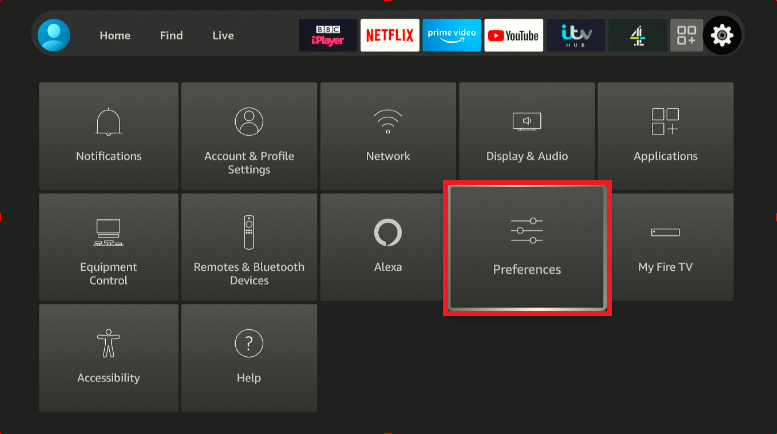 Click on it to find the Privacy Settings.
2. Choose Privacy Settings
About halfway down the menu, you will see Privacy Settings.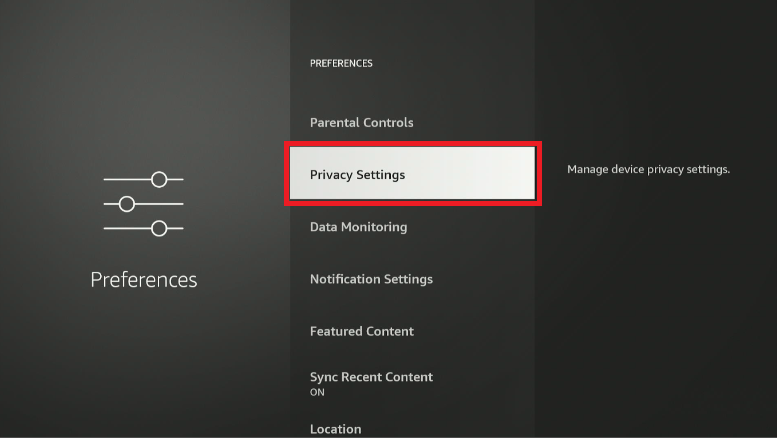 Click it to see how Amazon has been collecting your data.
3. Stop Amazon From Snooping
If you're security conscious, this is a very important step. We want to turn off:
Device Usage Data
Collect App Usage Data
Once these aren't turned off, Amazon will no longer block you from using Apollo Group TV's IPTV service.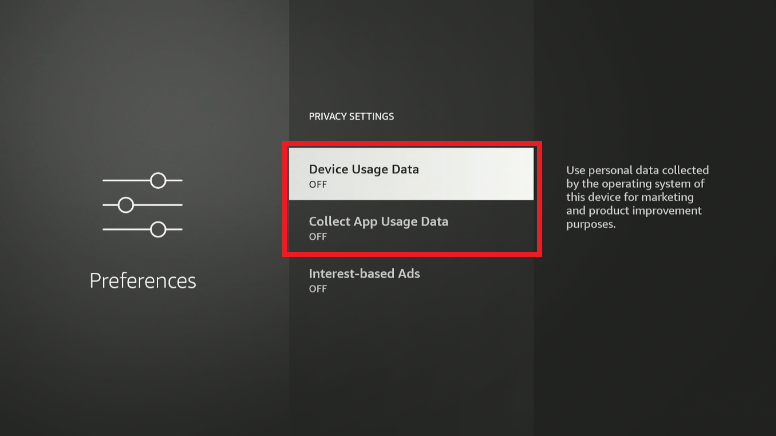 Allowing Third-Party Apps
Because Apollo Group TV isn't available through the App Store, it's considered a third-party app from an unknown source. Sounds suspicious, right?
Don't worry about it – all that means is that Amazon doesn't sign off that it is virus-free. Thankfully, we know that the Apollo Group TV website is free of viruses, so it's all good.
1. Find My Fire TV
Navigate to the Firestick menu and go to My Fire TV.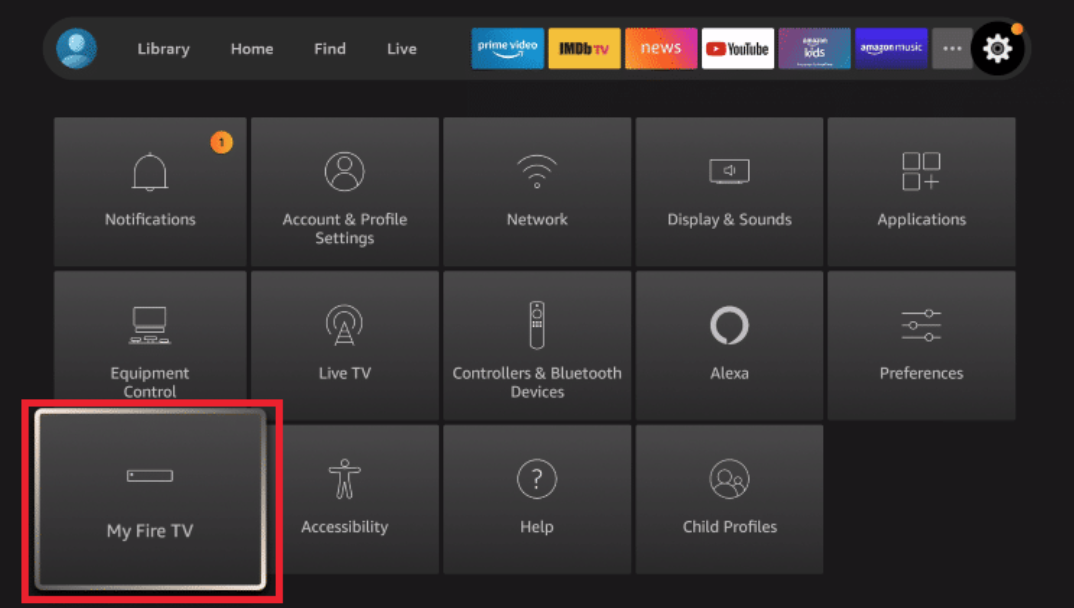 Click here to find the Developer Options.
2. Go to Developer Options
First things first – don't worry about the word developer here. We're just allowing certain settings that the Firestick doesn't usually allow.
Developer options should be near the top of your Firestick My Fire TV menu.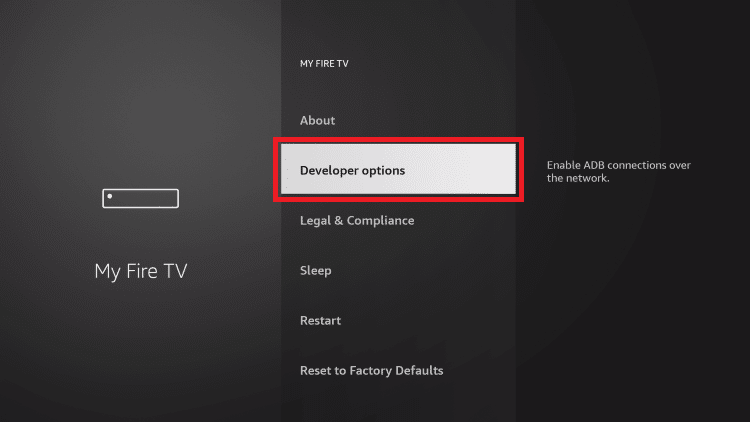 Click on it, and we're almost done.
3. Allow to Install Unknown Apps
You'll see two options here, but you'd only want to select Install unknown apps. Click to open the menu, and then you will have to do one of two things: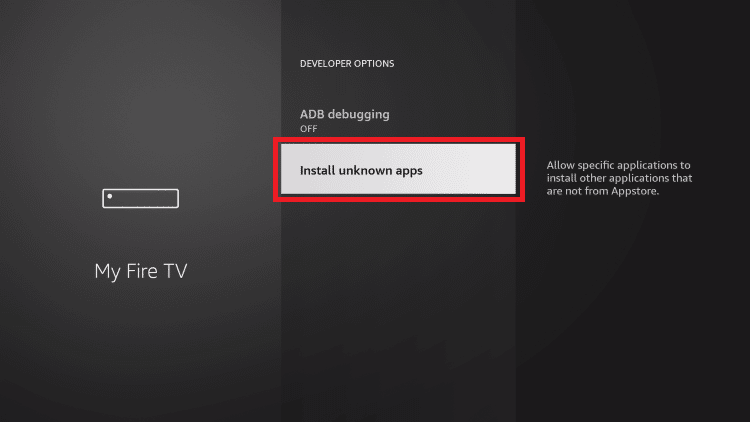 If you are using a new Firestick, click OK – this allows all unknown apps
If you are using an old Firestick, you may have to individually select each app that is allowed to install unknown applications.
Then we're done – we can move on to install Apollo Group TV.
Installing Apollo Group TV on Firestick
Actually getting Apollo Group TV on your Firestick takes a little bit of patience. This is because you can't just install Apollo Group TV and be done with it – you need an IPTV Player app. That's because the Apollo Group TV app isn't available on the official Amazon App Store, remember? But using an IPTV service as a player instead is a great workaround. So far, we've had the best experience using IPTV Smarters, so you'll find out how to install that and set up Apollo Group TV on your device through that app.
Install IPTV Smarters Player
We need a way to get IPTV Smarters onto the Fire TV Stick first, as we'll integrate Apollo's IPTV service into the Player. We will use the Downloader app to do that (available through the Amazon App Store).
1. Install Downloader
First, head to Find and then Search.
You need to search for Downloader app. The auto-complete list should pop up for you, saving you from typing the whole thing.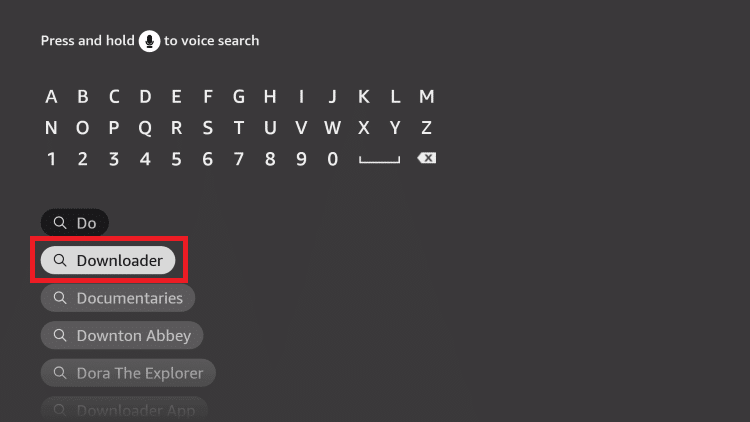 Then find the Downloader app and add it to your app collection.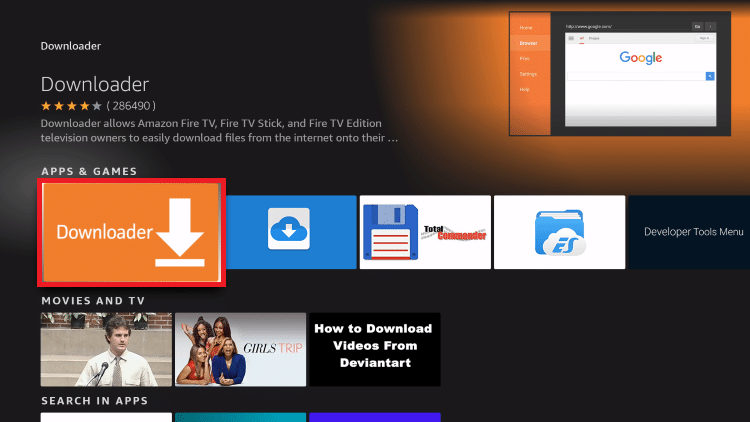 2. Search for IPTV Smarters
Now open the Downloader app and type in this URL: https://vpnch.ec/iptv-smarter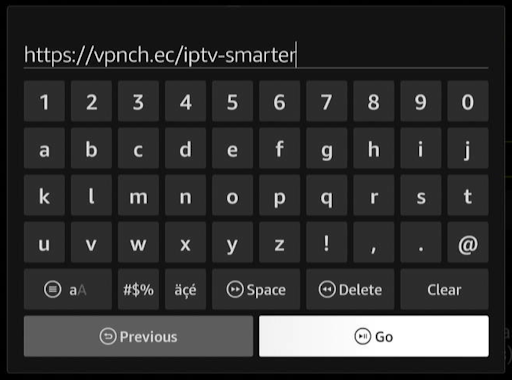 When you've typed it in, click Go, and the APK download should automatically begin.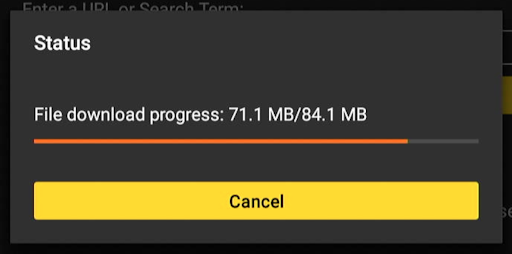 Wait for this to finish, and the APK will be on your system.
3. Install the IPTV Smarters App
If everything has gone well, your Firestick should automatically open the install dialogue box for IPTV Smarters.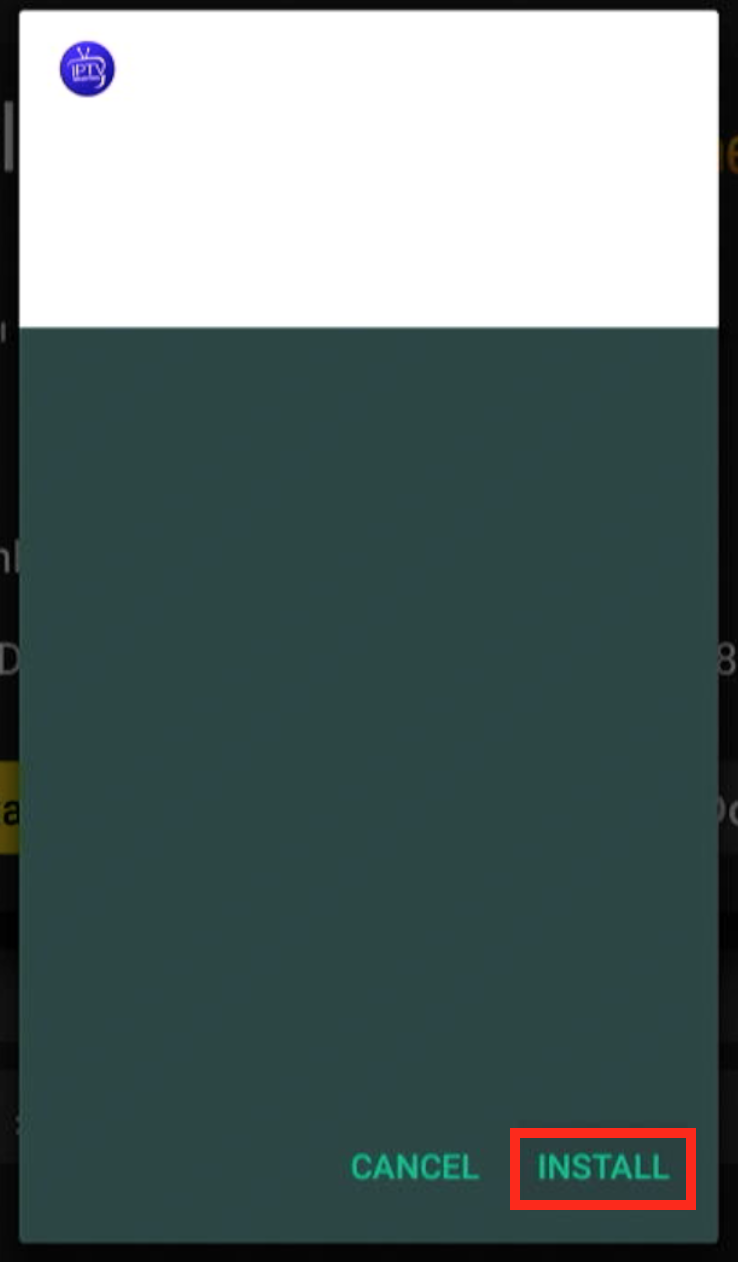 Install and away we go.
You should now be able to see this when you open the IPTV Smarters app.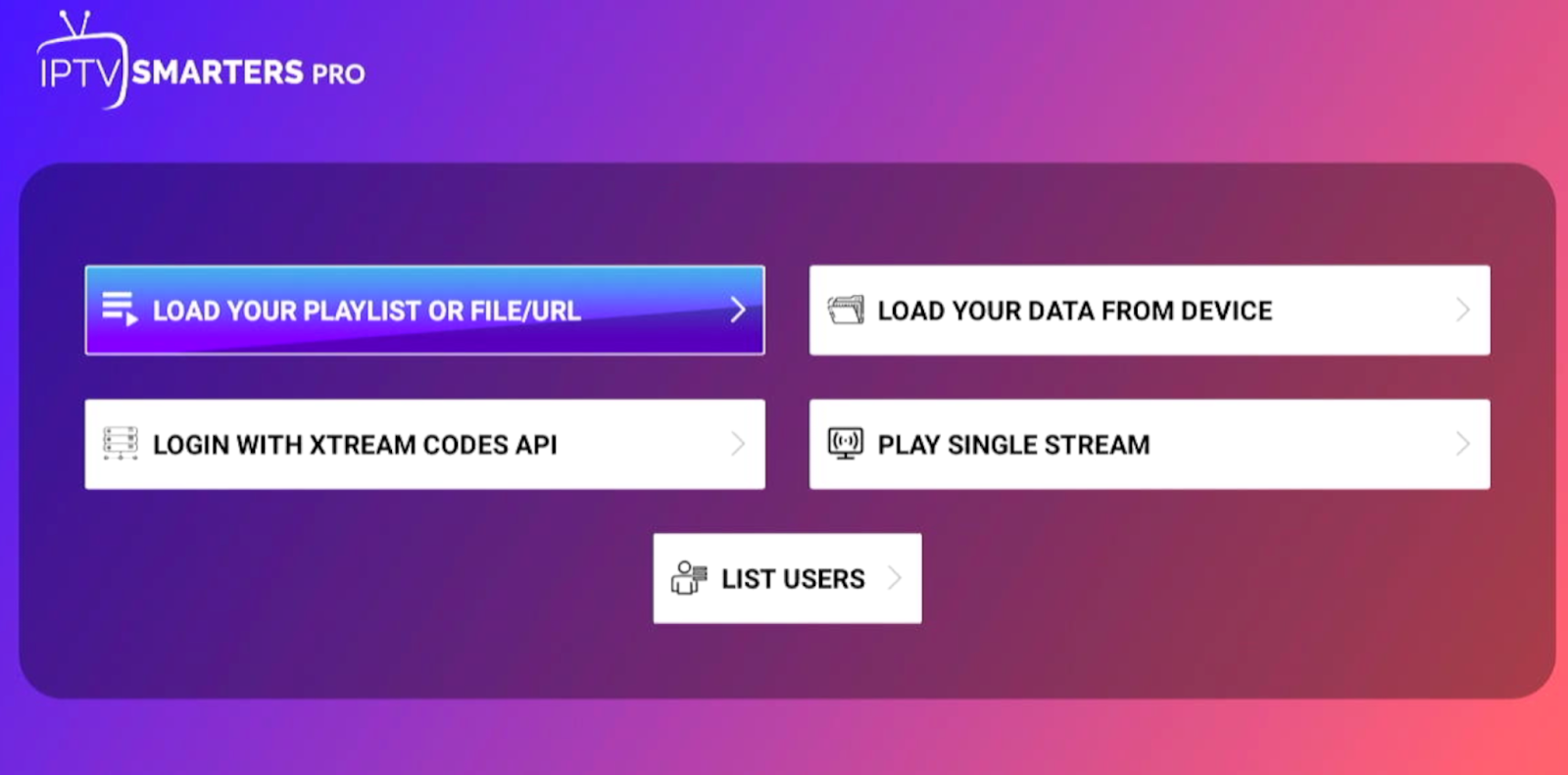 Now let's set up Apollo Group TV on IPTV Smarters.
Download Apollo Group TV on Firestick
You will have received a URL from the Apollo TV support in an email. You'll need to add that URL as an M3U link in Apollo Group TV app to get all the best TV shows and movies on the Firestick.
Taking the URL from your email, open up Load your Playlist or File/URL. This is the top left button on the IPTV Smarters home screen.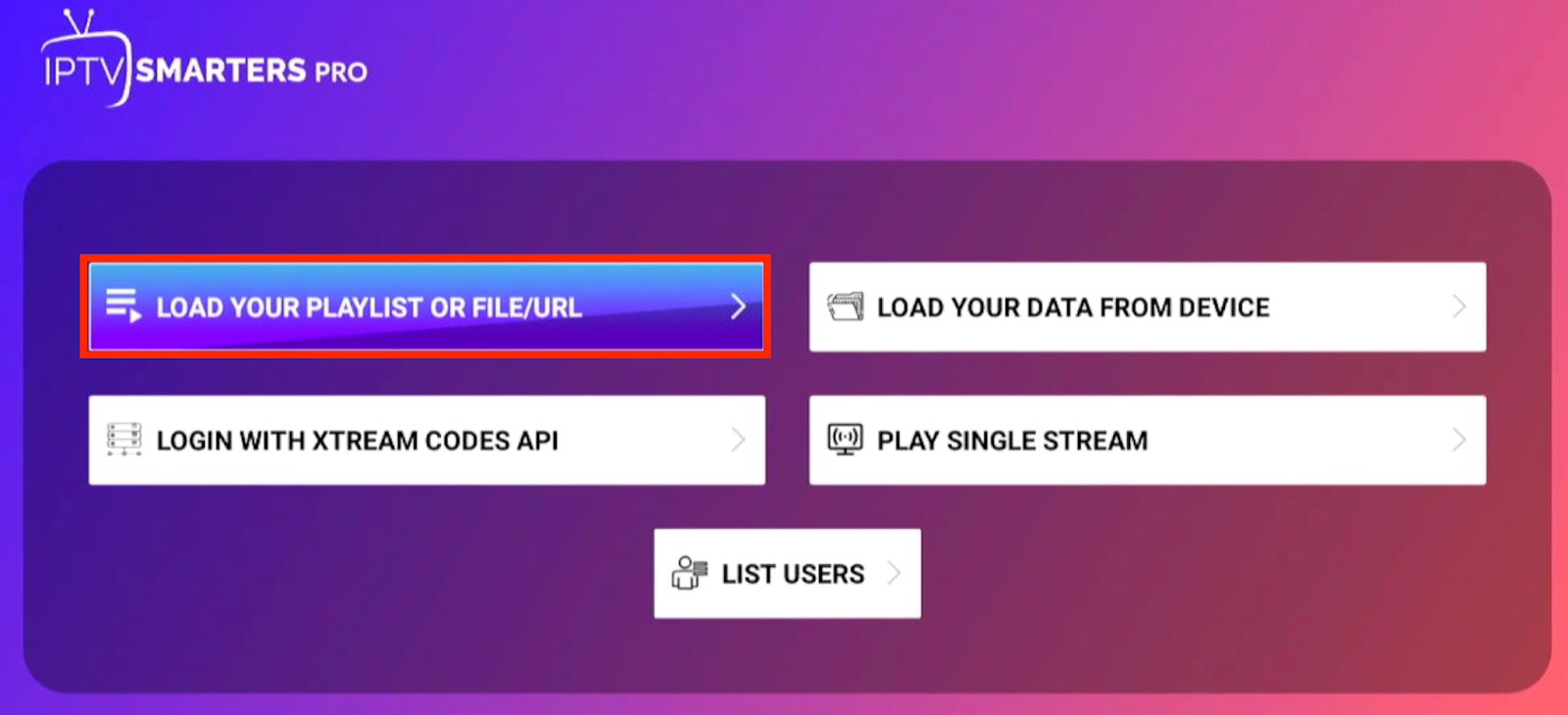 And you should see a menu like this. Click down to the Playlist Type section and then click the M3U URL button.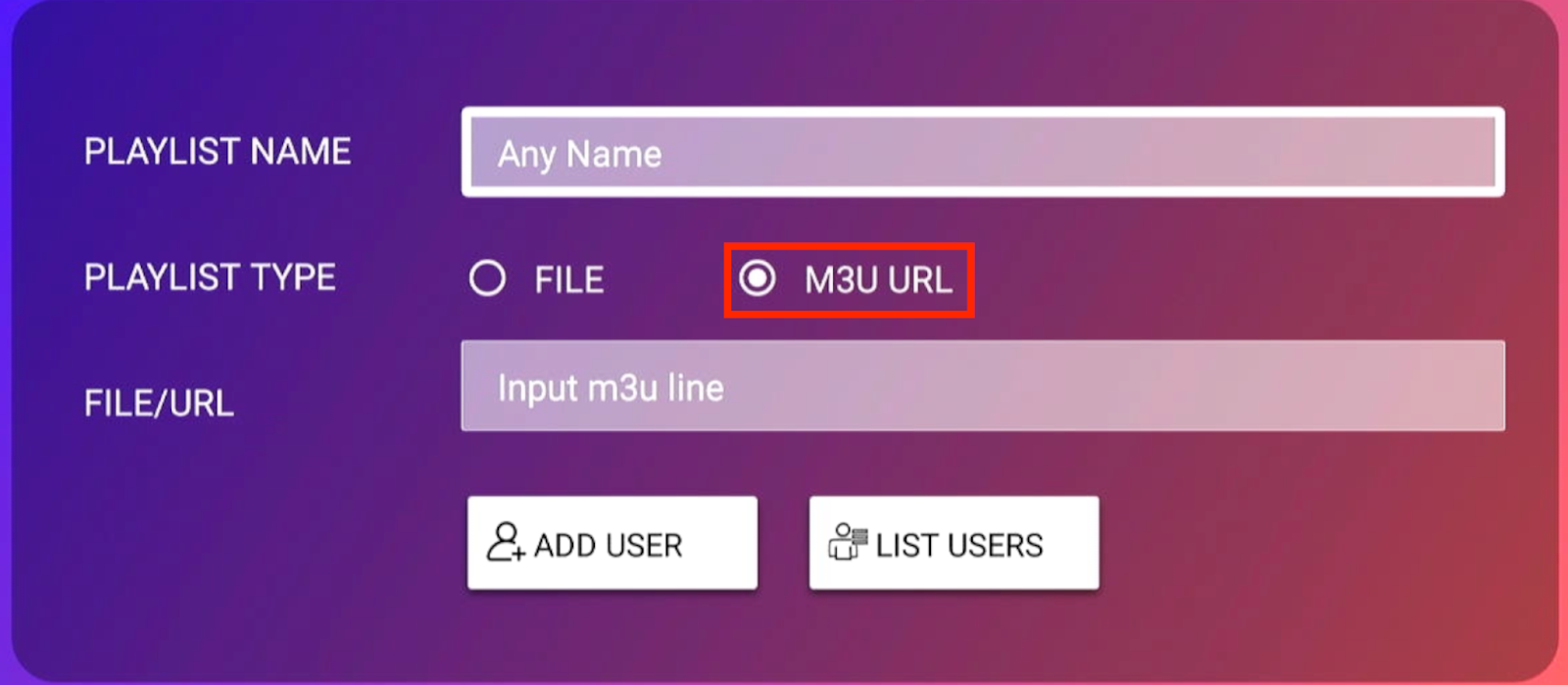 Then all you have to do is type in the URL you received from the Apollo Group TV team.
Here's what it looked like when we did it, but you won't be getting our link!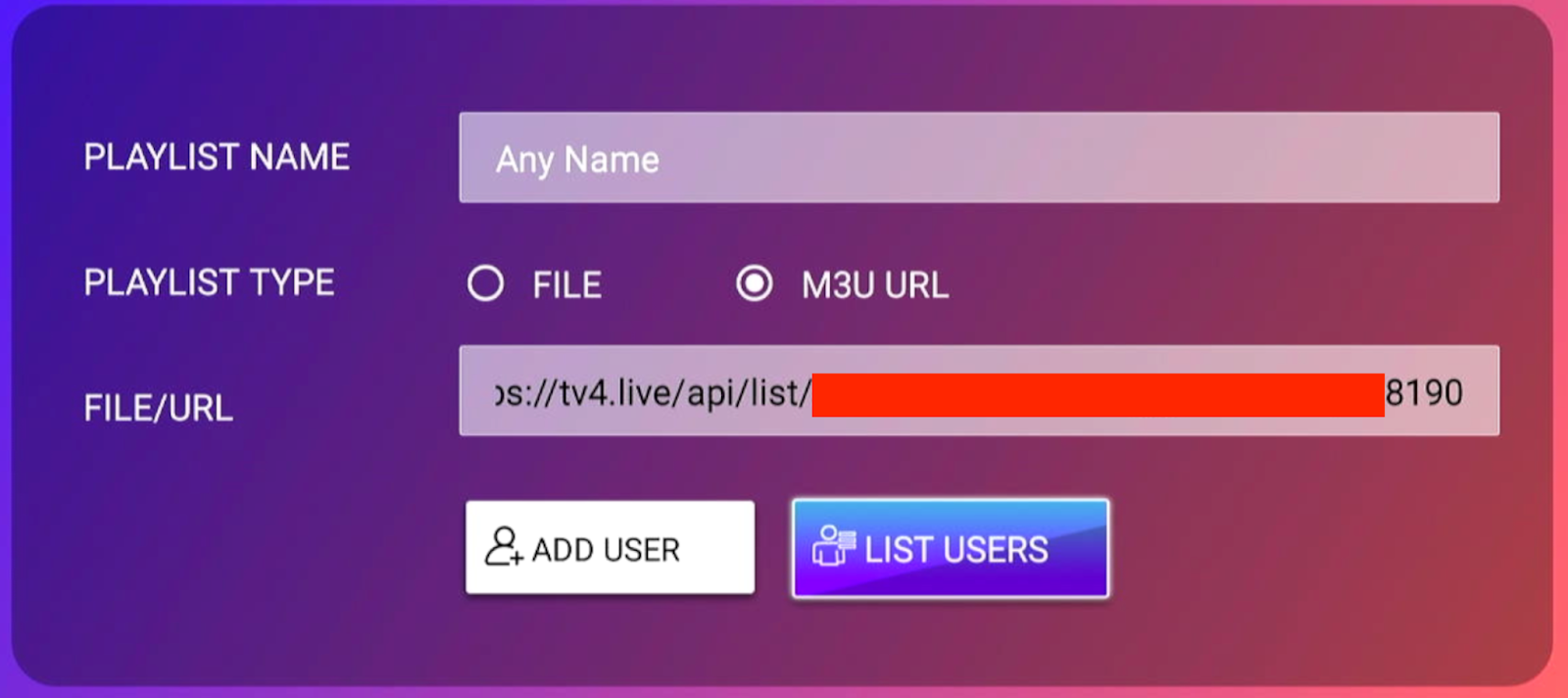 Then click Add User, and you should be redirected to this screen.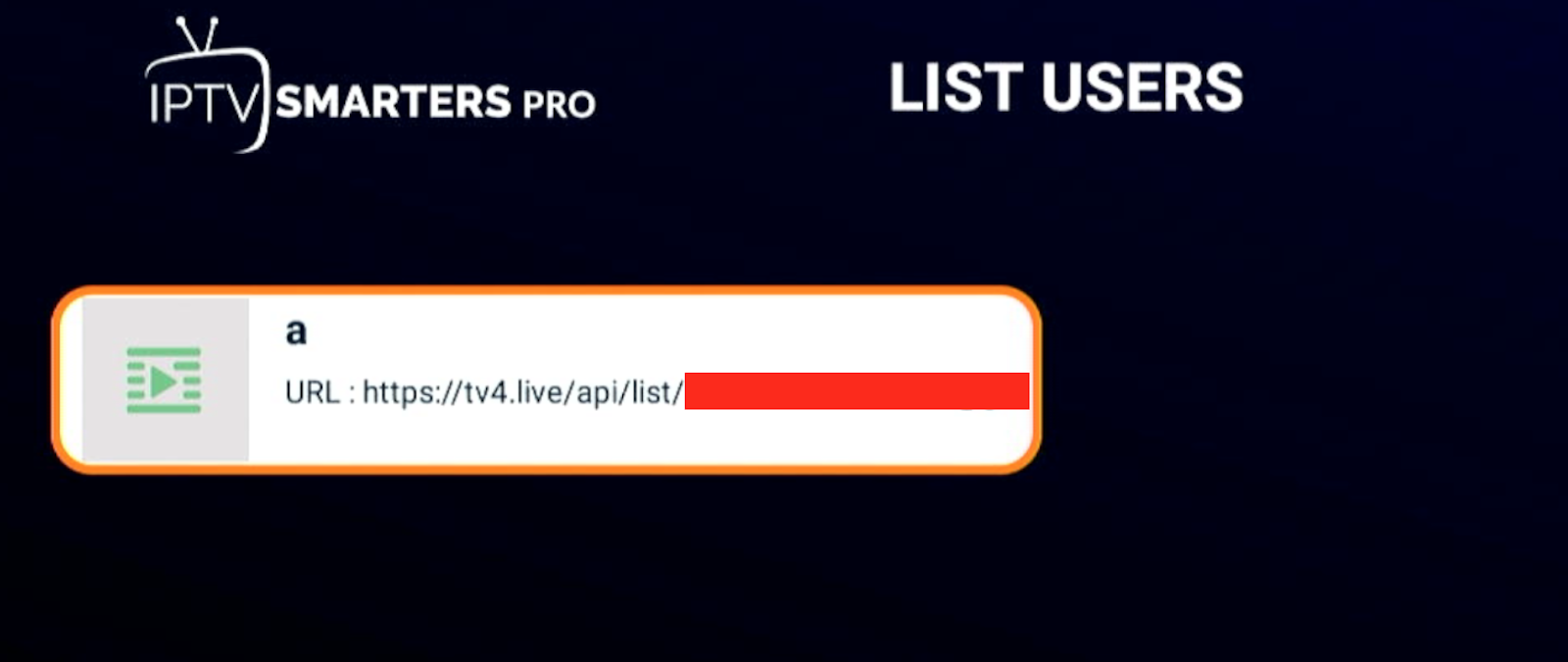 And there's the Apollo Group TV profile that we set up
Clicking on this link will take you to the IPTV home screen where you can find all your favorite live channels, TV shows, and movies.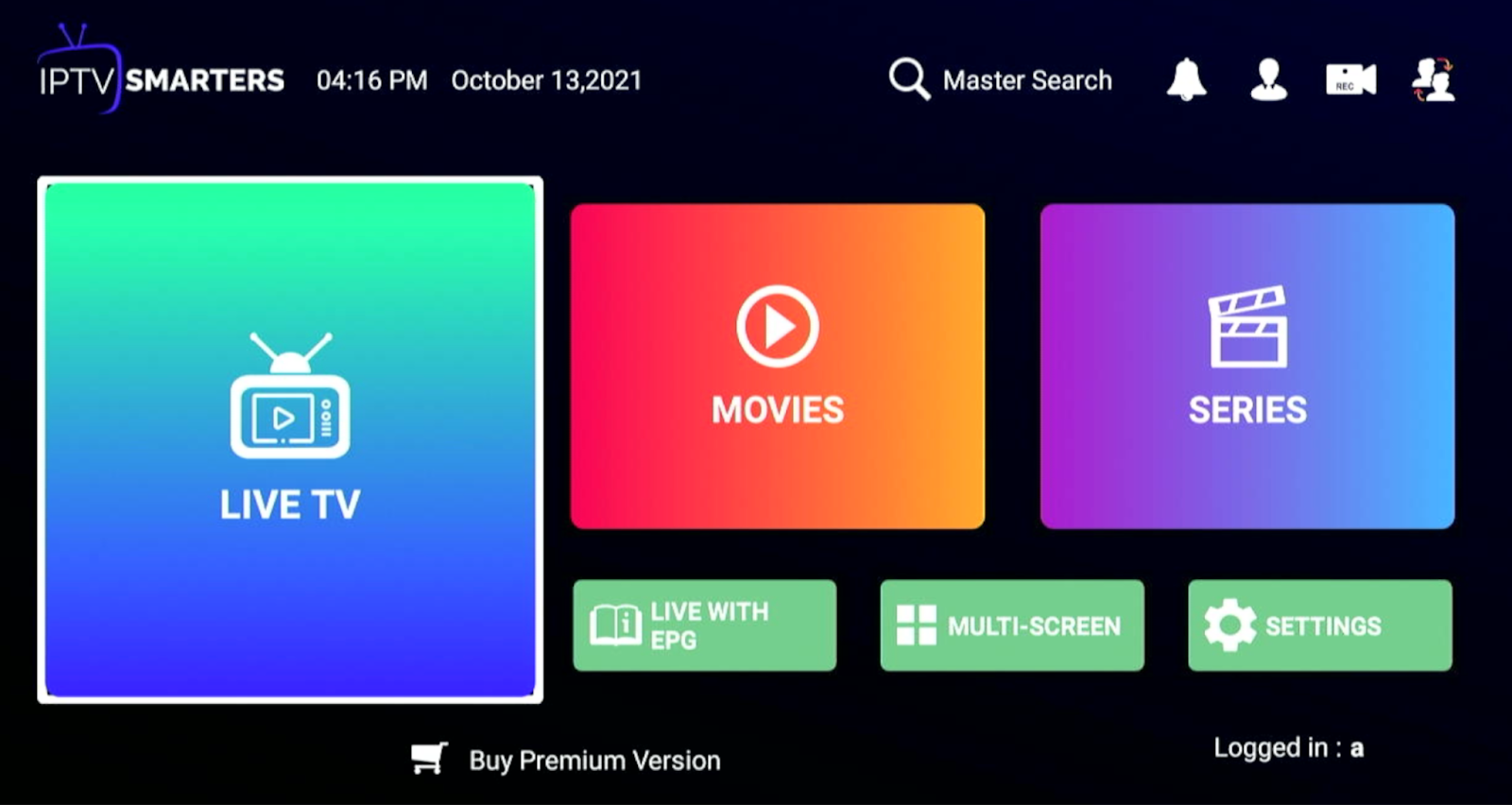 How To Use Apollo Group TV with IPTV Smarters Player?
Using Apollo Group TV with IPTV Smarters is really easy – you can't get lost at all.
Watching Live TV
If you want to watch something live, just click on the big button on the main menu.
This gives you a drop-down menu of all the different nations on your version of Apollo IPTV, including a breakdown of all the channels you can browse within that country.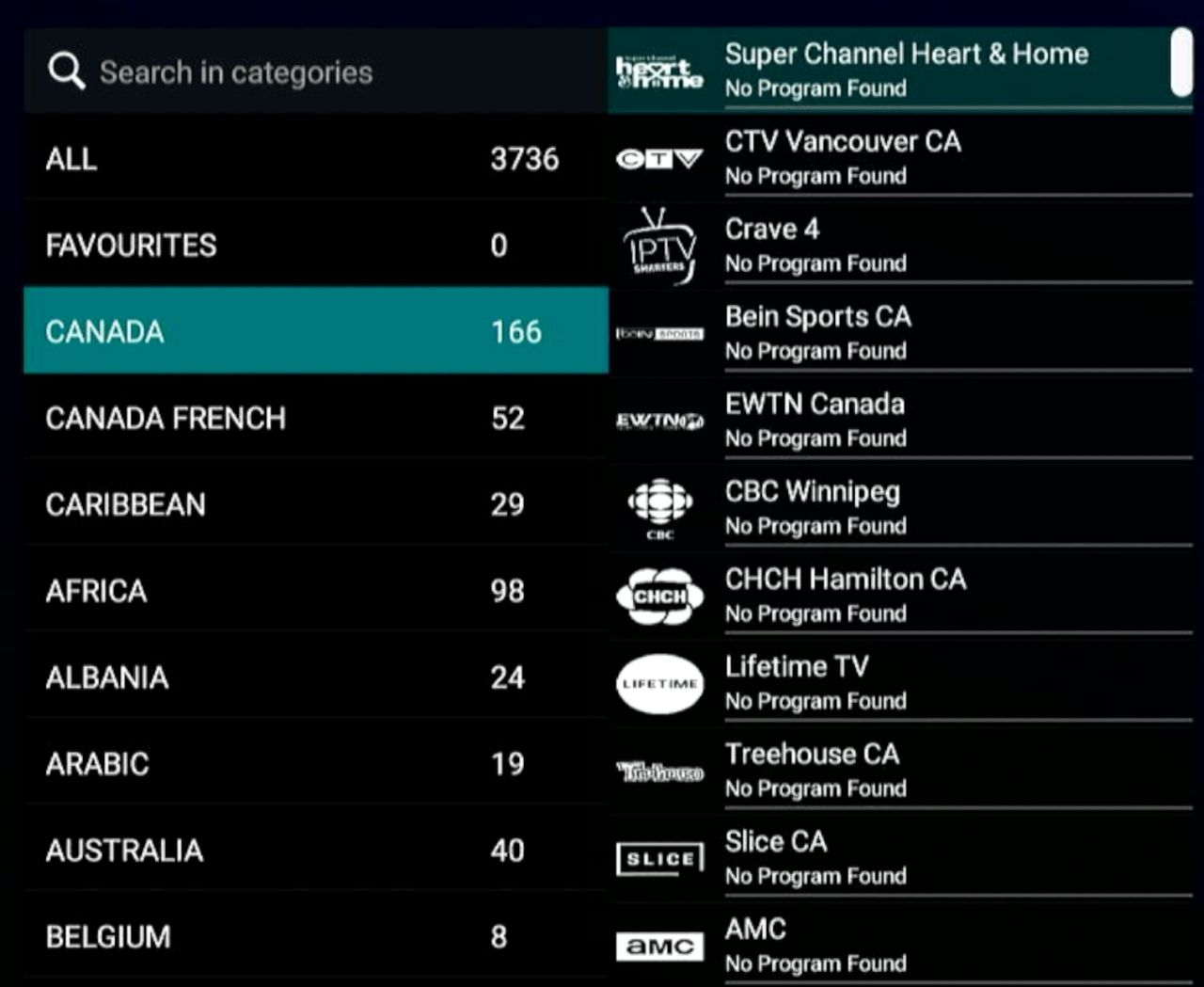 For example, we searched Canada for both regional and national TV channels.
You can click down on the left-hand dropdown menu to access different countries or regions and browse through the respective channels that are available through Apollo IPTV.
Live TV with the EPG
If you prefer a different layout, you can access the EPG from the main menu too. It looks like this:

Click on the Live With EPG button, and you will see this screen: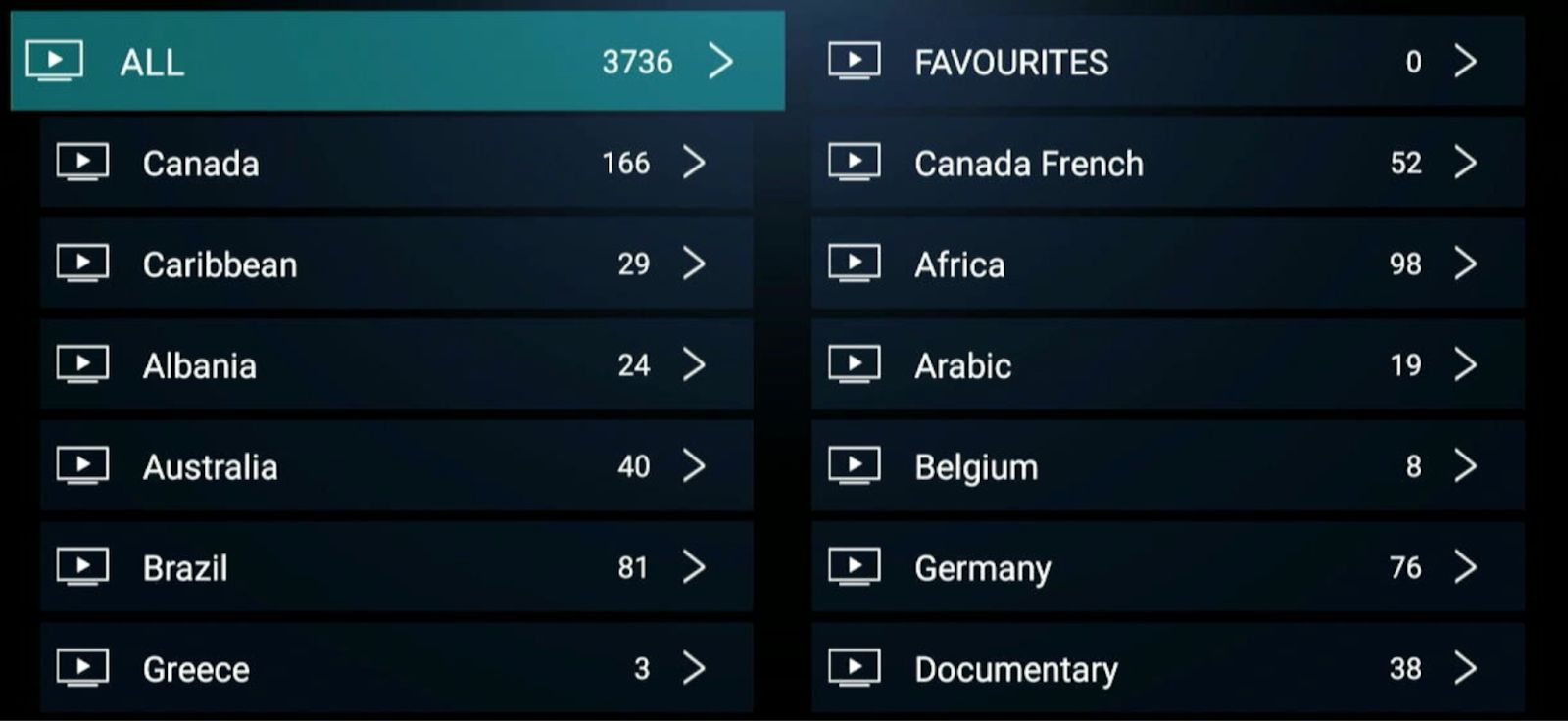 This is pretty much the same as the Live TV menu, but it's set out more nicely and (as you can see with the Documentary option) VOD as well. Makes it easier than searching through every menu for both live and recorded TV.
Movies and TV Shows
If you only want to watch movies or TV shows, you can click either the Movies or Series button. This will give you access to over 5,000 different shows, all on demand.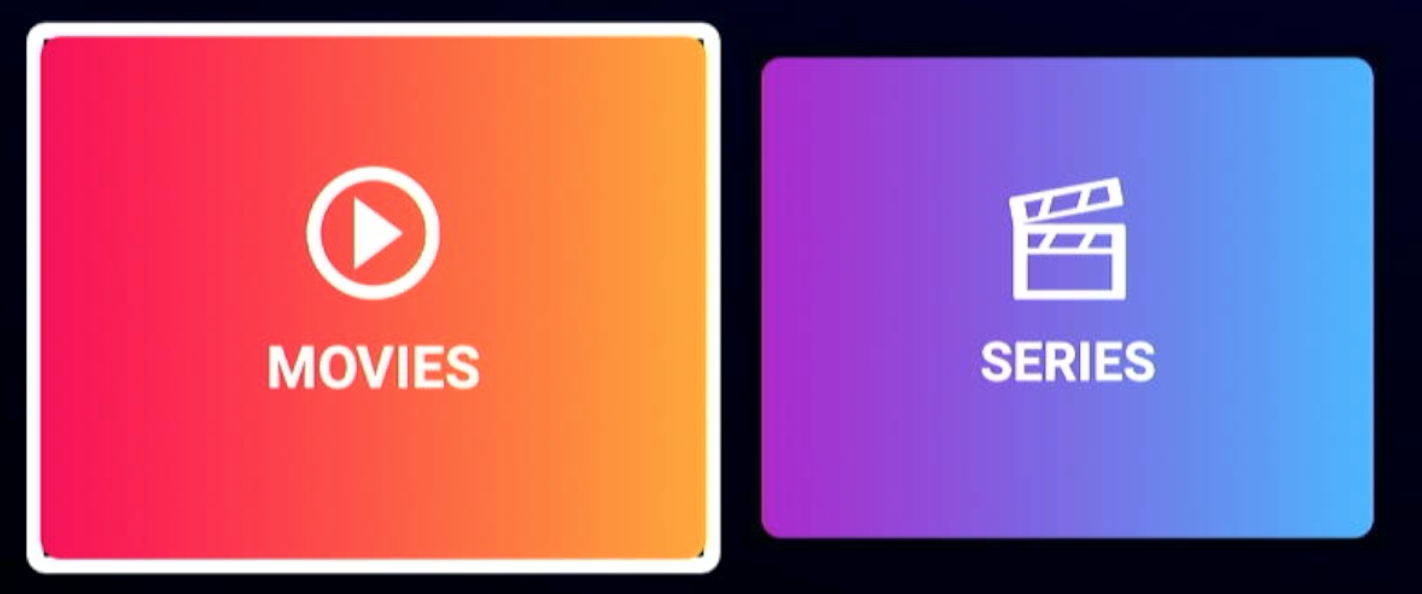 Most Popular Apollo Group TV Channels
Like with almost every IPTV service, there are so many channels it can be overwhelming. Here are a few good ones to get you started.
1. Sports EPL UEFA
If you're into soccer (football), the Sports EPL UEFA channels deliver all the best games straight to your Firestick. These channels only work when a match is being played, so keep an eye out for fixtures and stream them through Apollo IPTV.
2. Sports ESPN+
For American sports and worldwide coverage of the biggest sports leagues, ESPN+ offers everything from golf news to live Olympic events. Most of these channels are in English, and there's plenty of variety to keep you entertained.
3. BBC One, Two, and Four
For people wanting to watch the best shows that Britain has to offer, the UK menu has access to the best BBC shows. Now you can catch up on the likes of Eastenders, Peaky Blinders, and a whole range of comedies and dramas from the British and Irish Isles.
4. Disney Junior
If you need to entertain your kids, the Entertainment tab lets you access Disney Junior and plenty of other kids' channels. Search for your favorite shows here, and you can find something to keep your little ones busy.
5. Sky Cinema
And for movie lovers who can't decide what they want to watch, Sky Cinema will decide for you. Not only can you access VOD movies, but there are live movies, too.
So, is Apollo Group TV Worth Buying?
Apollo Group TV is an excellent add-on for the Amazon Firestick as it turns the simple device into a powerful one. Giving you access to over 1,000 live channels and a library with over 5,000 VOD movies and TV shows means you can watch pretty much anything you want, whenever you want.
Best of all, you can set it up on up to 5 devices. That means you can start a show at home and then finish it on the train to work if you want to. Apollo gives you access to thousands of shows, and it's for less than $25 a month. Not bad at all.
Apollo Group TV FAQ
What is Apollo Group TV IPTV?
Available for all Android TV Boxes and devices, Apollo Group TV is a live TV and video-on-demand (VOD) service for people who want to access movies, TV shows, live sports, and news from all over the world.

Like all good IPTV services, Apollo Group TV IPTV helps cord-cutters access over 1,000 live channels in HD and a VOD library with more than 5,000 movies and TV shows.
How much does Apollo Group TV cost?
The IPTV service from the Apollo TV team offers four basic subscription plans: 30 days, 90 days, 180 days, and 365 days.

Starting from $24.99, the Apollo Group's plans become cheaper if you subscribe for a longer period (topping out at just over $13 a month when you sign up for a year).
Does Apollo Group TV offer live TV?
Live TV is Apollo Group TV IPTV's bread and butter. With over 1,000 live channels, you can access all the best live TV from the comfort of your front room.

In addition to 1,000 live TV channels, over 5,000 movies and TV shows are all available as VOD.
What devices does Apollo Group TV support?
Every Android device supports Apollo IPTV through the install of the Apollo IPTV apk. Apollogroup.tv lists the following as compatible devices:
– Android Box (STB)
– Android TV devices
– Android Mobile
– Amazon Firestick / Amazon Fire TV
What channels does Apollo Group TV have?
The Apollo Group TV IPTV service offers over one thousand quality Entertainment, Food, News, Kids, and Travel channels, but there are additional channels for the US, the UK, Canada, Germany, Scandinavia, the Arab world, and Israel and many more.