If you have already launched the browser after downloading, skip to step 4.
If not, then:
1. Go to the home screen of your Firestick.
2. You will be able to see a row of apps under the category of 'Your Apps and Channels'. On the left side of this section, select the 'See All' option.
(If you are unable to see the See All option, then just slide horizontally along with the app icons)
3. Scroll down and select the browser you installed.
(If you want the browser to appear on your home screen, open Firestick's menu by pressing the 3-line button on the remote. A menu section will appear. Select the move option and drag the browser to the home screen)
4. Click on the browser's address bar. The on-screen keyboard will appear. Use the keyboard to type 'USTVGO.TV'. Alternatively, you can search for USTVGO by using Alexa voice command. To activate Alexa, press the microphone button on the remote.

5. In some cases, a pop-up might appear asking you to calibrate the display. 
USTVGO doesn't need any special display, so you can cancel this pop-up. You may need to do this again if the website doesn't display properly. To do this, go to settings of the Firestick, select display and sound, click on the option of Calibrate display under the display settings.
6. After following the instructions given in step number 5, you will be led to USTVGO's homepage. Here's how it might look like:
7. The display will show channels in alphabetical order. You can select your preferred channel from the list and start watching your favorite shows.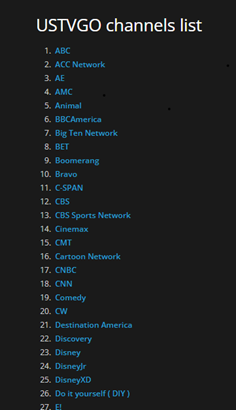 8. USTVGO has four categories: Entertainment, News, Sports, Kids. You'll be able to see these categories next to the home option under the address bar.

9. If you want to know the schedule of the channels, select the 'TV Guide' option on the panel.

10. After clicking on the 'TV Guide' option, you can see the timings and schedules of all the channels offered by USTVGO.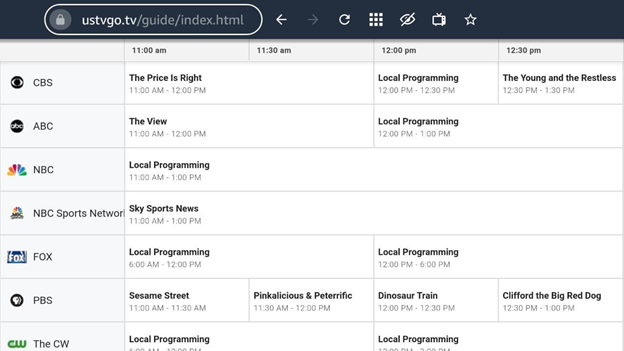 11. If you have any queries about the service, select the 'FAQ' option on the main panel.