Not familiar with the Diggz Xenon Kodi Build, builds in general, or how to install them? We've got you covered.
Diggz Xenon is one of the most popular Kodi builds available. Once installed, you'll have access to movies, music, live TV, and more. Plus, you'll be able to customize your Kodi layout and menus and install additional addons and plugins. It truly creates a personalized content viewing experience.
If you're not familiar with installing builds for Kodi, it's no big deal. This guide provides all the information you need to install Diggz Xenon on your Firestick. We take you through the process with annotated screenshots to make sure you install everything correctly.
We also provide step-by-step instructions on viewing content on Diggz Xenon safely. This will prevent breaches in your privacy or network security. And last, we give answers to key frequently asked questions around Diggz Xenon and other Kodi builds.
BEST VPN
Table of Contents
How to install Diggz Xenon Build in 15 Minutes—works for Kodi Matrix!
Want access to sports, movies, and live TV on your Firestick? Diggz Xenon is a solid build to help you do it. It works on both Kodi 19 Matrix and 18 Leia, and provides a smooth user-interface to help you find great content.
Follow these instructions, and you'll have this build installed in a flash!
Note: These instructions assume you already have Kodi installed on your Firestick device. Don't have Kodi yet? Visit our guide on How to Install Kodi 19.4 on Firestick & Fire TV before attempting to install this build.
1. Launch Kodi from your Firestick and click the settings icon—the gear on the top left of the screen.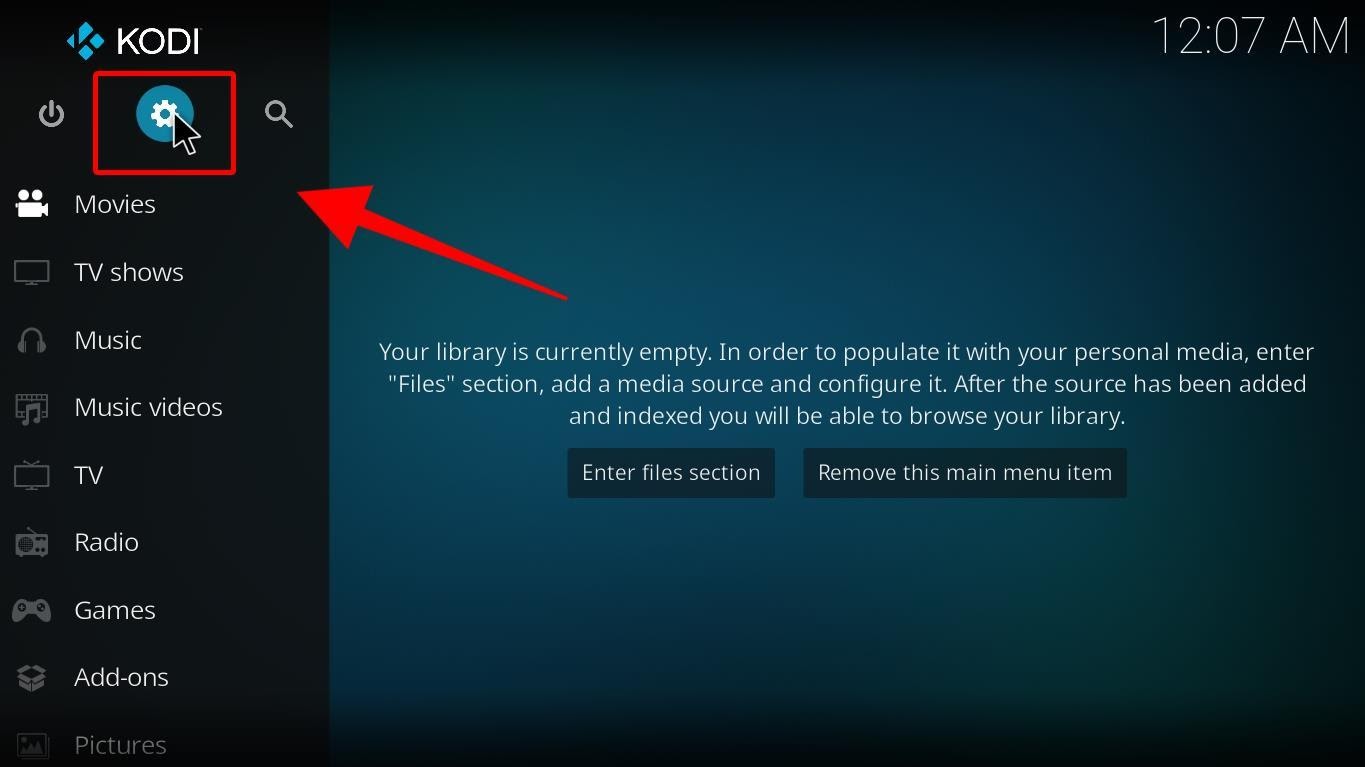 2. Select the 'System' icon on the bottom right—the icon has a gear with a screwdriver on top.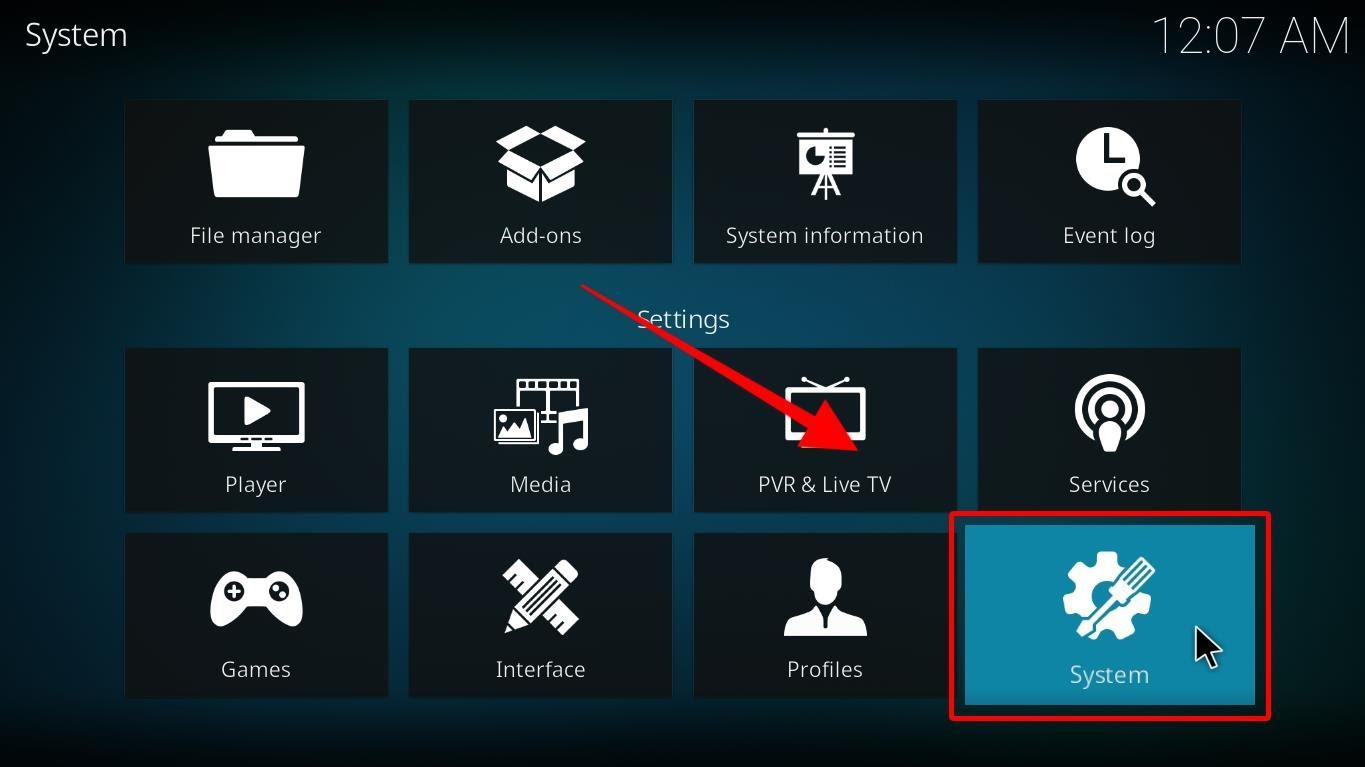 3. Scroll down to 'Add-ons' using the menu to the left and then highlight 'Unknown sources' and toggle the greyed-out switch to 'on'. It should light up bright white.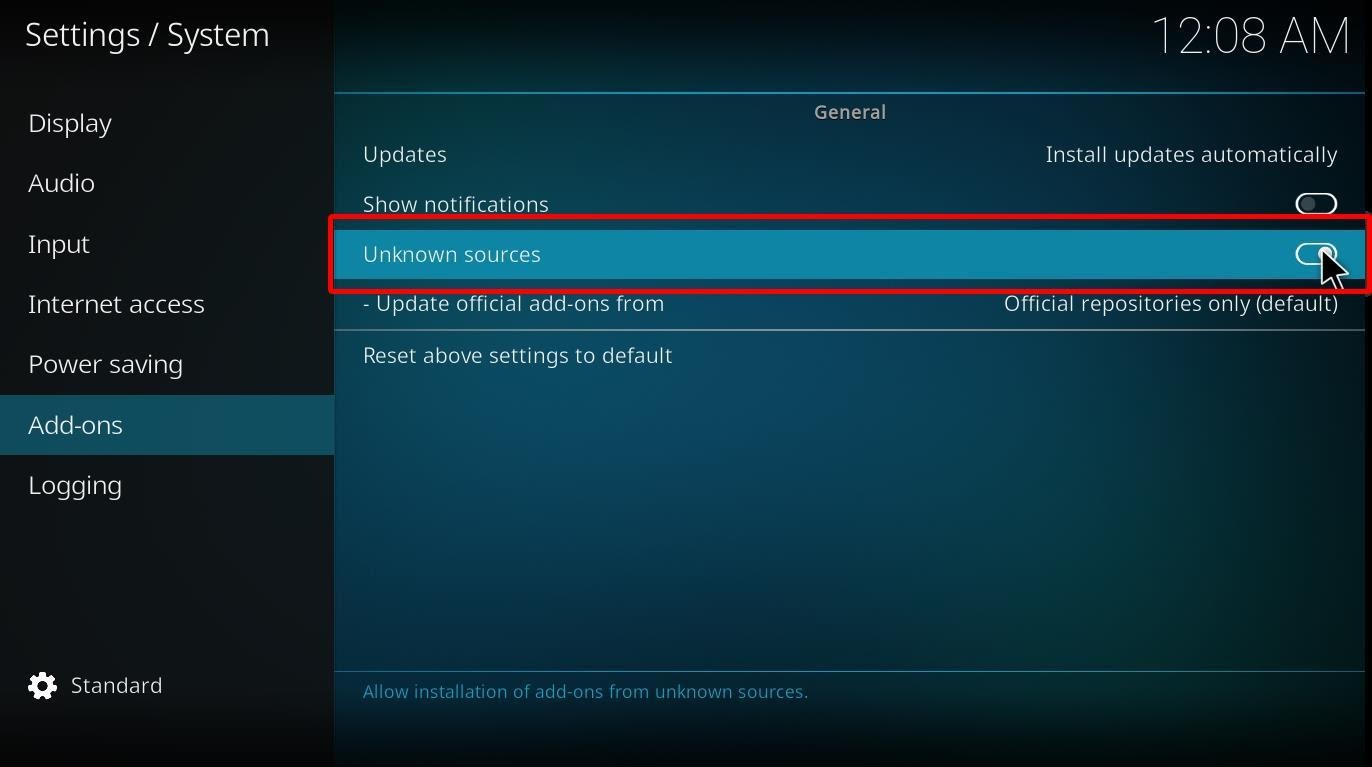 4. A pop-up will appear stating that by selecting 'Yes', you're responsible for damages to your device if anything happens. Remember, both builds and addons could access your personal data. It's important to review the next section regarding NordVPN before viewing any content.
5. Select 'Yes' to proceed. It's the only way to download the Diggz Xenon Build to your device.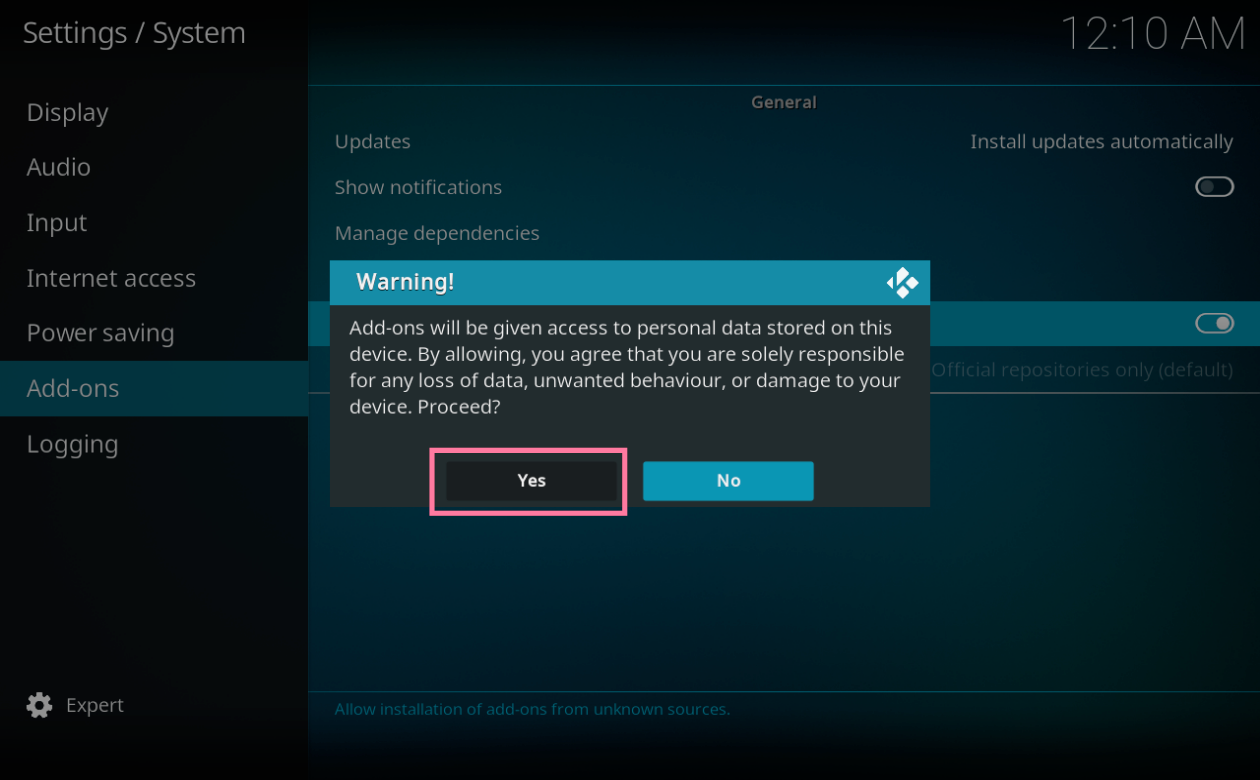 Download the Diggz Xenon Build
After configuring your Kodi settings—as shown in the previous steps—you'll be able to install any build from an unknown source. Continue on to complete the process.
1. Go back to the 'Settings' menu.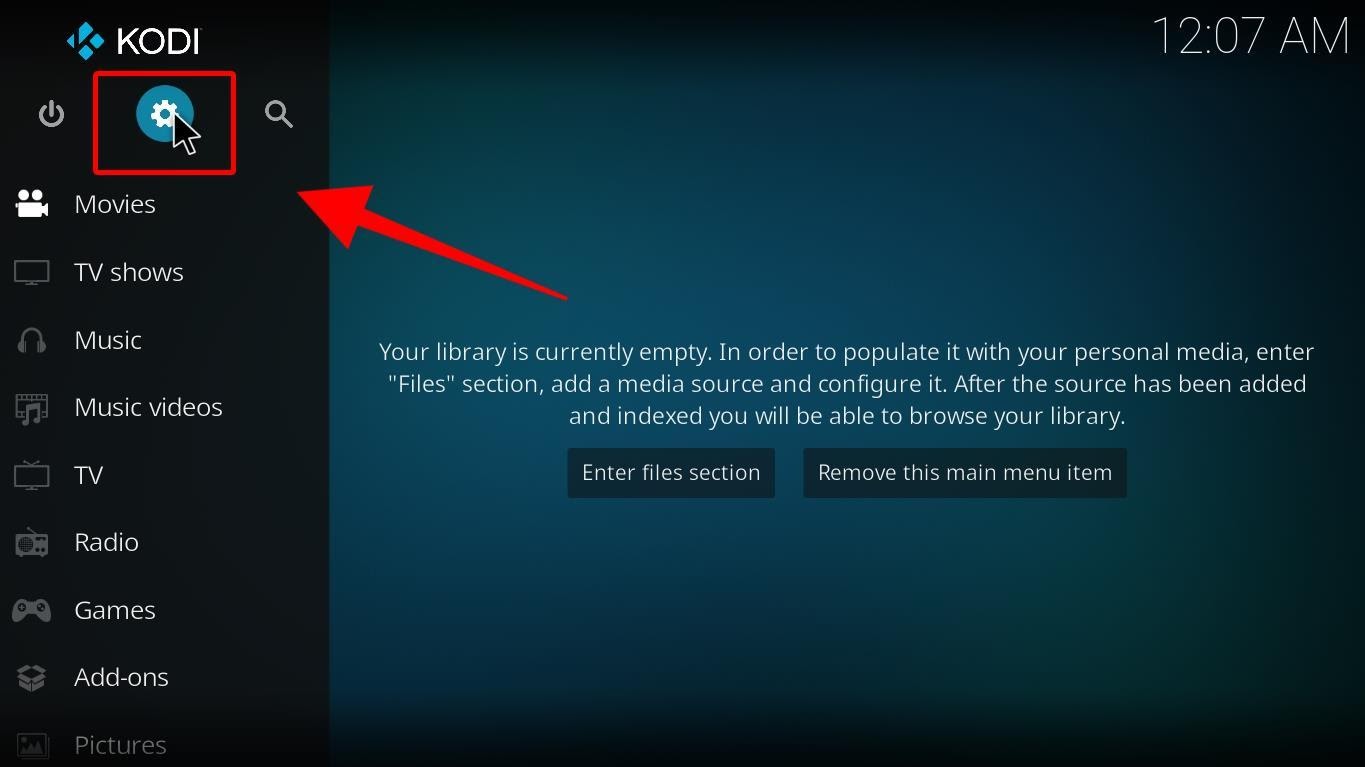 2. Select the icon that reads 'File Manager'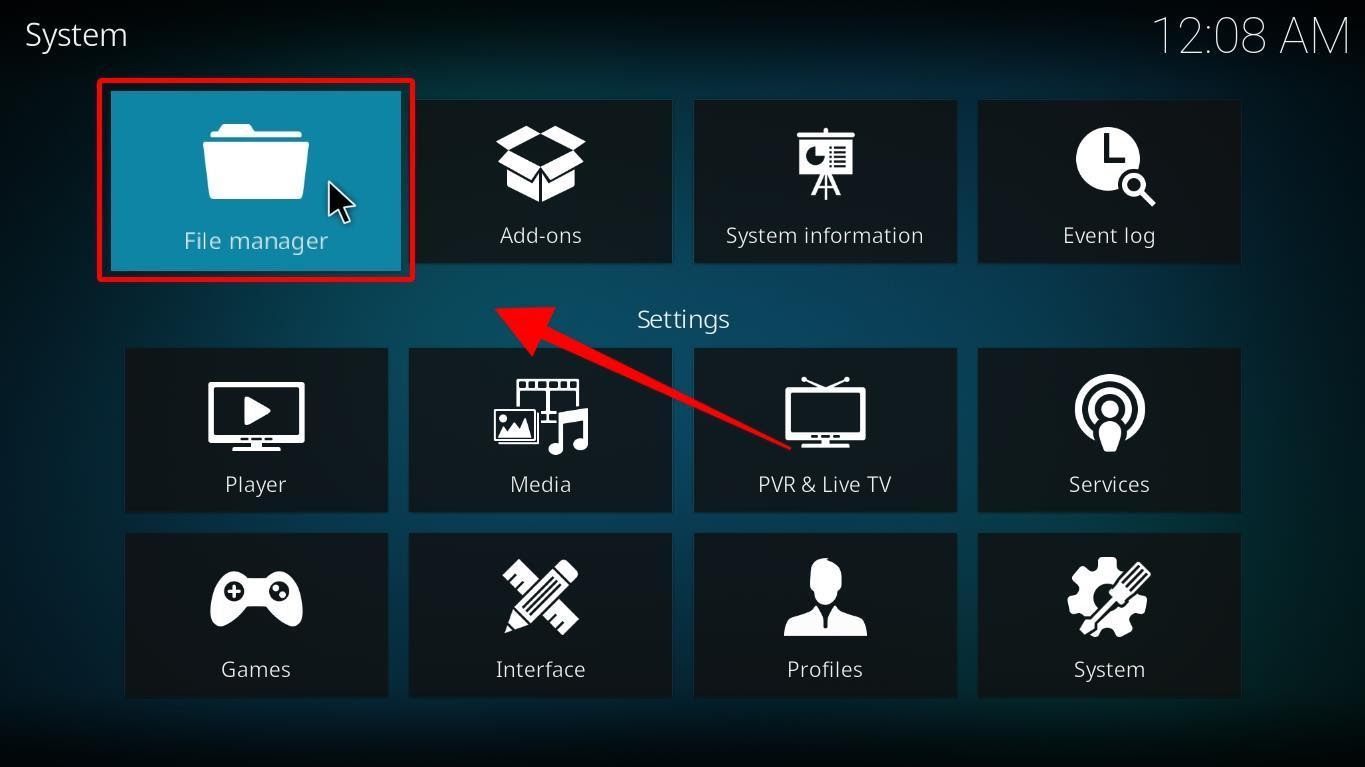 3. Click 'Add source' on the left side of the screen.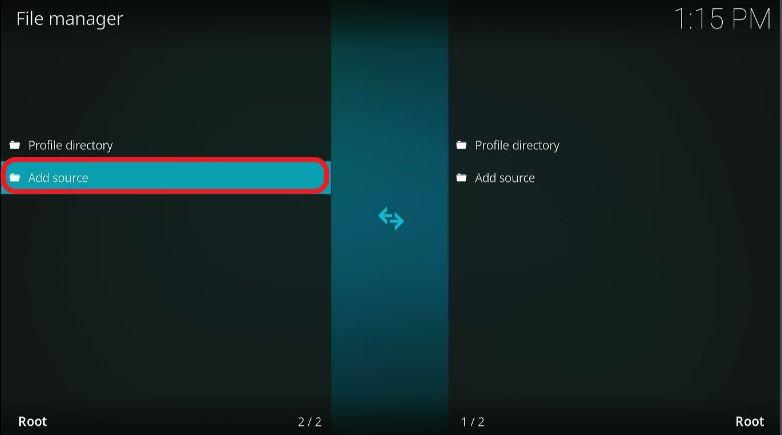 4. A pop-up window will appear titled 'Add file source'. Click '<None>'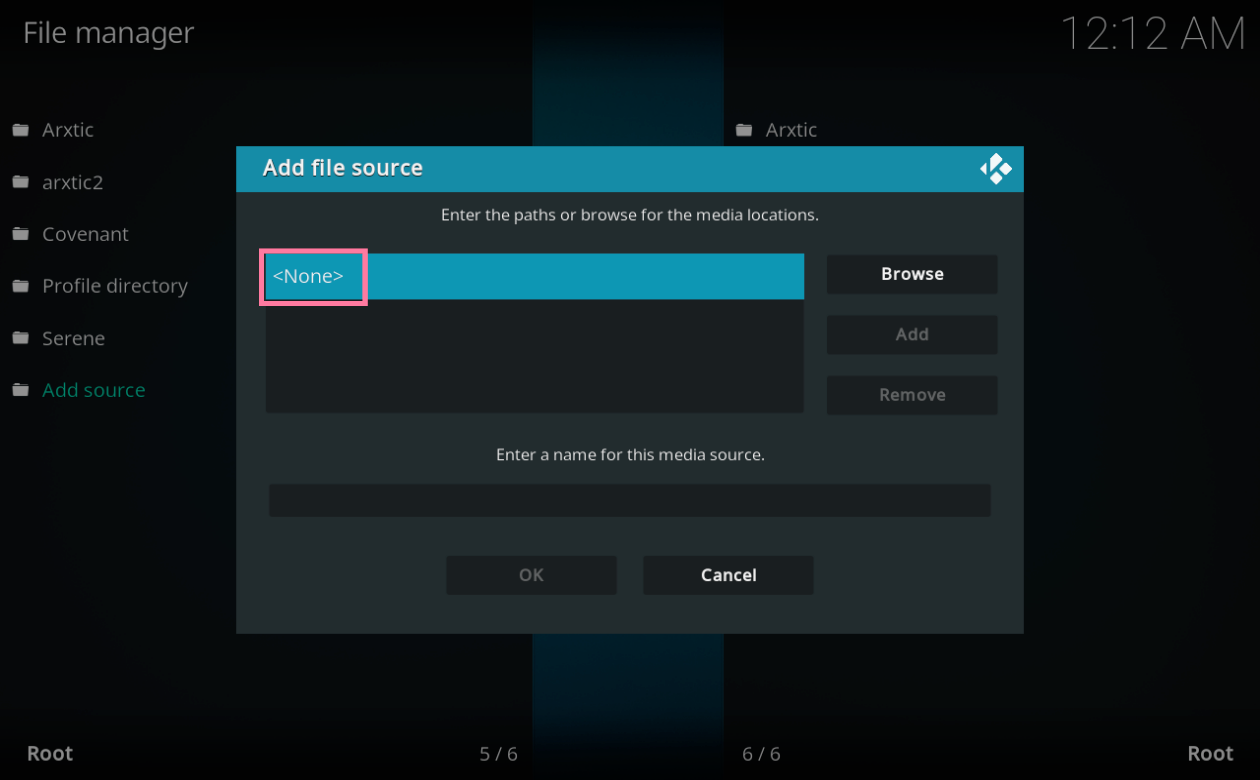 5. On the next window, you can type the following URL: http://grumpeh.aion.feralhosting.com/repo/ Click 'OK' when done.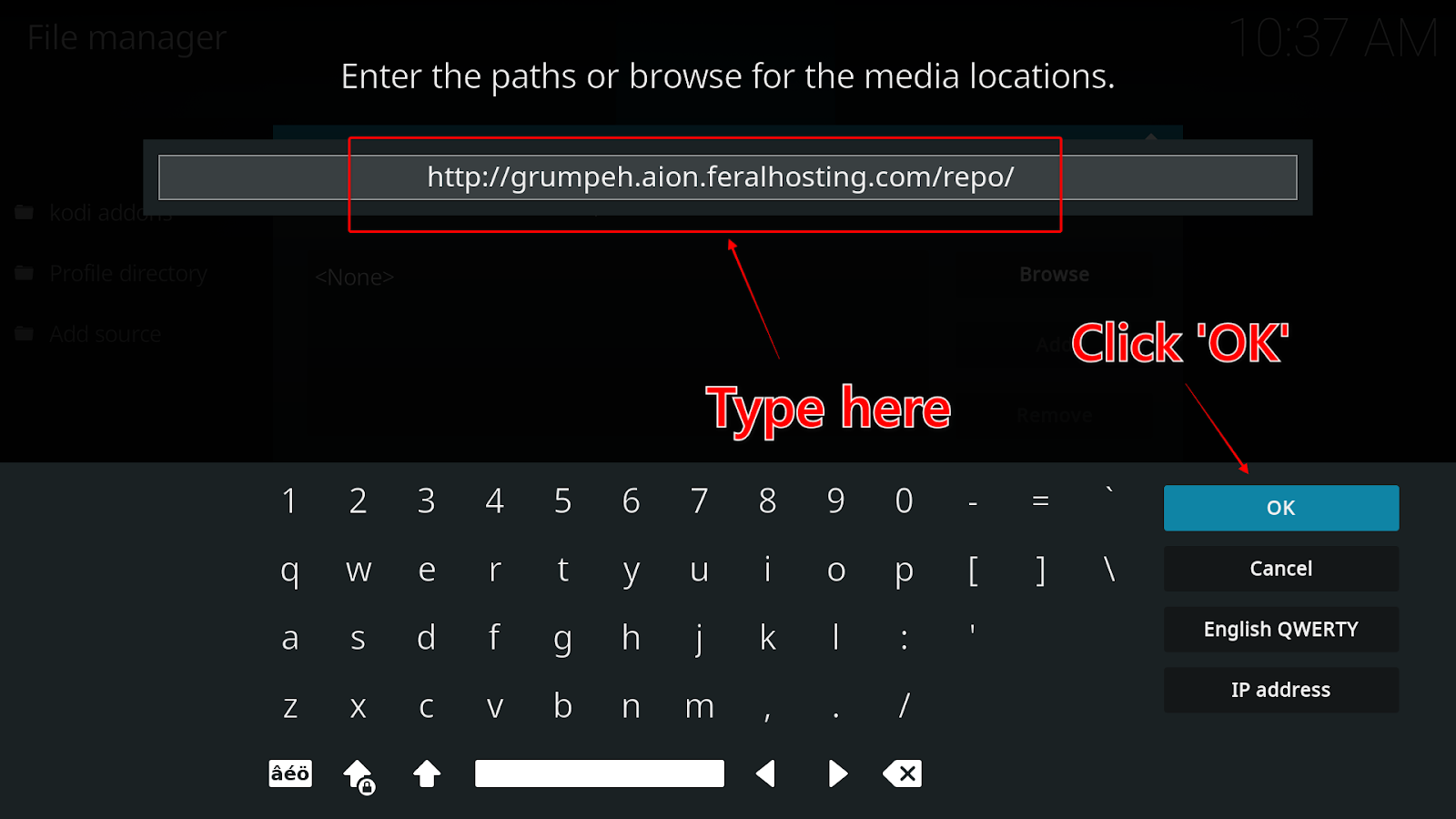 6. Next, you must type in a source path name in the text box below the source URL. It's important to use something you'll remember, so in this situation 'Diggz' seems appropriate. Click 'OK'.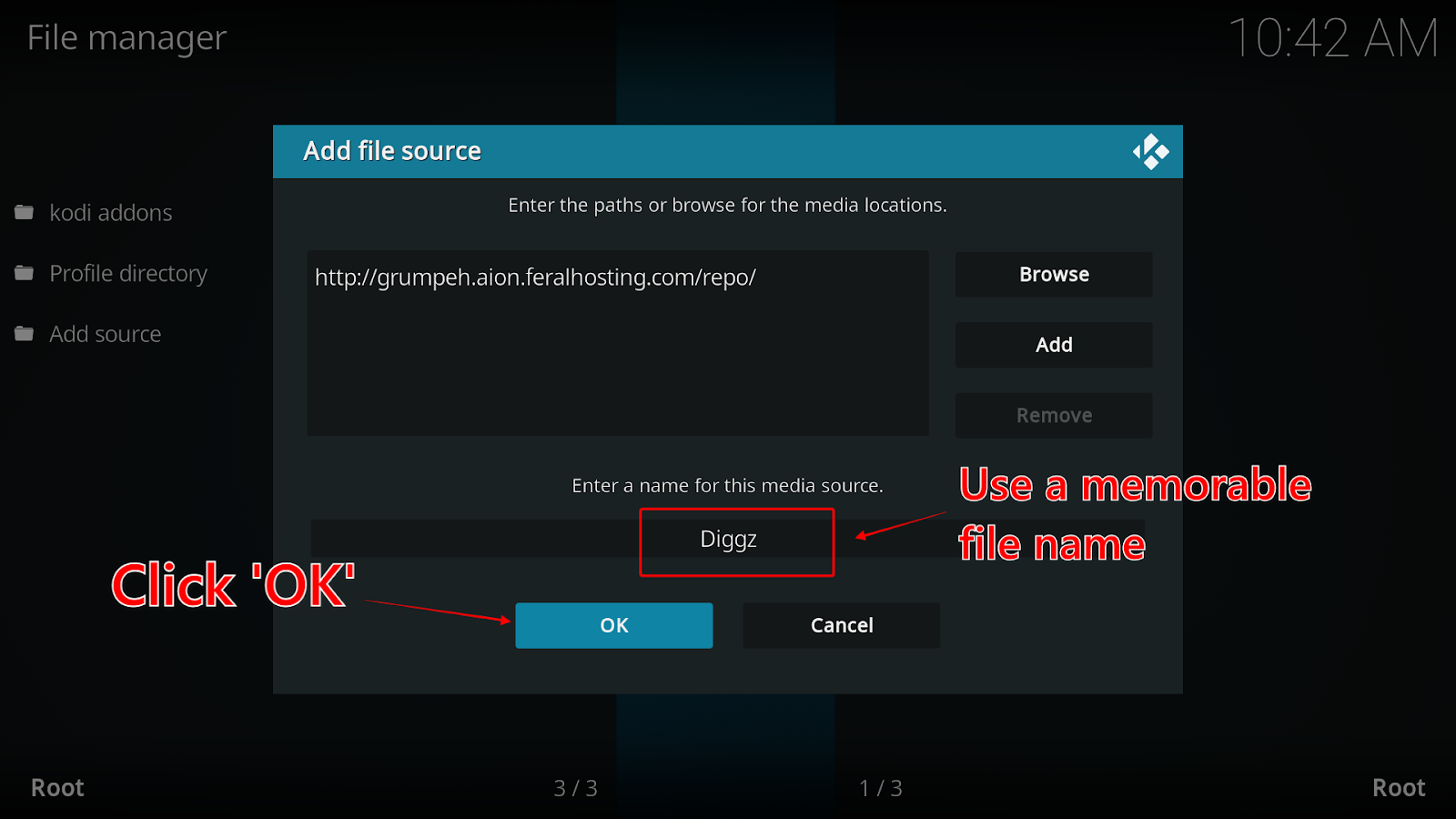 7. Your new file will appear in the File Manager.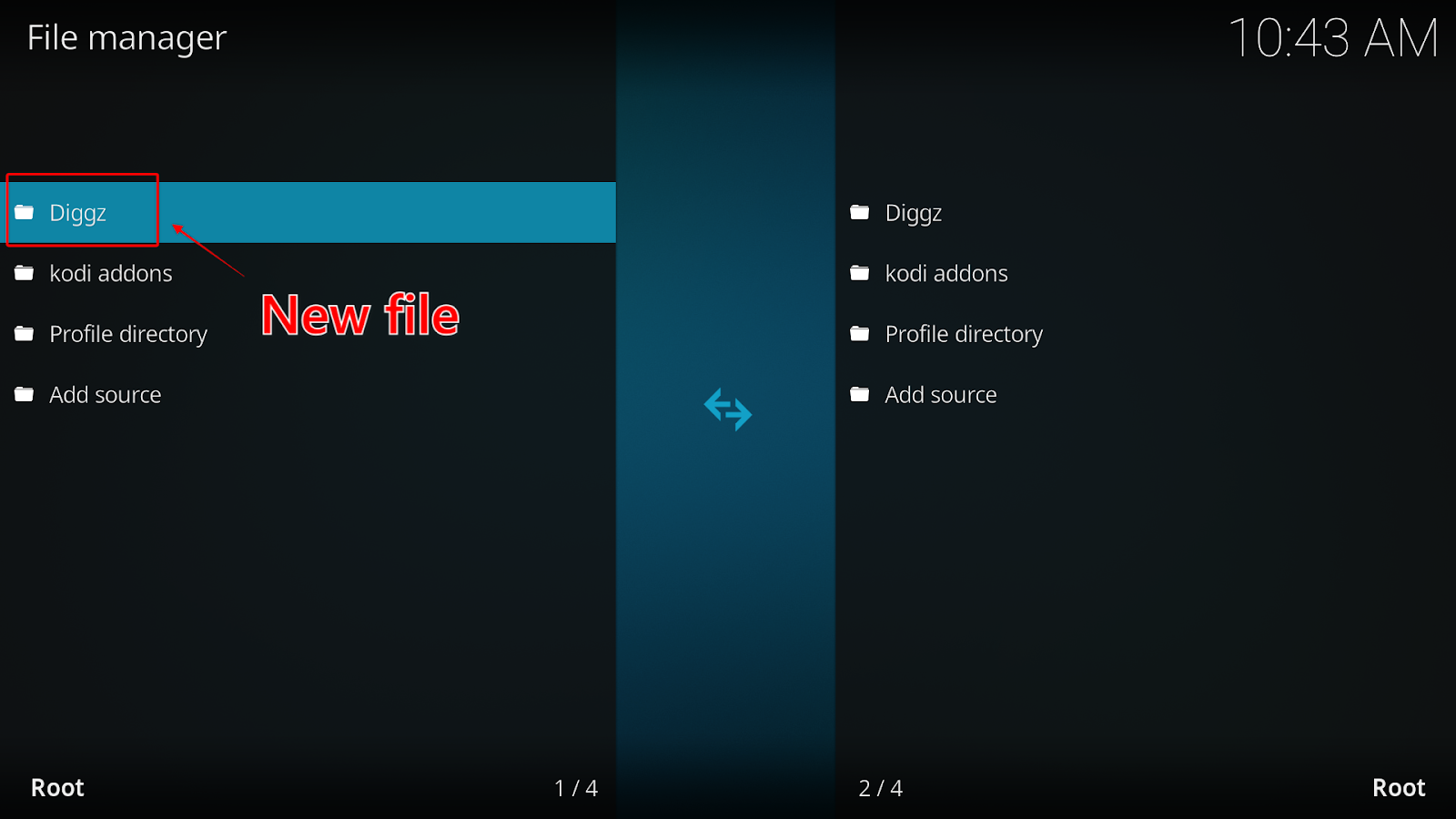 Installing the Diggz Xenon repository
1. Return to the 'Settings' menu again by clicking the 'Back' button on your remote.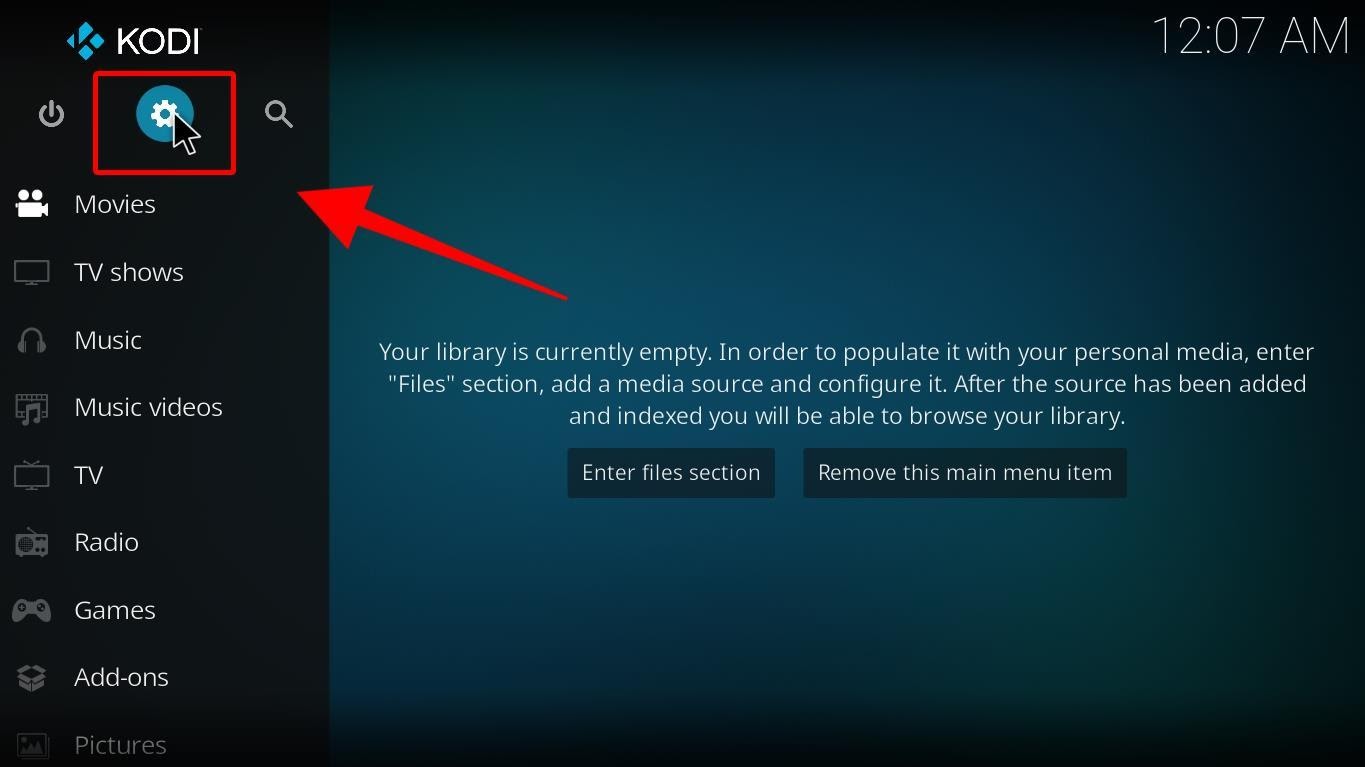 2. This time, select the 'Add-ons' icon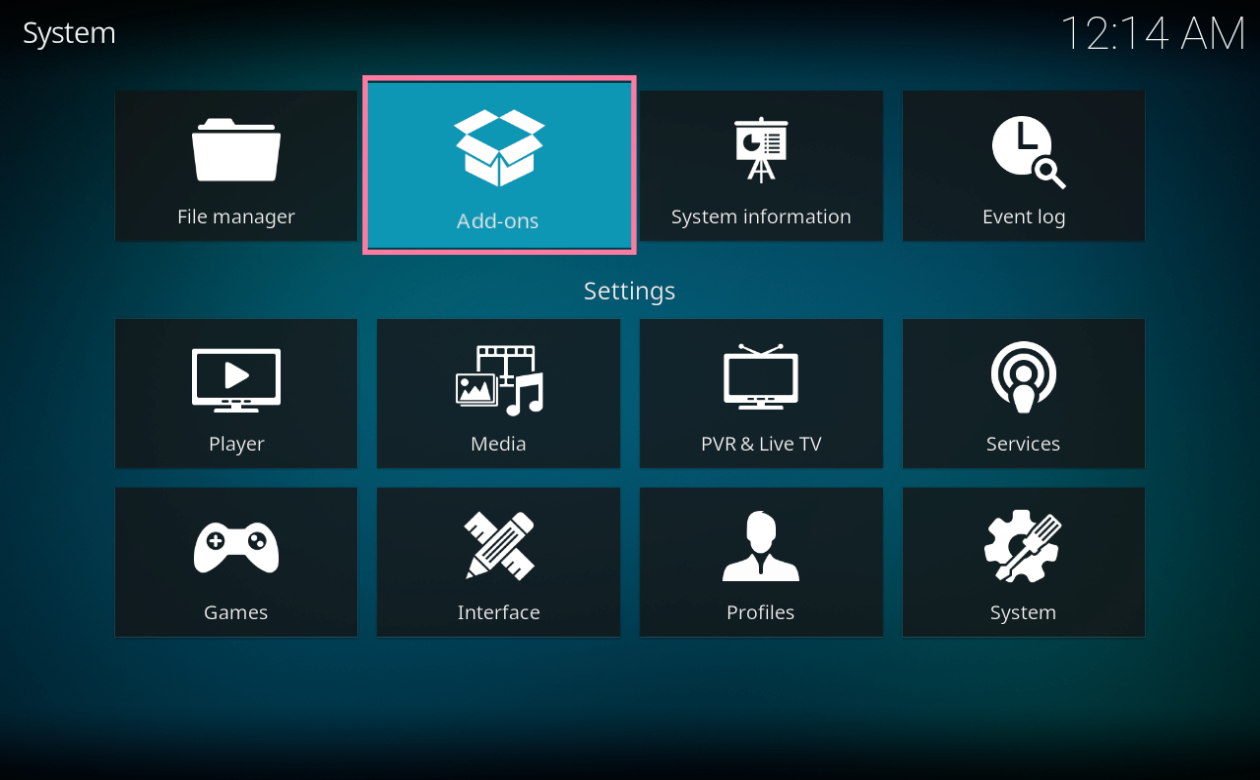 3. Click 'Install from zip file' from the menu.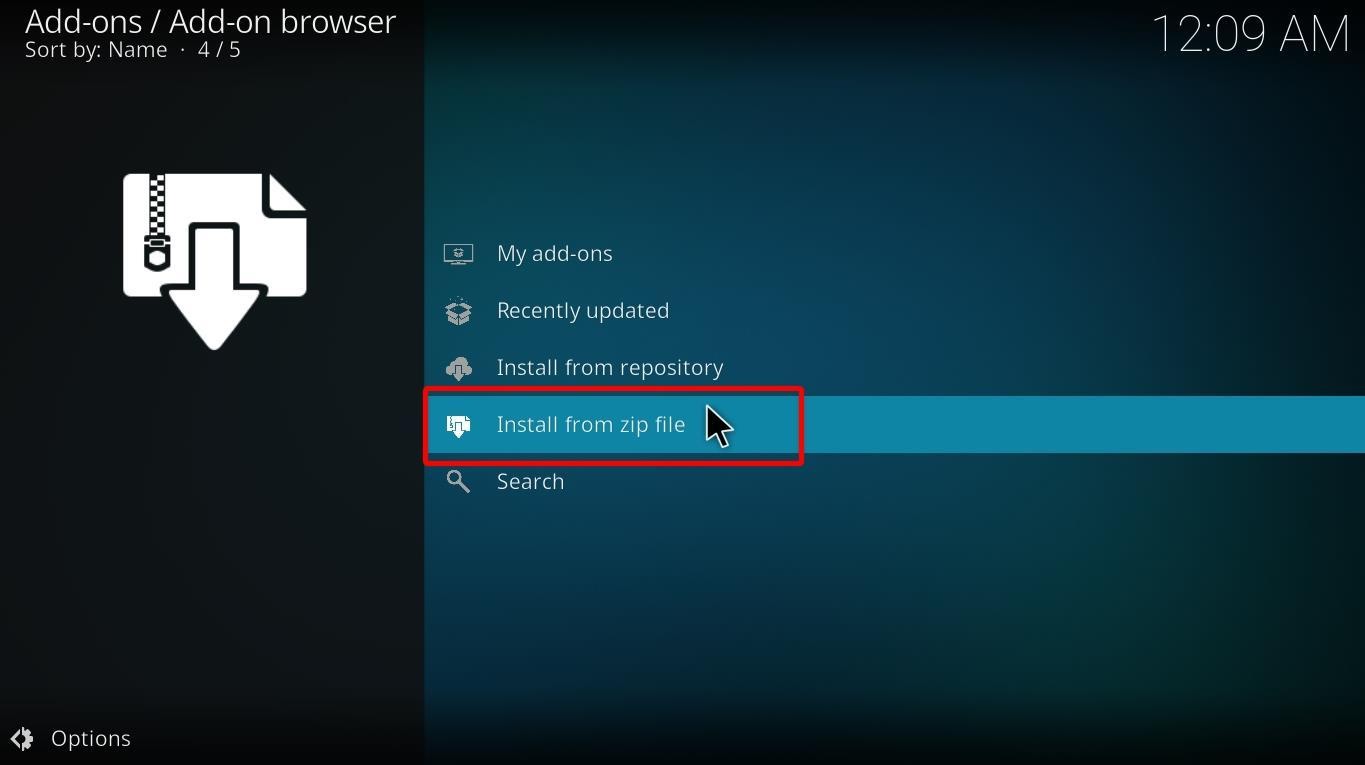 4. A 'Warning!' pop-up will appear reminding that you'll need to update addons installed from zip manually. Click 'Yes'.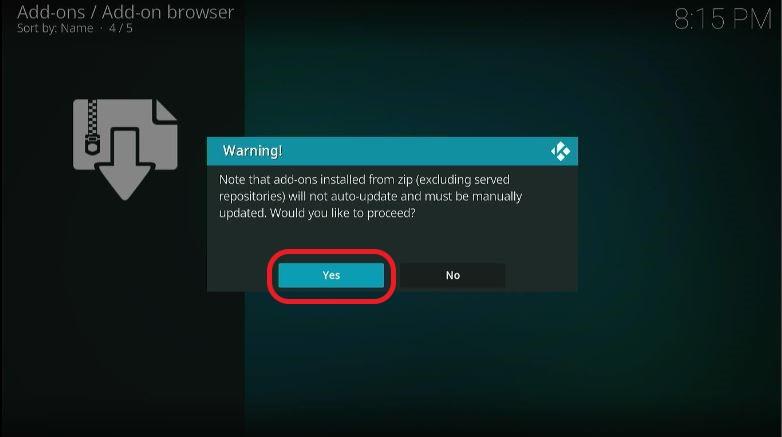 5. Find 'Diggz'—or whatever you recently named source path file—from the list and click it.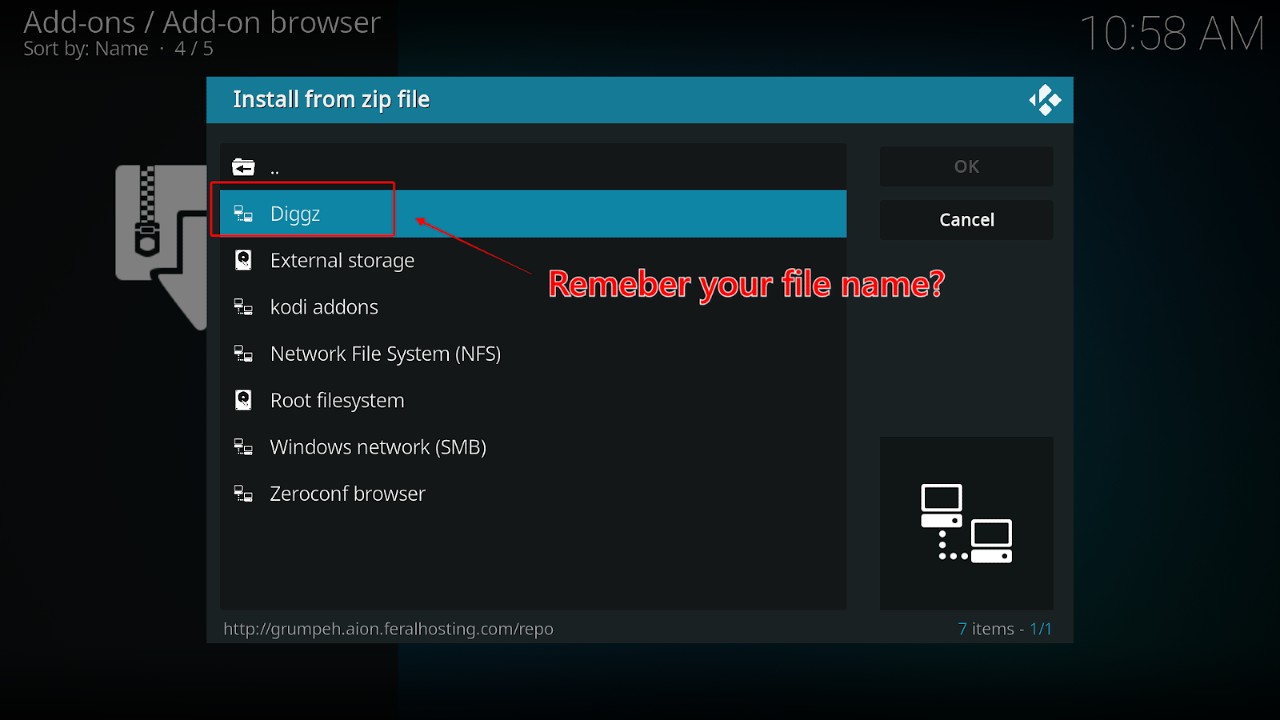 6. Click 'Install_MATRIX_19_Repo' from the menu.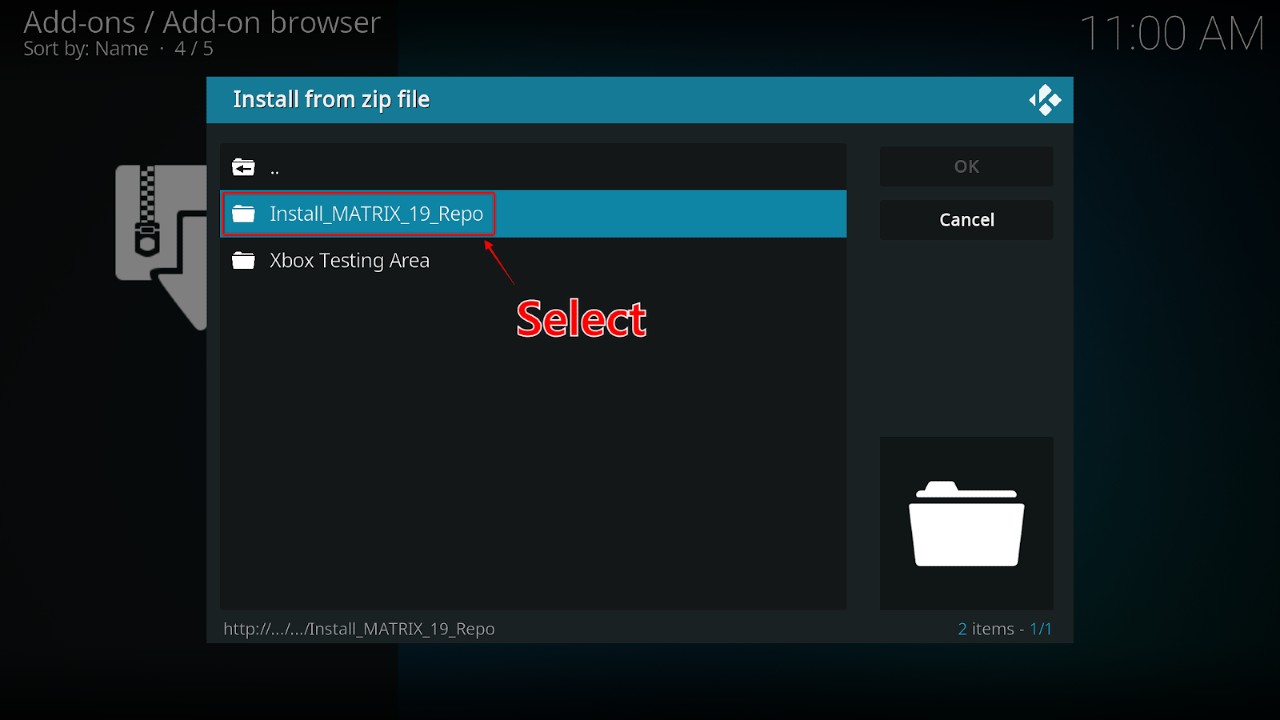 7. Click the URL for the Zip file 'repository.diggzmatrix.zip'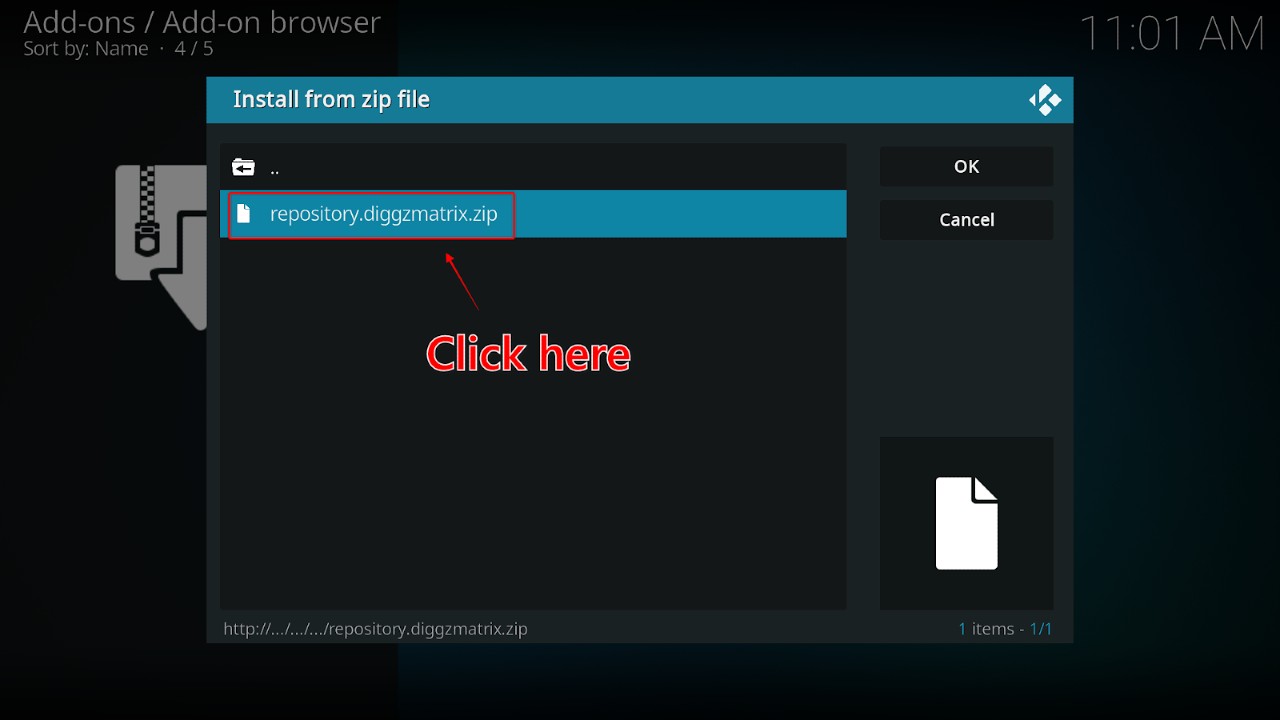 8. Wait a moment while it downloads—it could take a minute or two. When done, you'll see a notification on the top right that says 'Diggz Matrix installed'.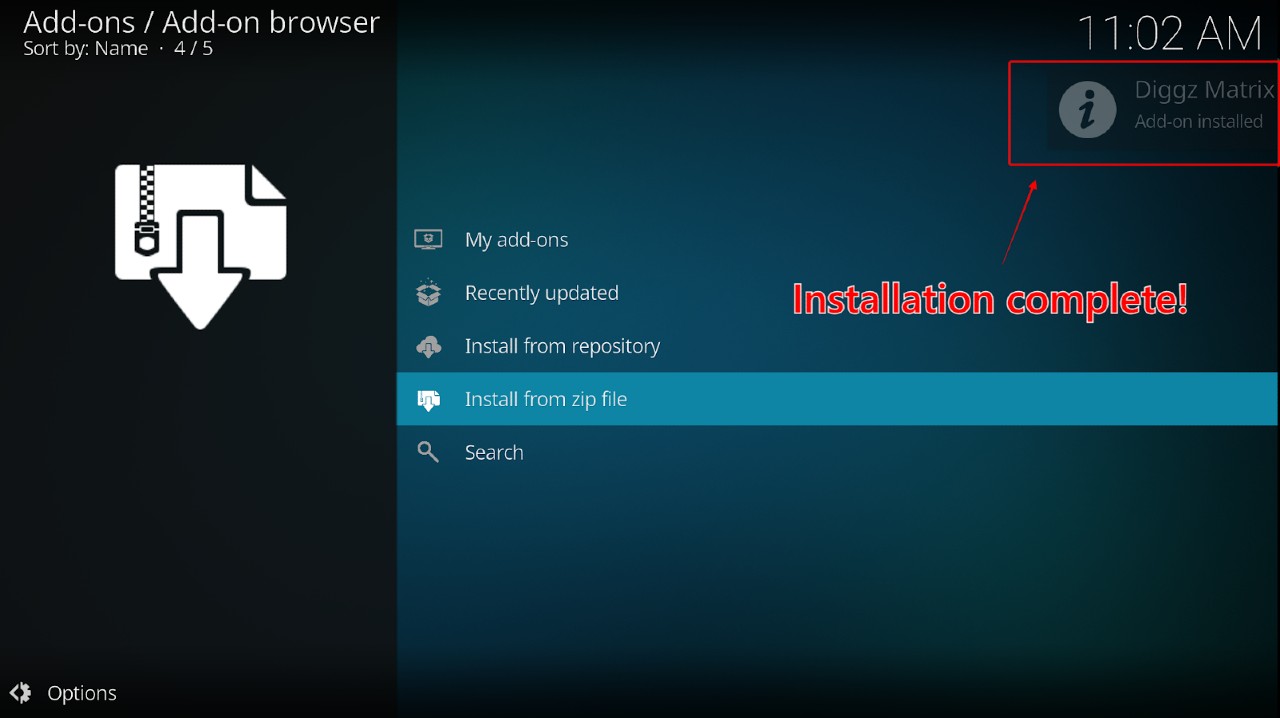 Installing Diggz Xenon Build
So close to being done! You downloaded the build and installed the repository. The last step is to install the build following these steps:
1. From the 'System' menu and select 'Add-ons' one last time.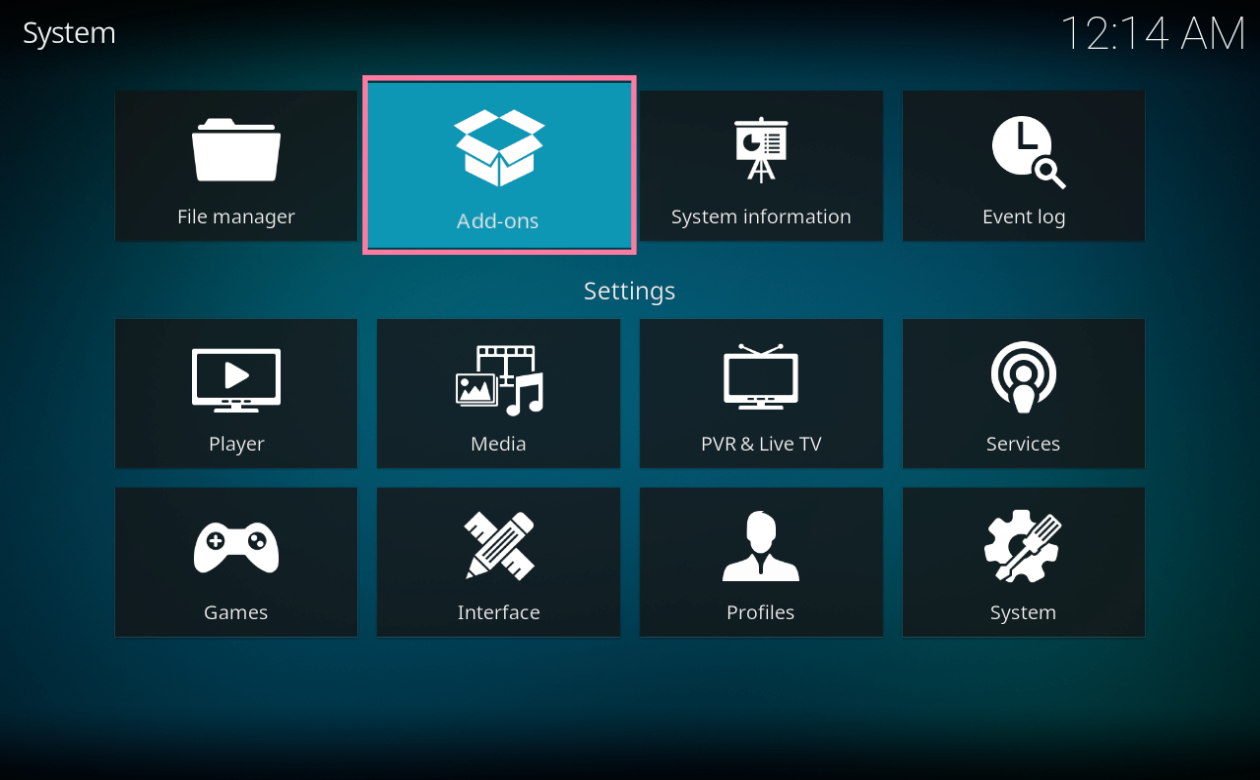 2. Click 'Install from repository'.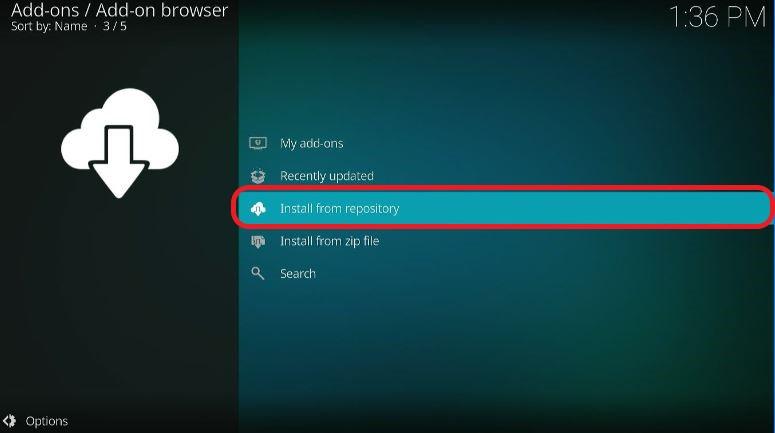 3. Click the 'Diggz Repository' from the menu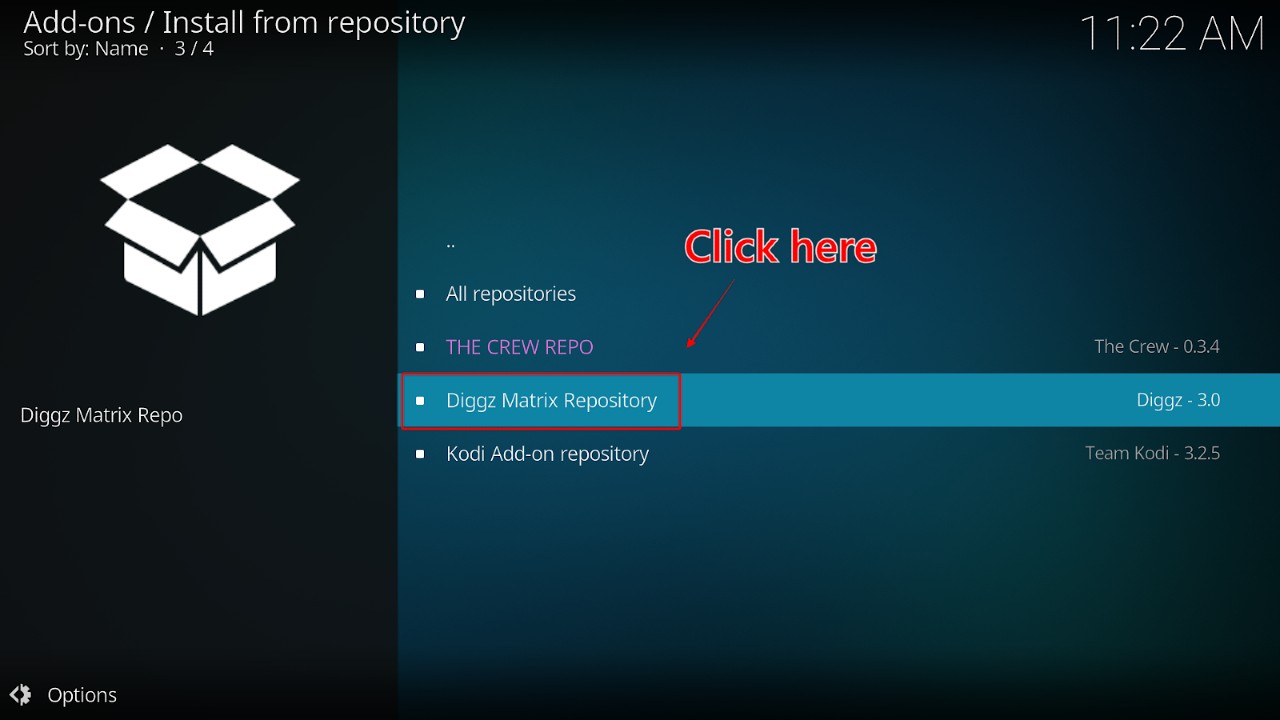 4. Select 'Program Add-ons' from the menu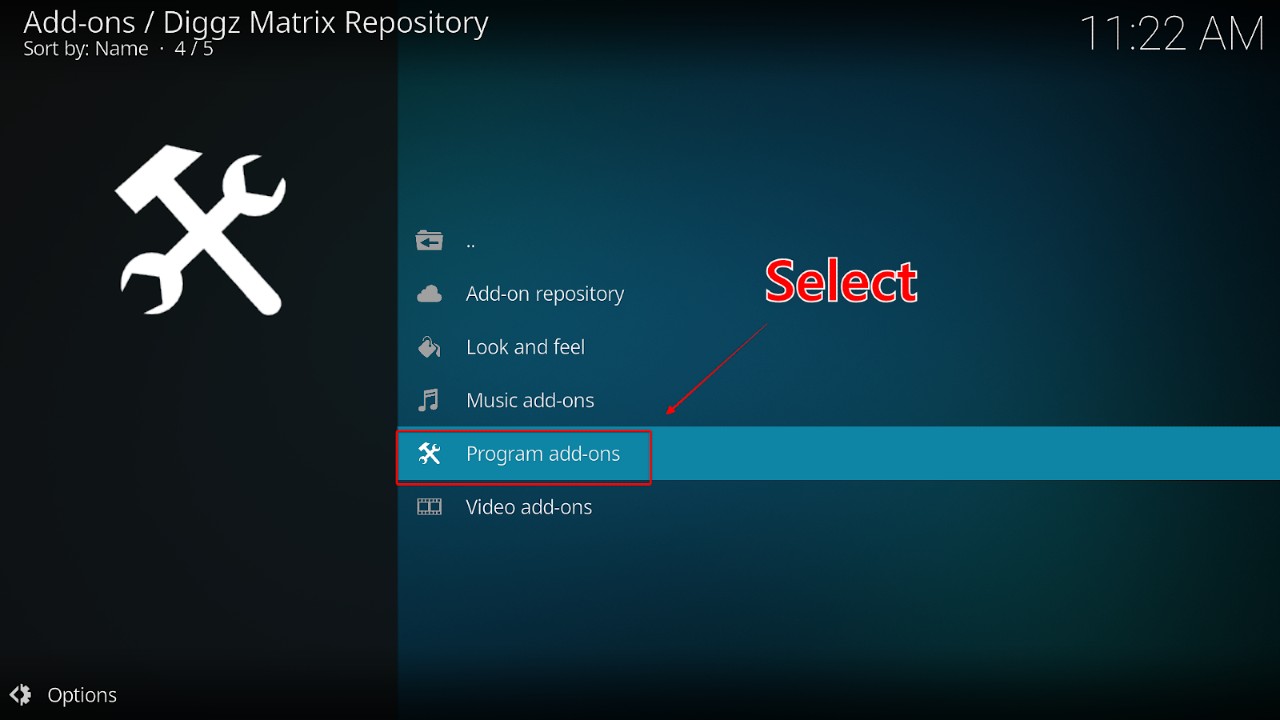 5. Choose the 'ChefMatrix Wizard'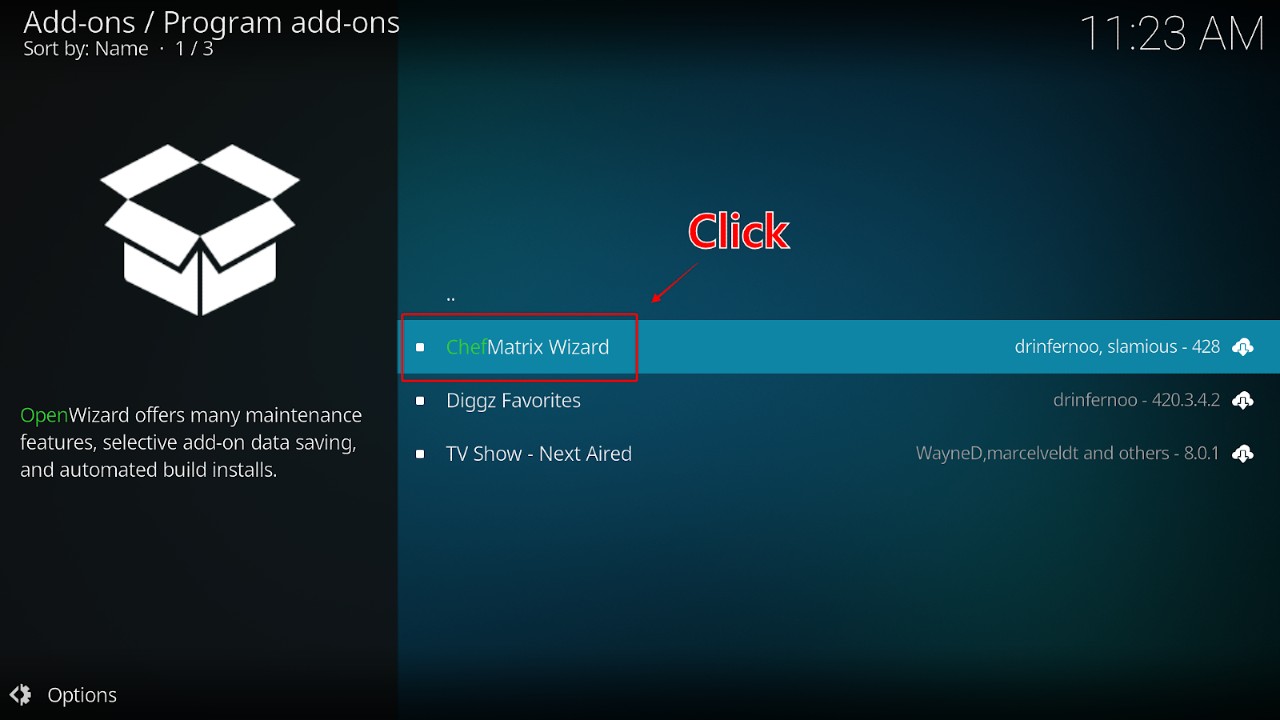 6. Click the 'Install' icon on the bottom right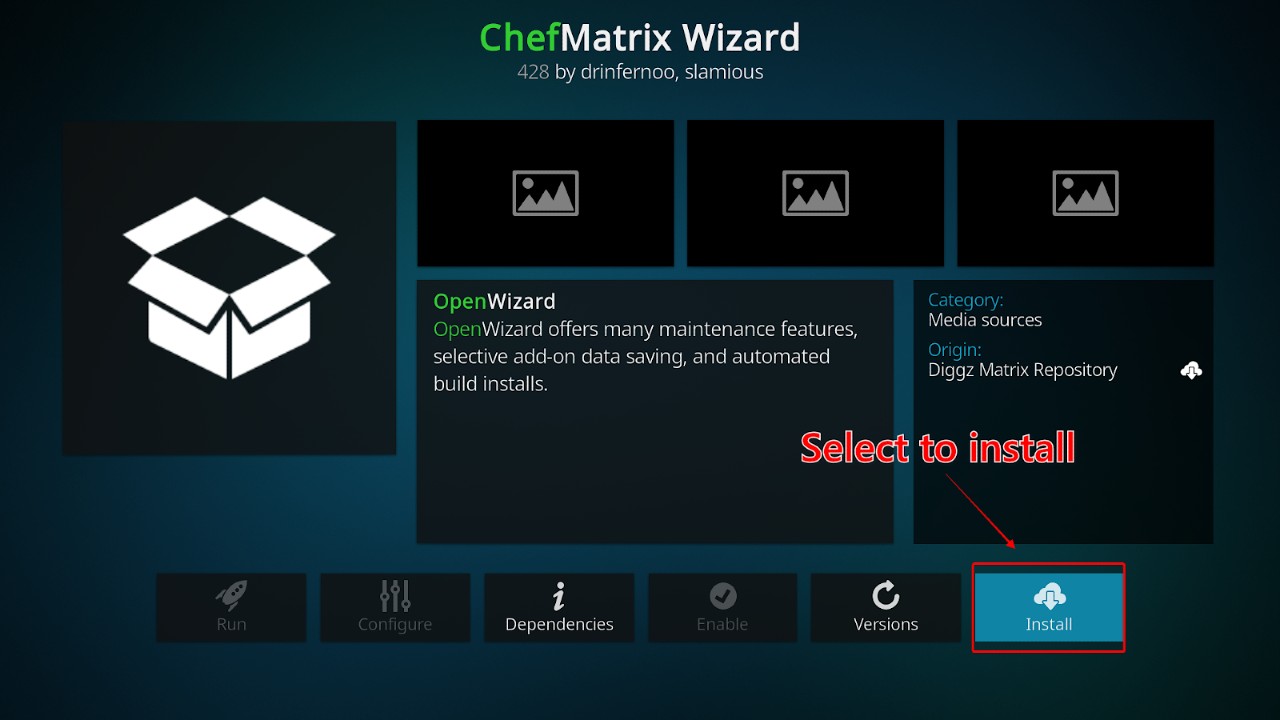 7. It should download in a few moments. Wait for "The Chef Wizard Add-on installed" notification to appear on the top right of your screen.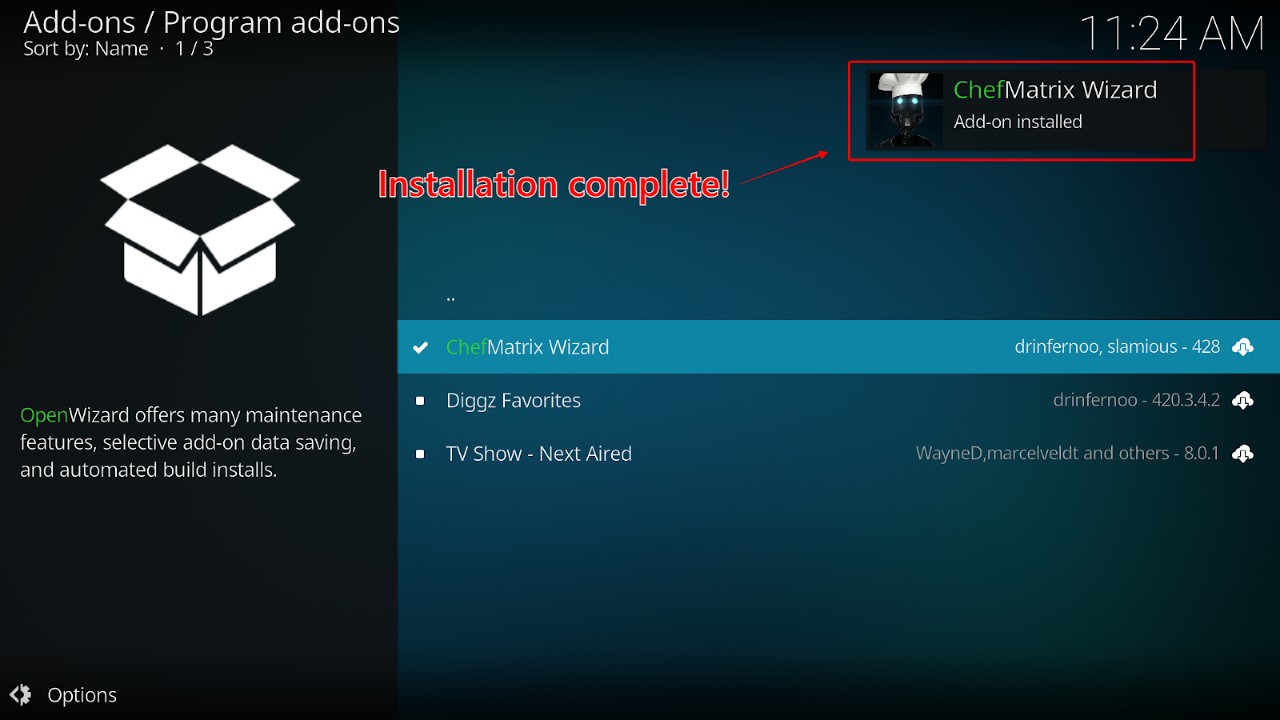 8. Click 'Dismiss' if the Builds Wizard message appears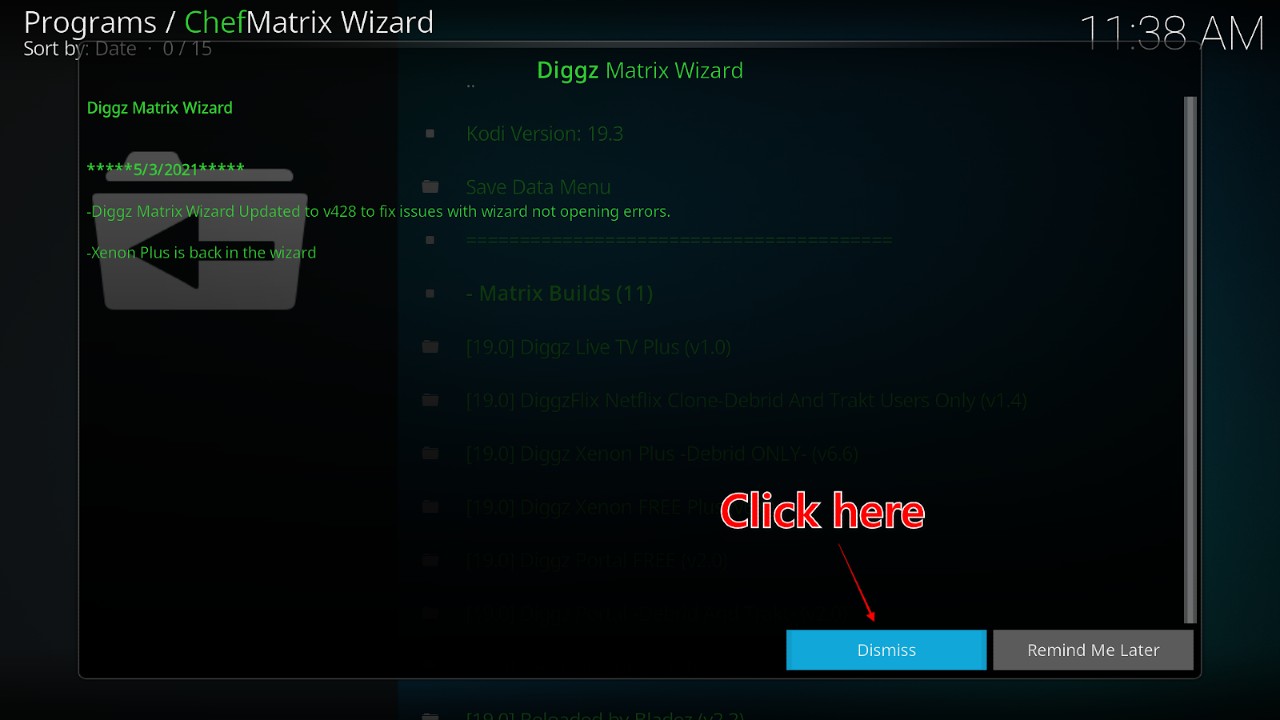 9. Click 'Ignore' on the pop-up window titled 'Chef Wizard'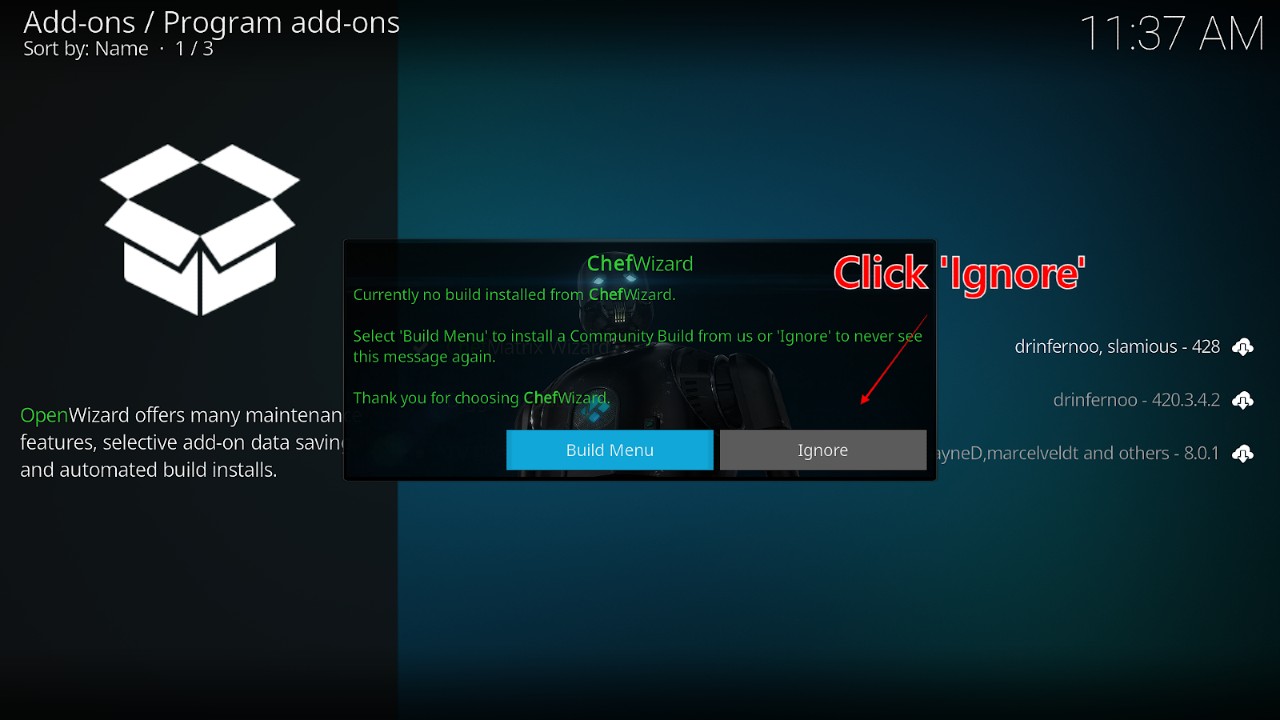 10. Tap the 'Back' button on your remote until you're back to the main Kodi menu. Scroll down on the menu to the left to 'Add-ons', and then move right and click the 'ChefMatrix Wizard' icon under 'Program add-ons'.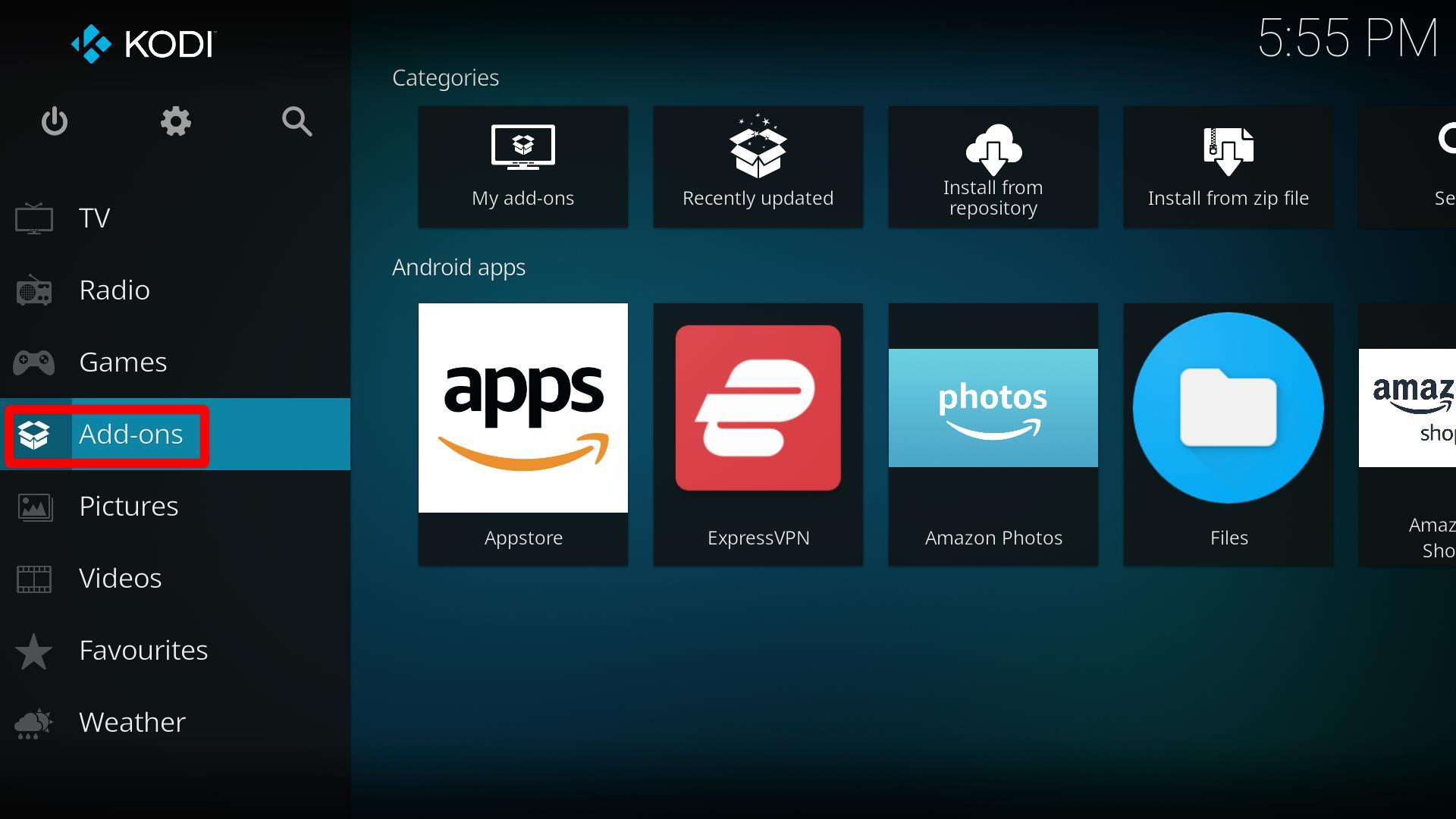 11. Click '(ChefWizard) Builds' from the menu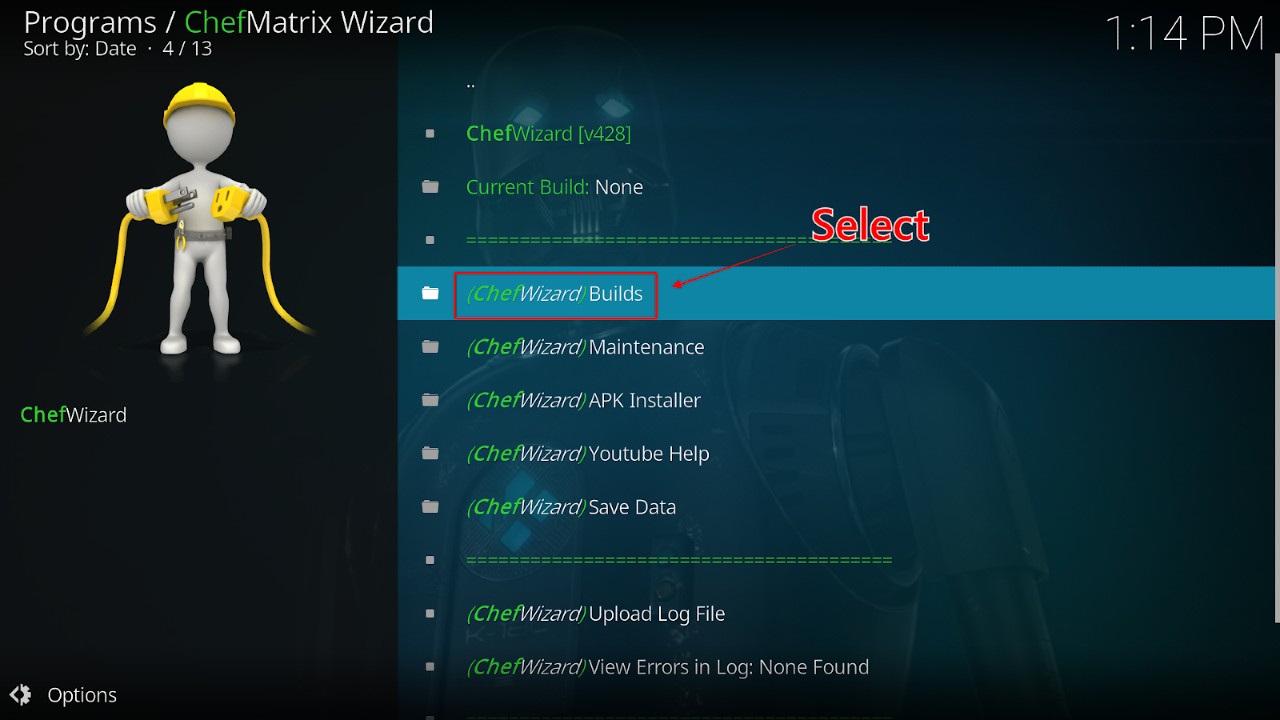 12. From here, you'll find a list of builds from the Chef Wizard. There are two versions of Xenon Kodi builds to choose from:  'Diggz Xenon Free' and 'Diggz Xenon Plus' if you use Real Debrid. Choose one of these two builds.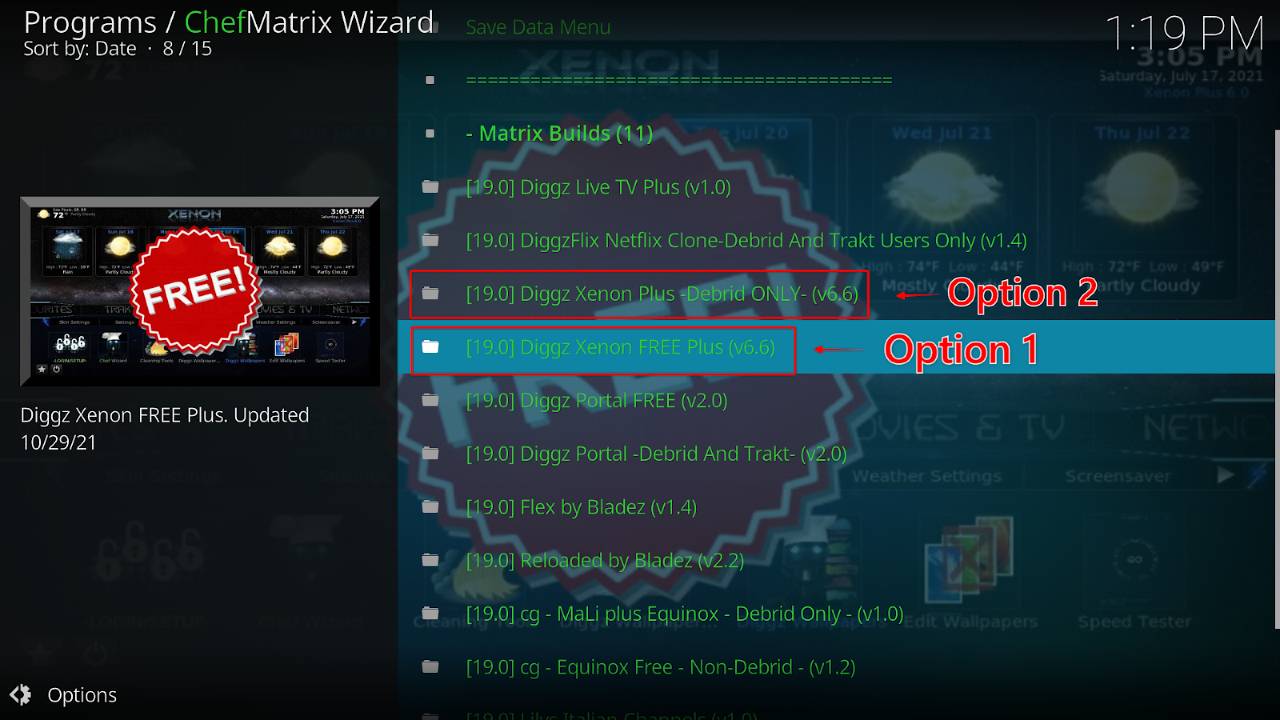 13. Click '(ChefWizard) Install' and then 'Yes, Install' to confirm.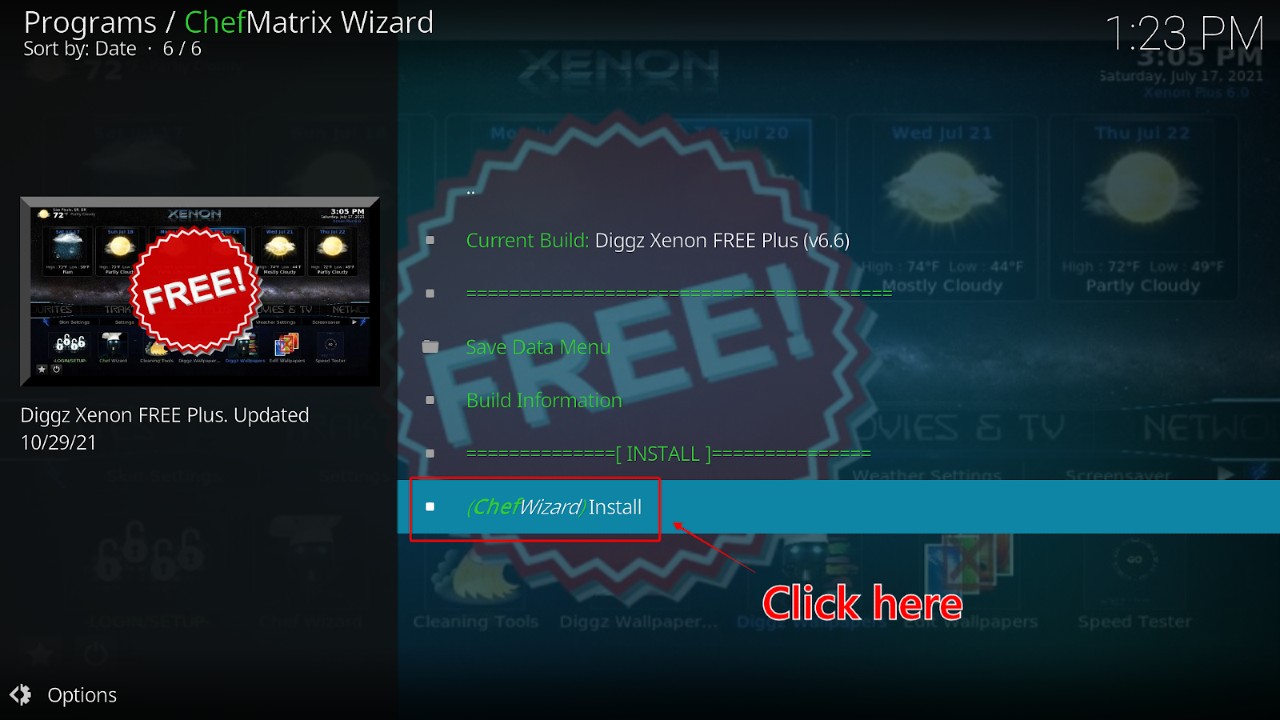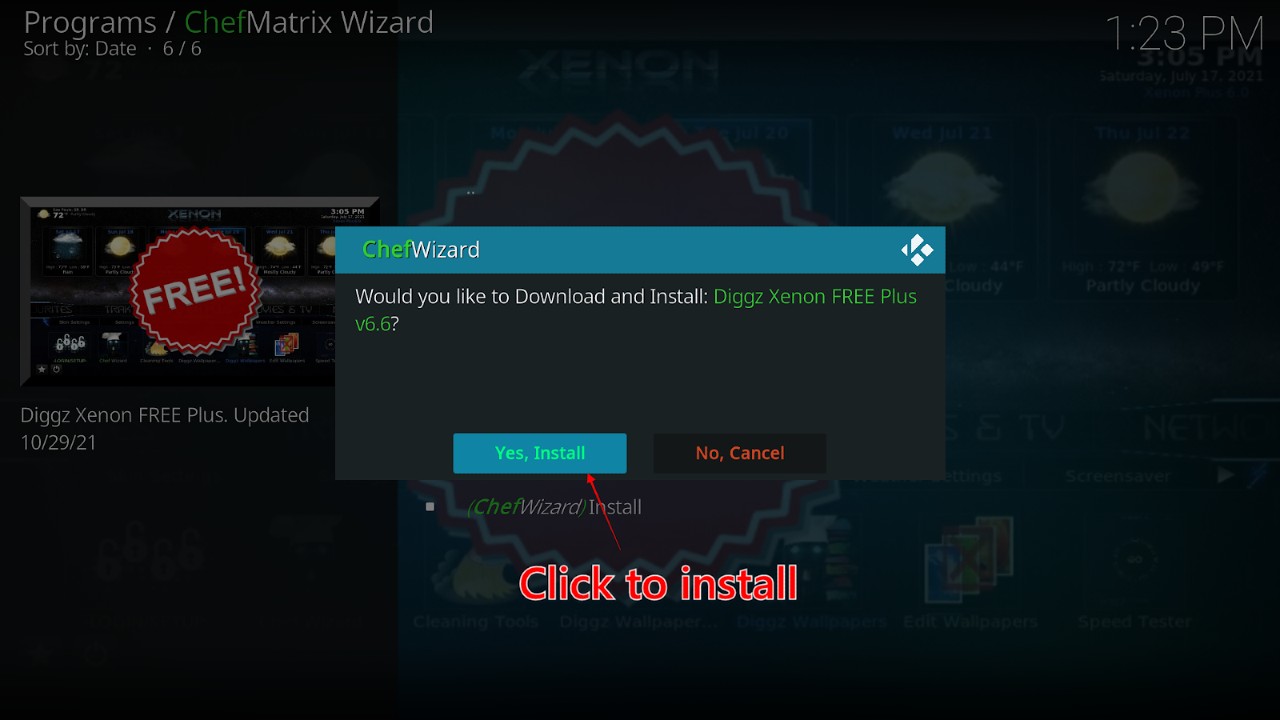 14. Sit back and wait for the download to complete—this can take a few minutes.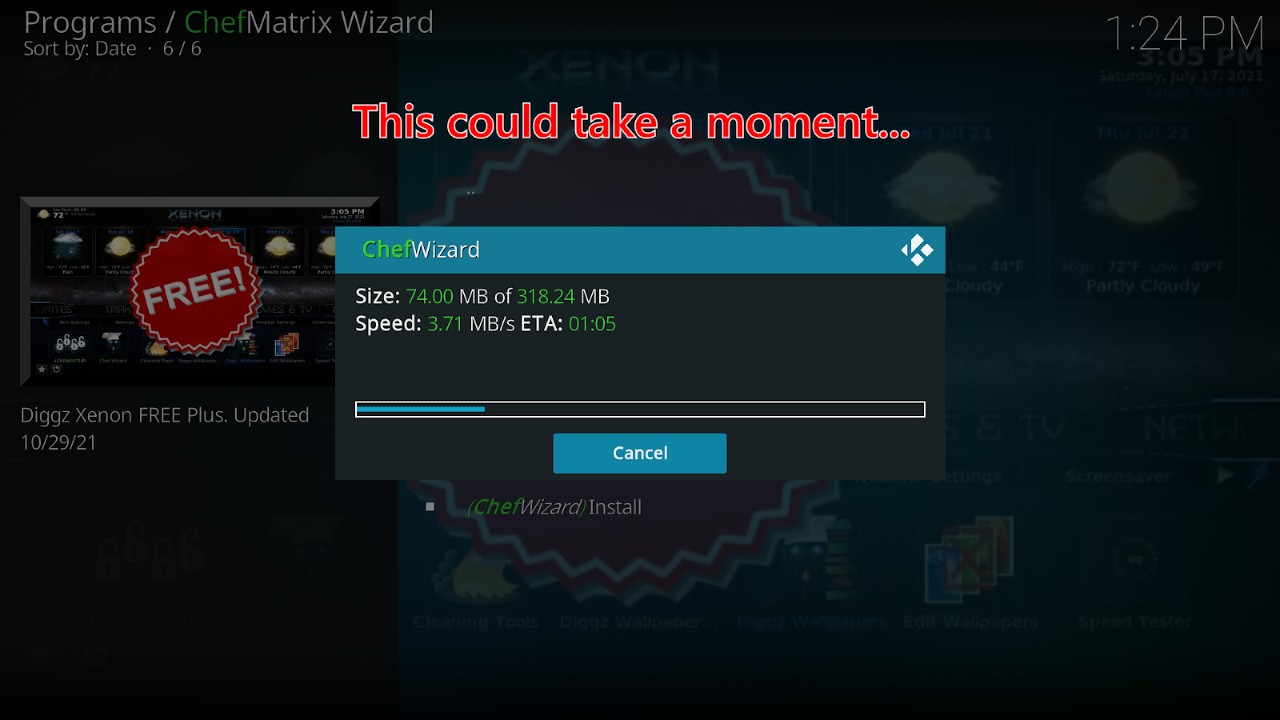 15. When complete, a pop-up menu will ask you to force close Kodi. Click 'OK'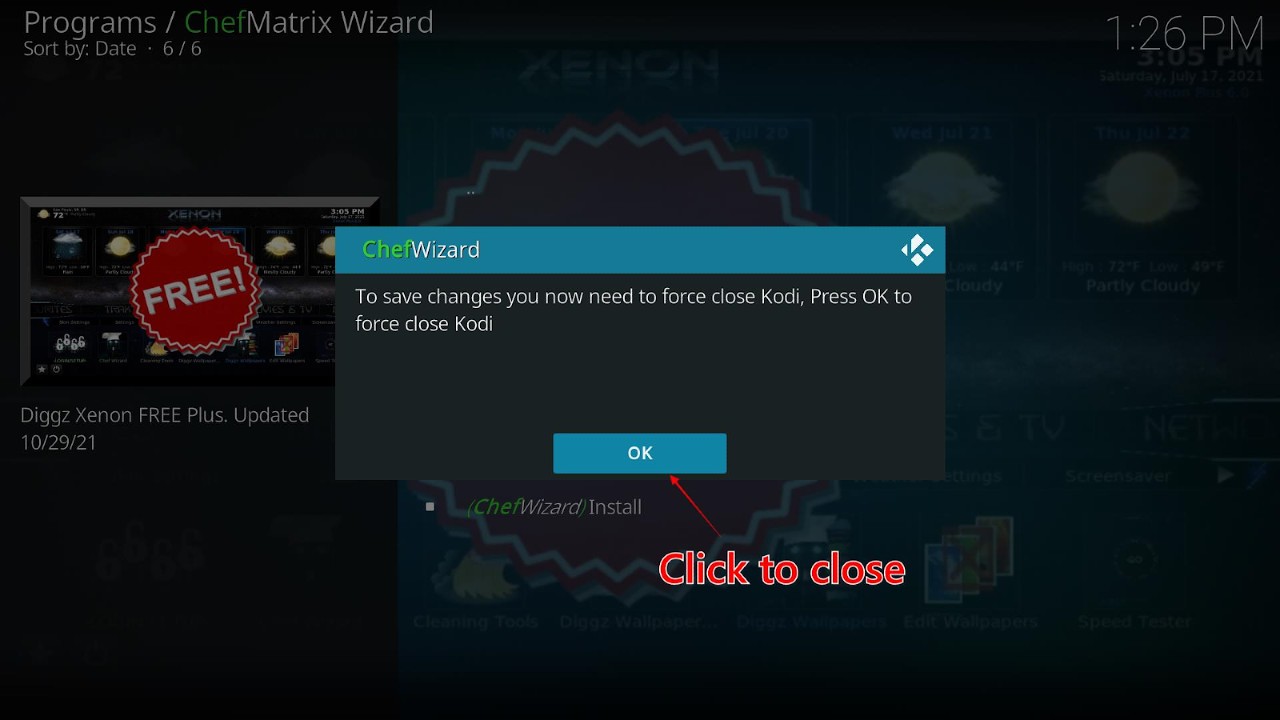 16. Open Kodi from the Firestick Home menu.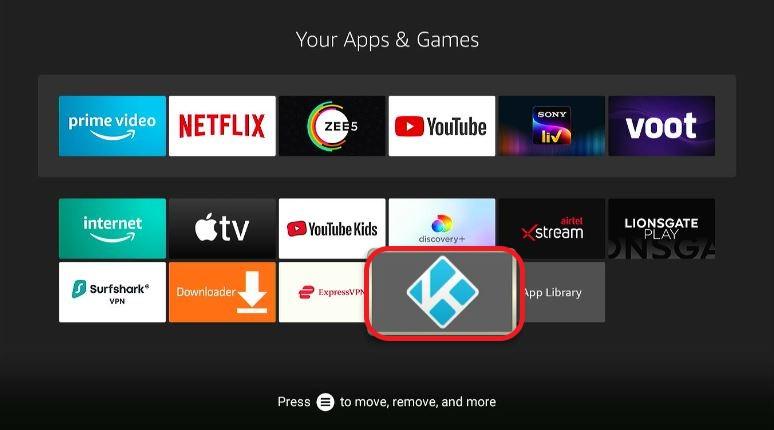 17. And you're done! You successfully installed the Diggz Xenon Kodi Build. When you first open the build, it may need to install some addons, build menus, and other updates. It might take some time, so have some patience.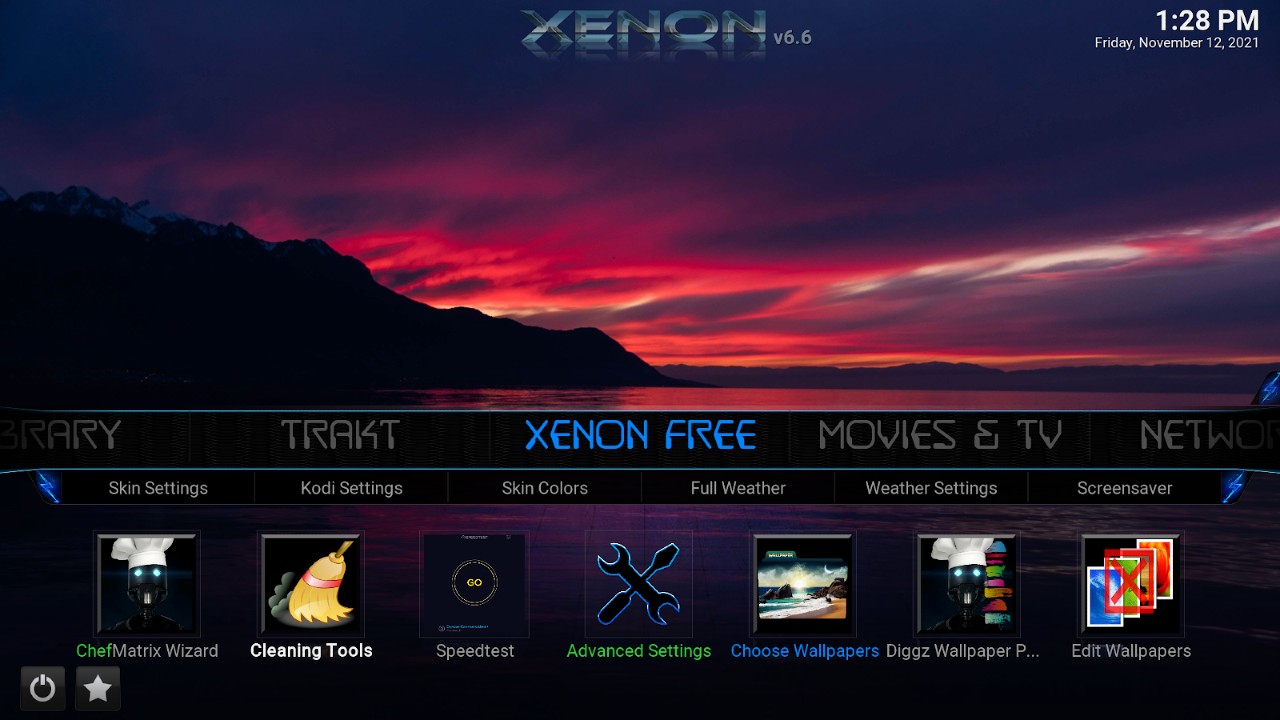 Is it legal and safe to use? Install NordVPN to stay safe
Safety
Whether a build on Kodi is safe or not is relative to the user. The Diggz Xenon Build doesn't come from Kodi, so it's not official. Needless to day, there's no control from the Kodi team as to what goes into the repository. This can change at any time.
Ultimately, it's up to you as a user to guard against malicious software and protect your privacy. Current scans have shown there to be no malware or suspect files within the Diggz Xenon repository.
Regardless, you should always use a combination of virus protection and VPN before downloading or viewing content through Diggz Xenon. This is the best way to protect your personal information from hackers.
Legality
Most of the content on Diggz Xenon is not legal. The build has tons of content sources from torrent repositories and other pirate sites. Streaming this type of copyrighted content without payment is illegal in most countries around the world.
If you're caught and turned into the authorities by your ISP, you could be subject to legal action. This is the other reason it's important to hide your IP address from your ISP using NordVPN.

This is another reason to hide your IP address with a quality VPN provider like NordVPN.
Installing NordVPN to stay safe while using the Diggz Xenon Kodi Build
Whether it's hackers, corporations, or ISPs, online tracking and privacy is a big issue. We gave you a solid list of the best VPNs for Kodi previously. And there are certainly many more out there.
However, if you want to use the best-of-the-best, there's no other choice than NordVPN. It's an easy-to-install, intuitive, user-friendly VPN that always has your back. 
Most importantly, NordVPN will keep your system safe while you browse on any device. Using the web without a VPN invites hackers into your network to steal information. Whether or not you're watching content online, always keep your IP private with a solid VPN.
Before you access content on Diggz Xenon, be sure to use your free 30-day trial and look into any discounts currently offered.
Click HERE to try out NordVPN for 30 days and save up to 68% on your subscription
To stay safe with NordVPN while using Diggz Xenon, follow these steps:
Step 1: Subscribe to NordVPN HERE. You'll have a 30-day money-back guarantee, meaning you can try it out risk-free for the first 30 days and request a full refund if you're not happy with the performance. But that's highly unlikely because NordVPN's service is top notch.
Step 2: Start up your Fire TV Stick and go to the Find menu and then select the Search option.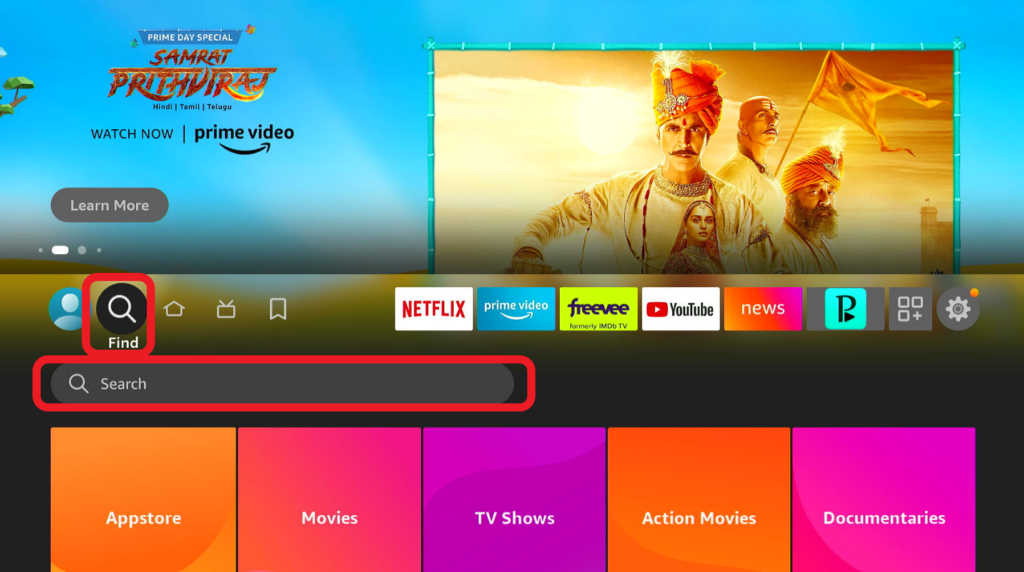 Step 3: Now enter Nordvpn in the search bar and select the NordVPN suggestion that shows up in the search results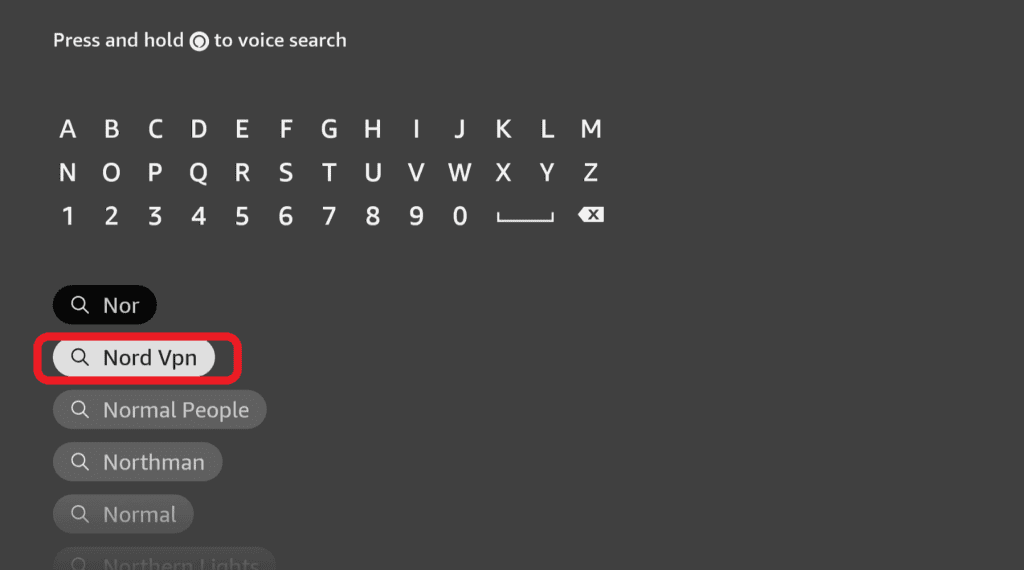 Step 4: Click on Download to install the NordVPN app on your Firestick.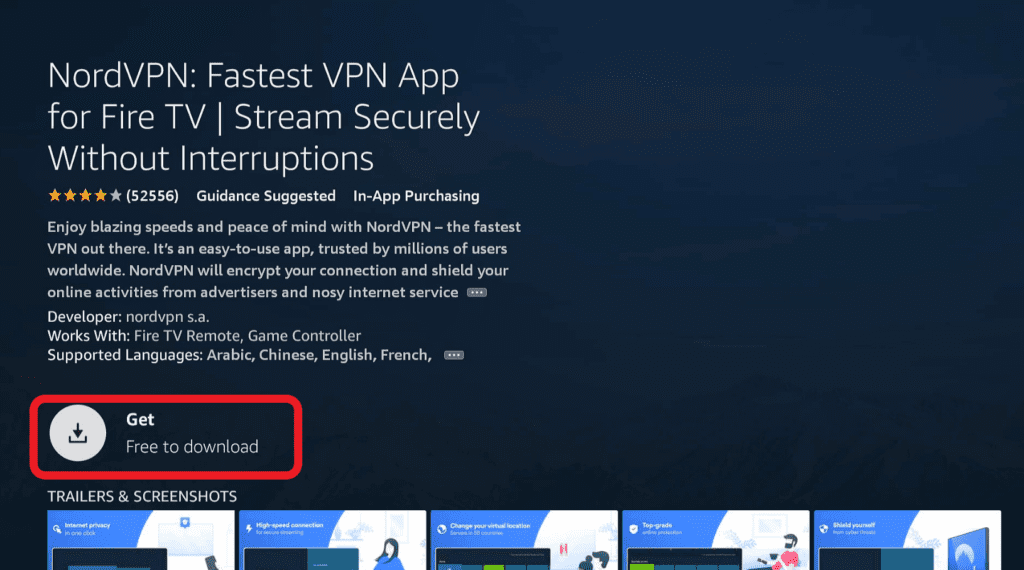 Step 5: Open up the NordVPN app and enter your login credentials. The ones you've created when signing up to NordVPN.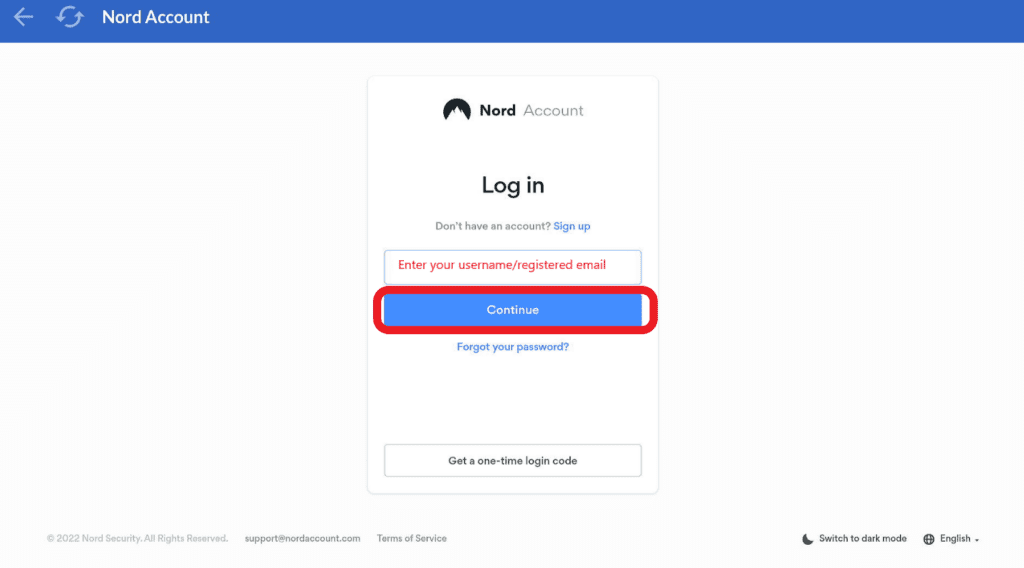 Step 6: Choose your preferred location under "All Countries" and the simply hit "Connect now"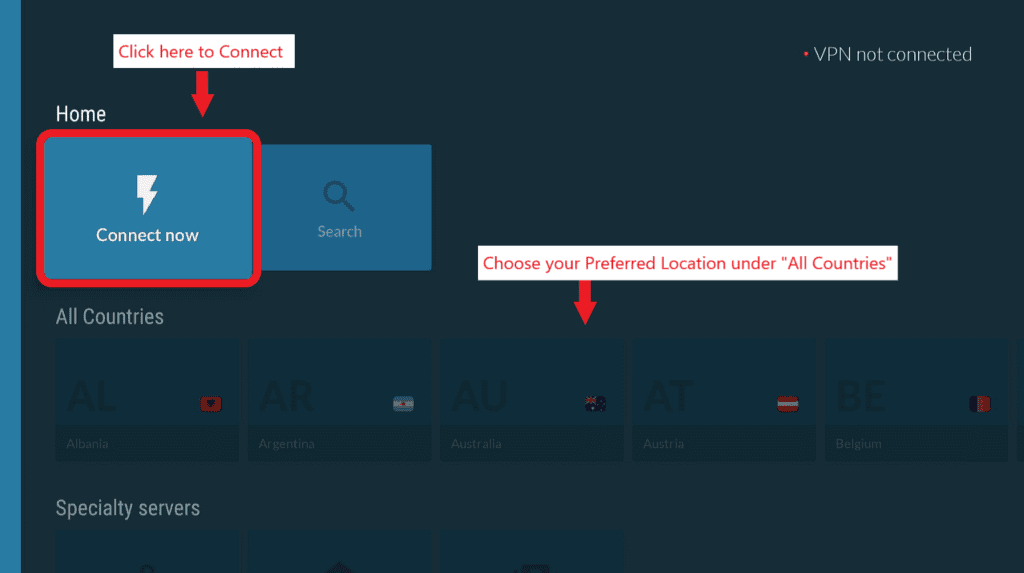 How to use Diggz Xenon once you've installed it?
At this point, you have Diggz Xenon installed, and you should have NordVPN or another VPN installed and running. If you don't, review the previous two sections before proceeding. If you do, let's explore some features on Diggz Xenon and learn steps to using this Kodi build.

Playing Movies & TV
Since this is easily the most popular category, we'll focus here. From Movies & TV, you can access thousands of movies and TV shows—old and new—from a variety of addons.
This is the best category to provide instructions on using Diggz Xenon. You'll replicate these steps in many other categories on the build, but we'll review those as well.
To start, scroll either left or right from the middle navigation menu to 'Movies & TV'
From here, you have a couple of options.
Option 1 – Use the Genres and Lists menu to find a specific title and play it.
1. Choose an option from the menu on the center to find a list of genres or titles. For this example, we'll use 'Movie Genres'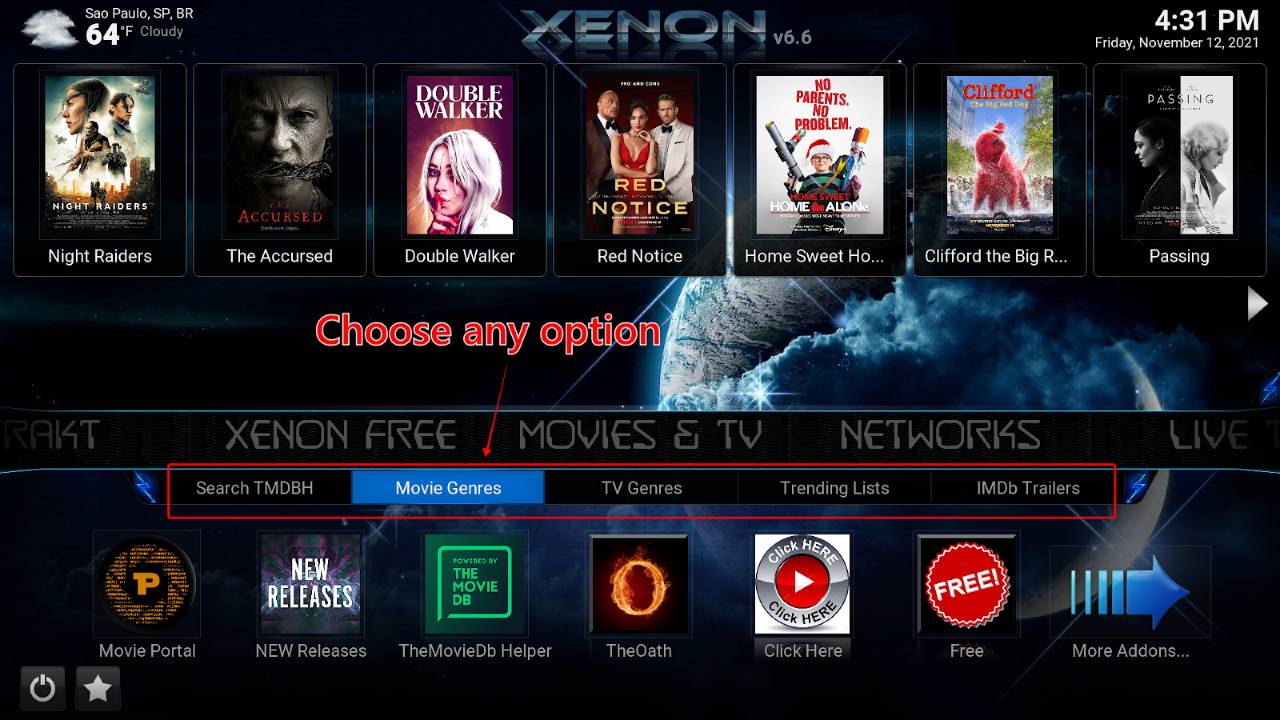 2. Choose a genre. We feel like watching a 'Comedy' today.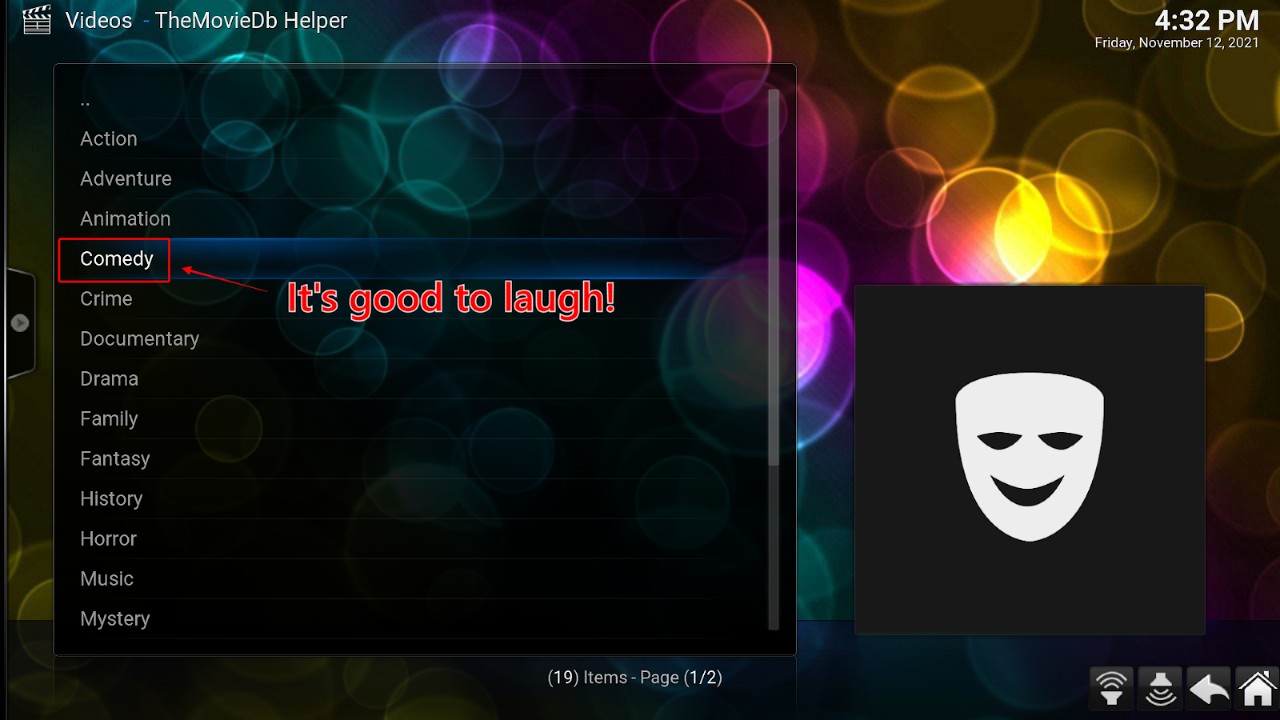 3. Select a title. I heard The Suicide Squad is funny!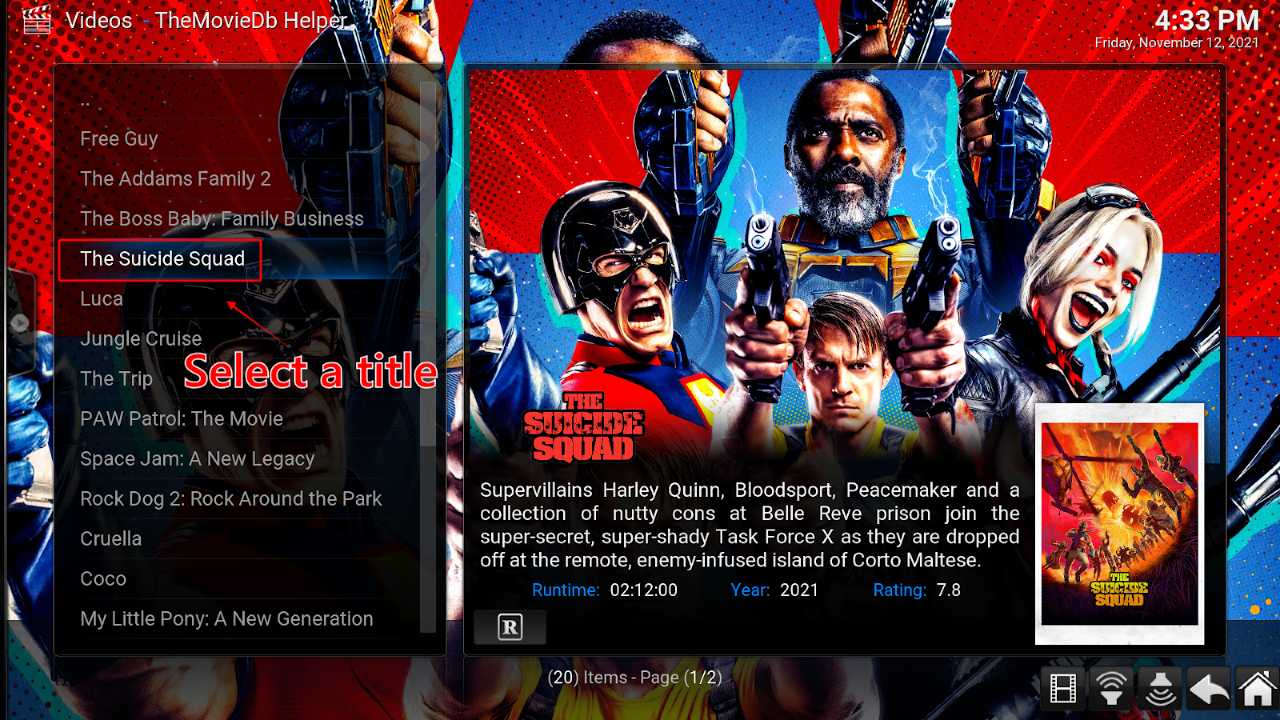 4. When you click on a title, a list of addons and a trailer option will appear. You can choose any source you like, but we recently ranked The Oath as one of the best Kodi addons. To use The Oath, click 'Play with The Oath'.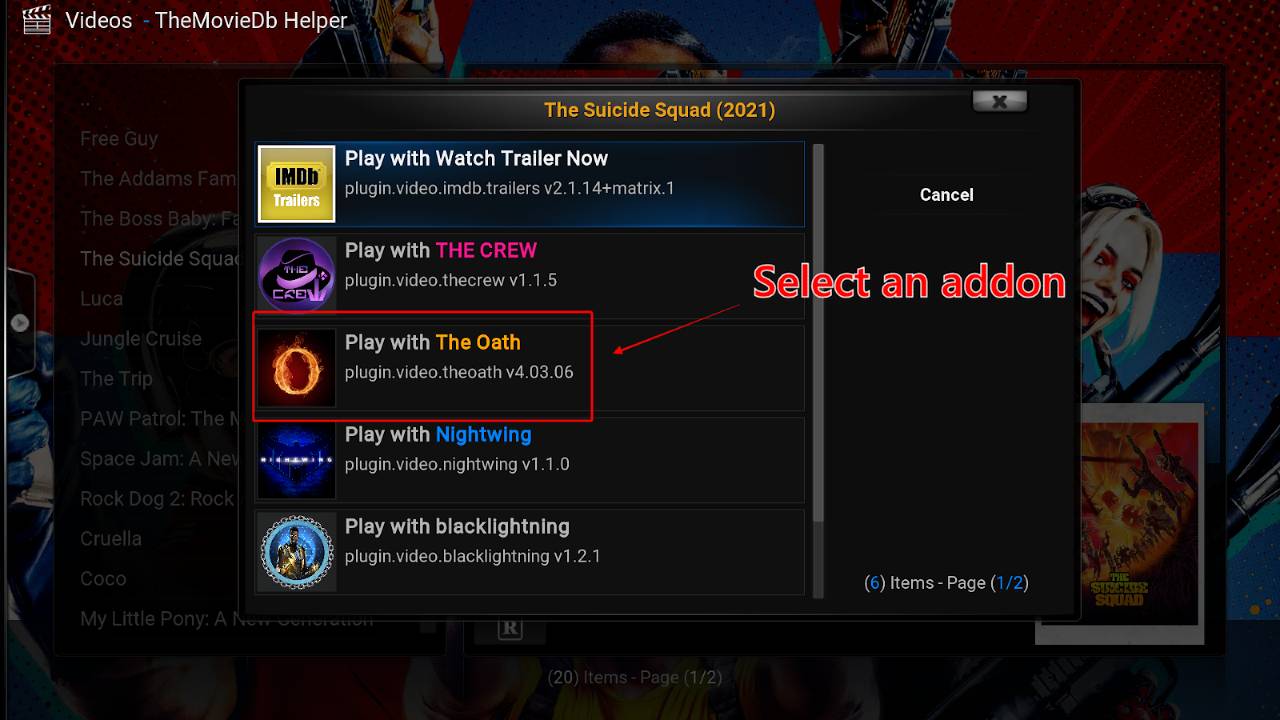 5. The build will bring up a list of links to choose from. Most will have a 780p resolution, but some can play in 1080p. Click on any link from the list and enjoy your movie!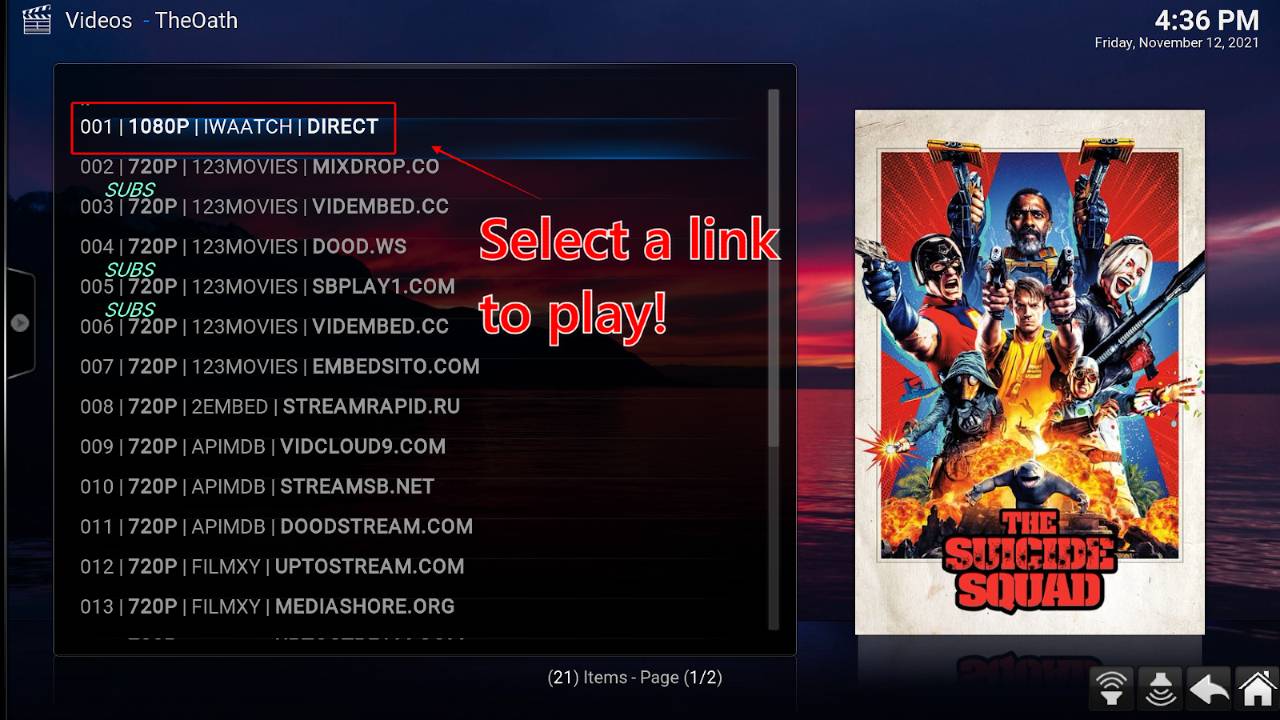 Option 2 – Play directly from an addon.
1. Scroll down and select any of the addon icons at the bottom of the menu. As we said in the previous menu, The Oath is always a solid option.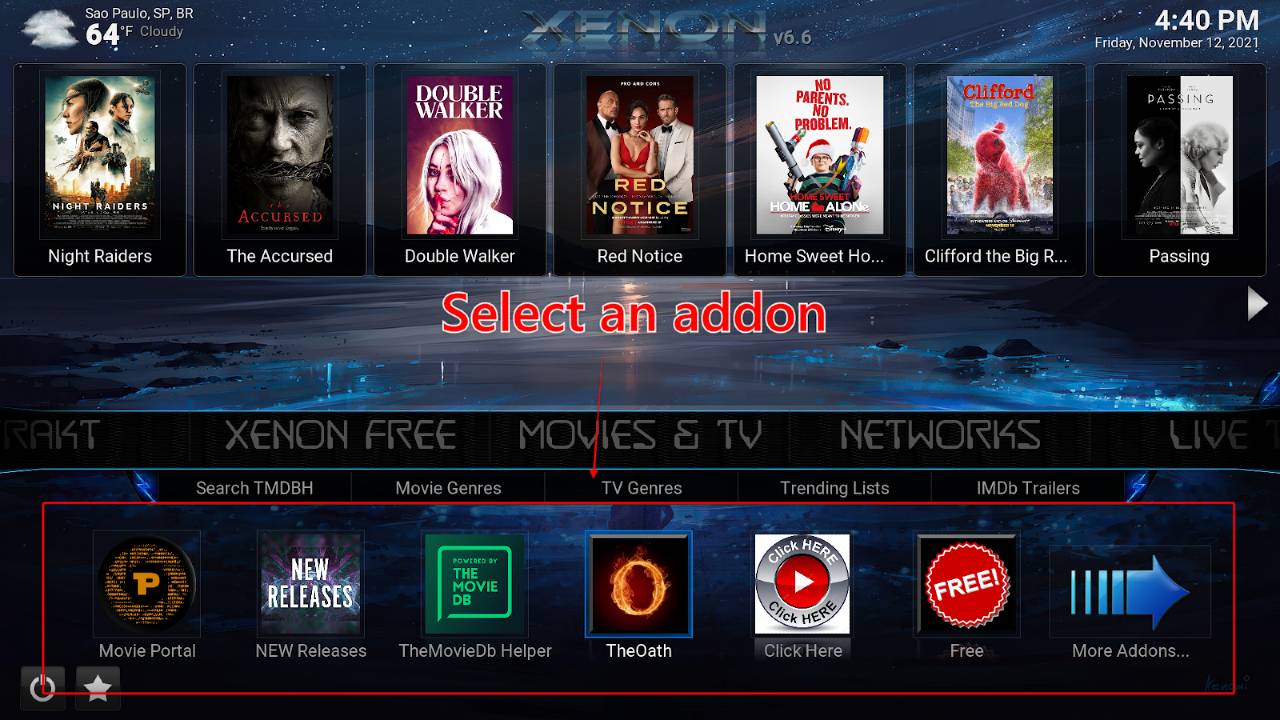 2. From The Oath menu, you can choose from any category of content you want to watch. We used the previous method to watch a movie, so we'll go with a TV show this time. Click 'TV Shows'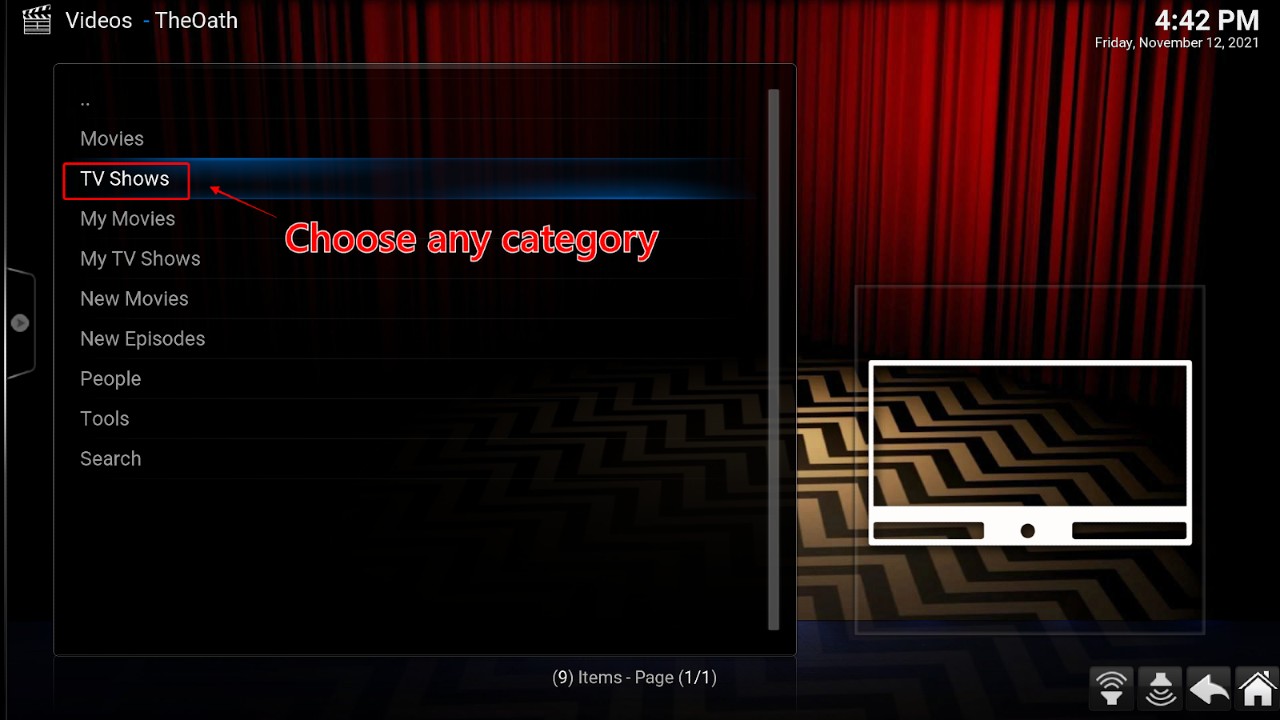 3. From here, you can find content from a variety of categories to zero in on exactly what you want to watch. For this example, we'll use 'Genres':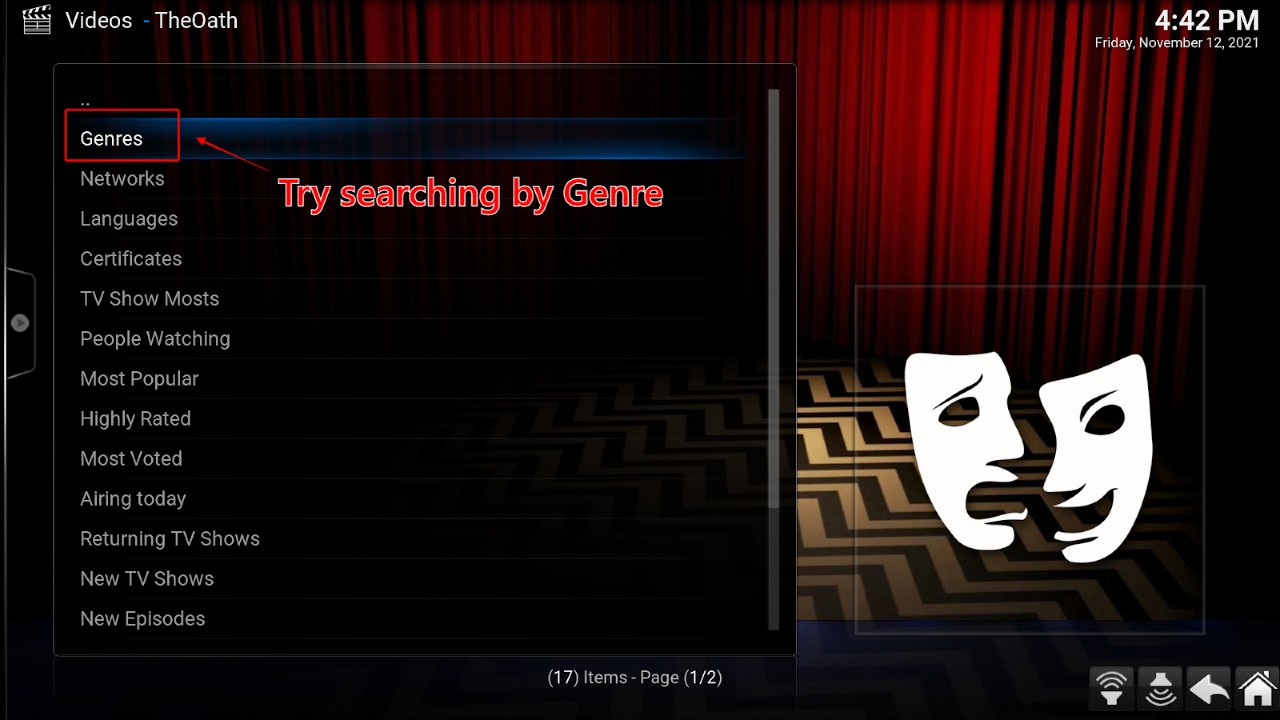 4. In this menu, choose your category. We still want to watch something funny. If you do too, select 'Comedy'.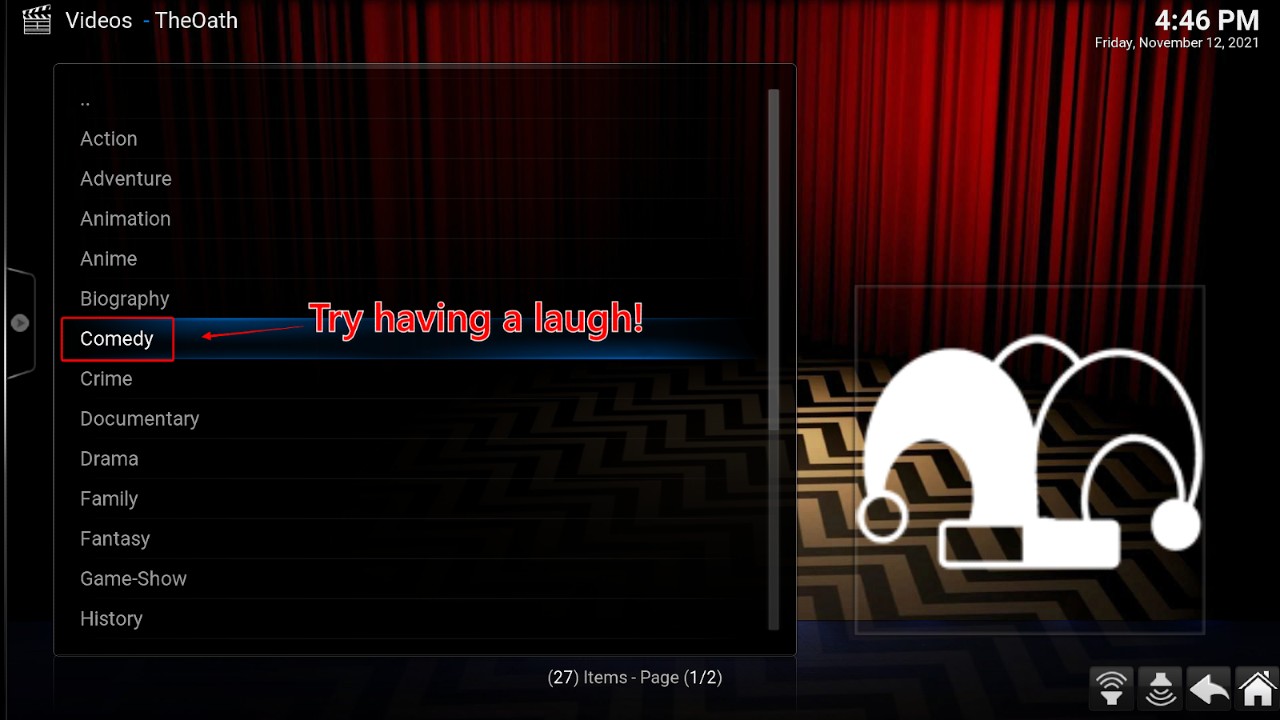 5. Pick a show from the menu and click on it.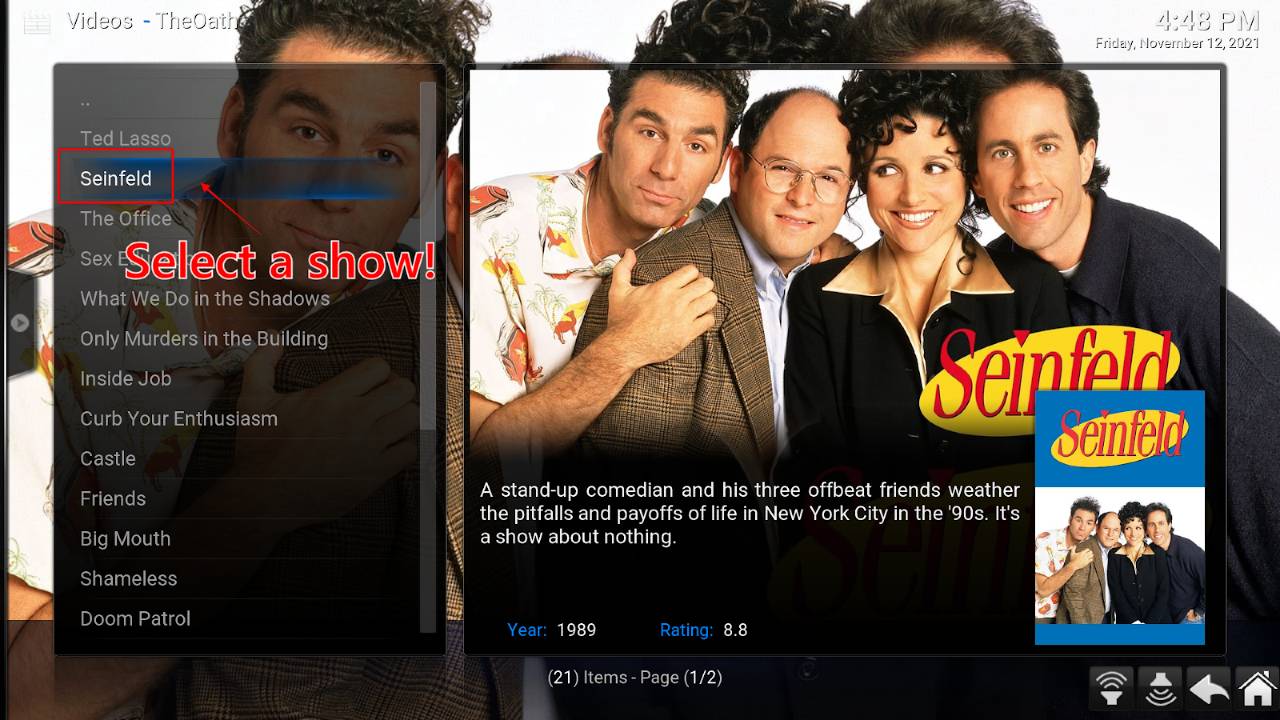 6. If the show has multiple seasons, you'll need to make a choice and select a specific episode.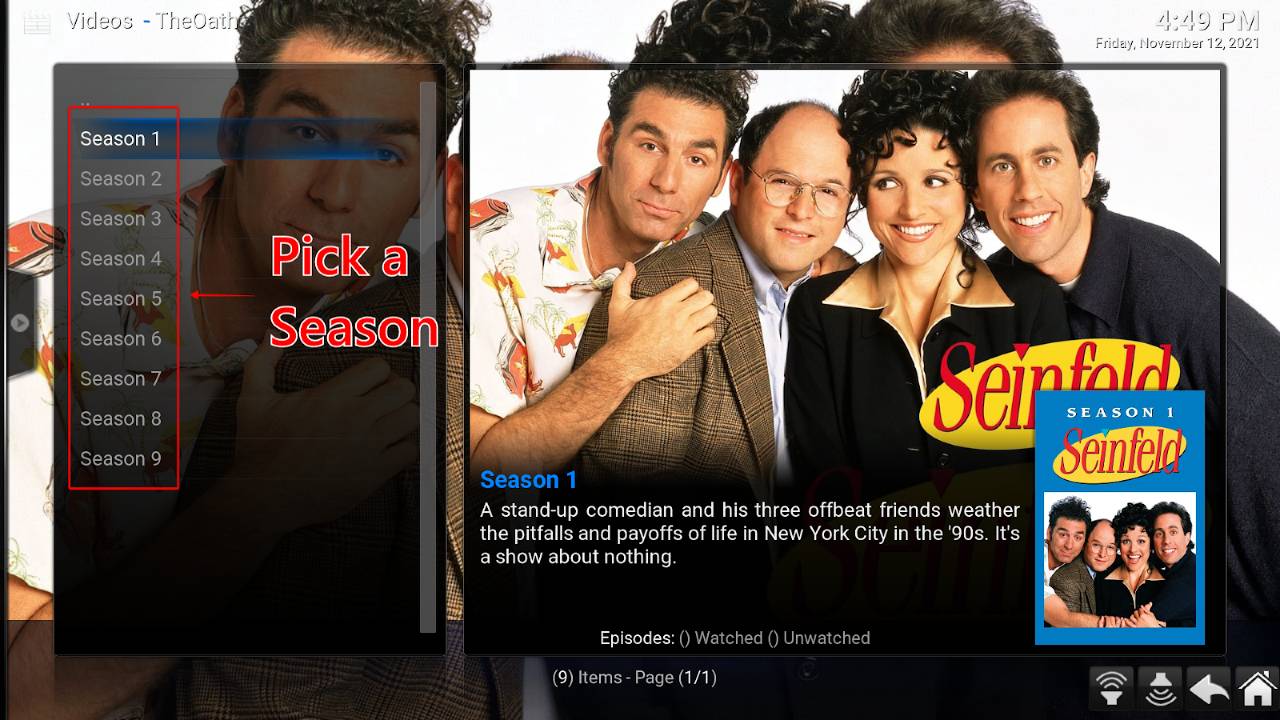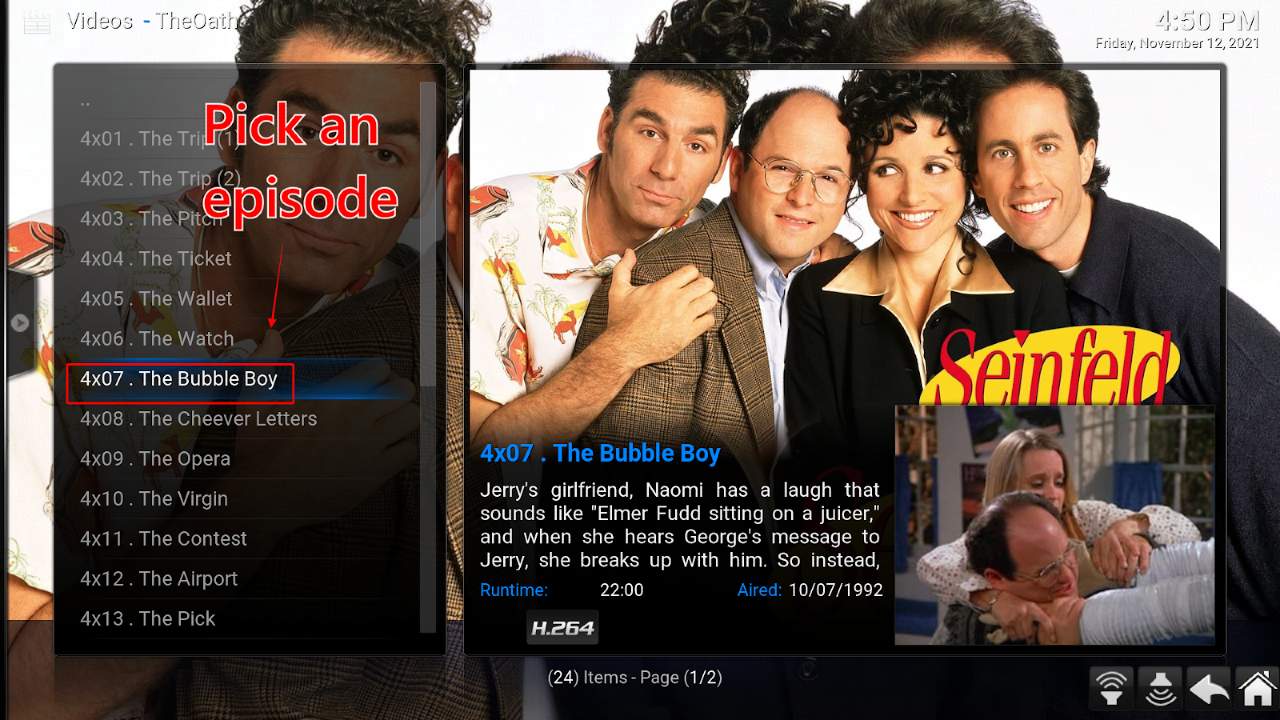 7. Once you choose, the build will bring up a list of links. Click on any link and enjoy your content!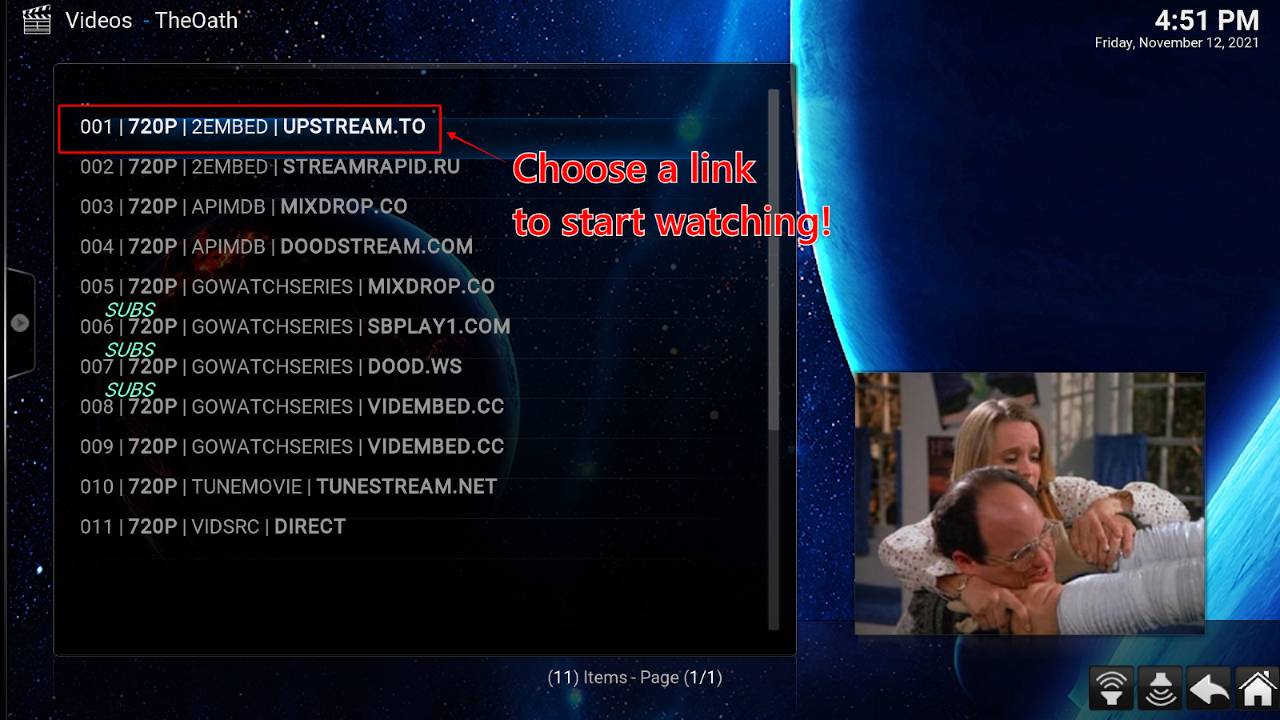 What if the link fails?
If the link you first selected doesn't work, keep trying different links! Navigate back to the links menu, select another, and repeat the process until you find one that works. It can sometimes take multiple tries before you find a solid link.
Other Diggz Xenon Categories and Options
Obviously, there are many other categories in Diggz Xenon, and it'll be up to you to explore them. The path to playing the content is the same: click an addon, find a link, and play!
Here's a rundown of what you can find some other categories:
Networks – Play content from the top streaming services like Disney+, Netflix, and HBO Max
Live TV – Access content from multiple IPTV addons and watch live shows all over the world.
Sports – Watch live sports and PPV content
Music – Access music only channels from the top streams.
You can also download several paid addons like Trakt and Real Debrid, switch your skins, and access video games.
Summary
With the Diggz Xenon Kodi Build installed, you have access to content through some of the most popular addons. It can be a little trying to install a build for the first time, but you've completed the task. Remember to always run NordVPN before viewing content. Enjoy your new Kodi build!
FAQs
What is Diggz Xenon Kodi Build?
To answer this question, let's distinguish between builds and add-ons for Kodi. 

A single add-on on Kodi could give you access to many types of content, whether official or not. Most unofficial Kodi addons give you access to a specific repository of links. You must open Kodi and then open the add-on to access content. 

A build bundles groups of the top add-ons and repositories all in one place. It also integrates into Kodi to give you customizable layouts and looks. When you install a build, you only have to open Kodi, and it's there—with no extra steps.

Diggz Xenon is one of the most popular Kodi builds because it has loads of working addons in a user-friendly format. With Diggz Xenon, you can access tons of content from a wide range of categories like TV Shows, Movies, Sports, Arcade, Music, Streams, TV Guide, Kids Zone, and much more.
What is the best Kodi build?
There are many opinions of what's the best Kodi build, and it's hard to proclaim which one is the ultimate, must-have build.

Developers release new builds every year. To stay on top of their game, they're updating features based on user feedback and the best available Kodi Addons.

Different Kodi builds are better for different people based on the type of content they watch. And the user interface is another factor that could determine which build is the best for you. 

If you're unsure of where to start, we have a list of the best Kodi builds in 2022. And note that Diggz Xenon consistently makes it to the top ten in most Kodi build review lists—including our own!
How do I use Kodi builds and are they legal?
Using Kodi builds isn't difficult. Just install the build, and navigate through the different categories to find content. Builds usually include Live TV or IPTV, TV Shows, Movies, Sports, Kids programming, Fitness, and even more. Once you access a category, click on the link to play.

For legality, this is where things get tricky. It's legal to download, install, and use a build on Kodi. However, using a build typically involves accessing copyrighted content that's illegal to watch for free. 

Before viewing content with a Kodi build, be sure to install and run a VPN on your Firestick to protect your privacy.