The first and easiest method is to download Tweakbox to install Kodi as a third-party app. Though it may feel like you are jailbreaking your iPhone, you're not. Installing Kodi using Tweakbox is completely safe. Let's begin:
Unlock your iPhone and open Safari.
Now, in the search bar, type www.tweakboxapp.com and press enter.

You will see a page that tells you more about the TweakBox app. You can choose to read it, if you want. Next, click the Install Now button.

(Tip: If a warning message pops up, please click on Allow.)

You will see a profile downloaded notification once the app is on your device.

Now go to Settings on your iPhone or iPad and select General. You will see TweakBox profile on the right. Select it.

Look for the Install button on the top right corner. Click on it.

Now enter the password of your iPhone to confirm the installation.

You will then see a warning notification. Select Install.

Click Install again.

You should wait a moment for TweakBox to appear on the home screen.
Go back to the home screen and open the TweakBox app.
You might find a lot of annoying apps every 5 seconds while you try to use the app. Click on the cross button to move on when you see an advertisement.
(Tip: Look for the X sign to close the ads)
Once you're on the Tweakbox screen, click on the Apps tab.

Under the Apps, select Tweakbox apps.
Now scroll down and find Kodi in the list of apps.
You can also use the search bar to find it quickly.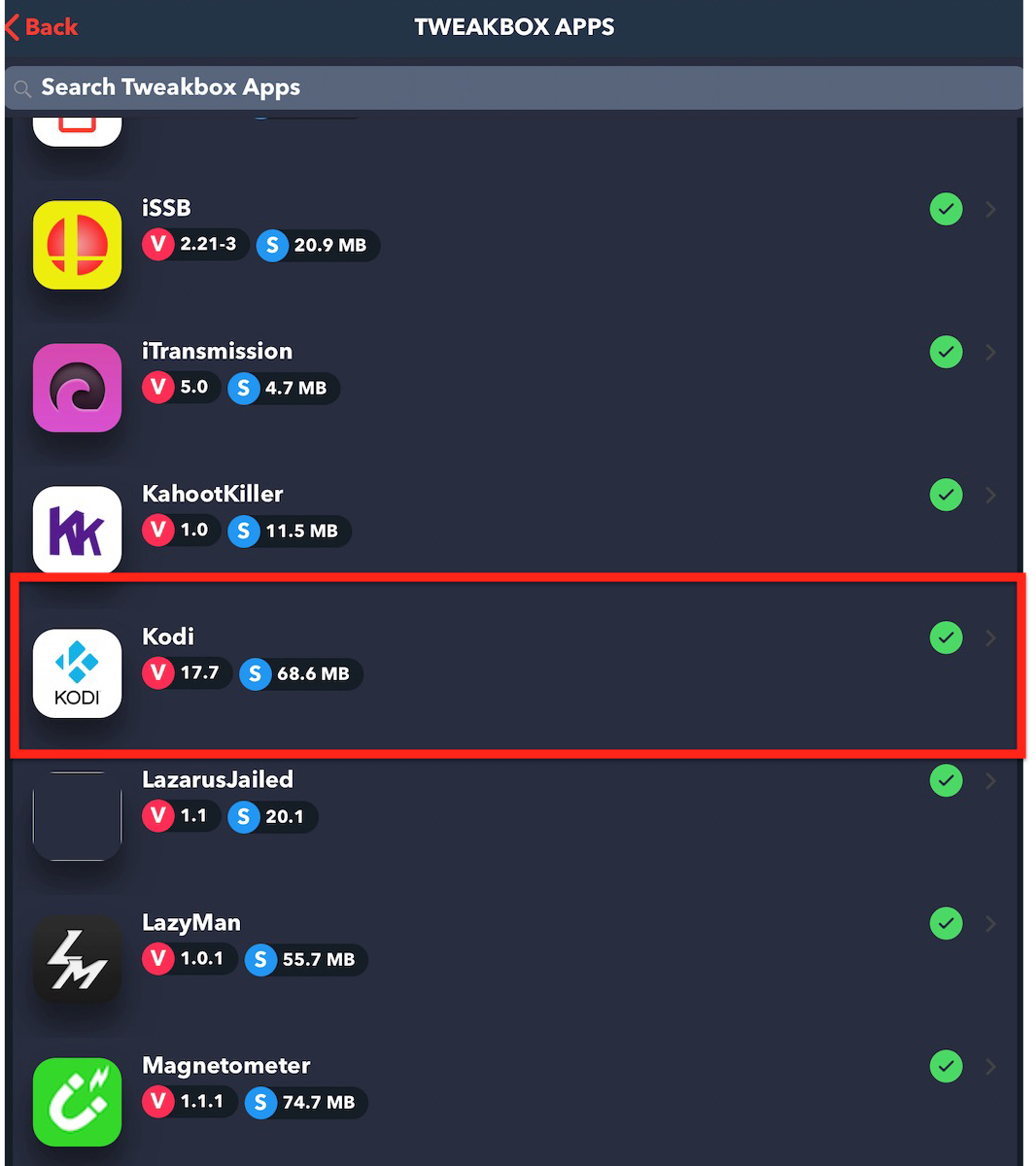 Click on the Kodi app.
Now you will be redirected to another page. You should click on the Install button.

Another notification will pop up, asking permission to install Kodi. Click on the Install button again.
Now wait for a moment to allow the installation process to finish.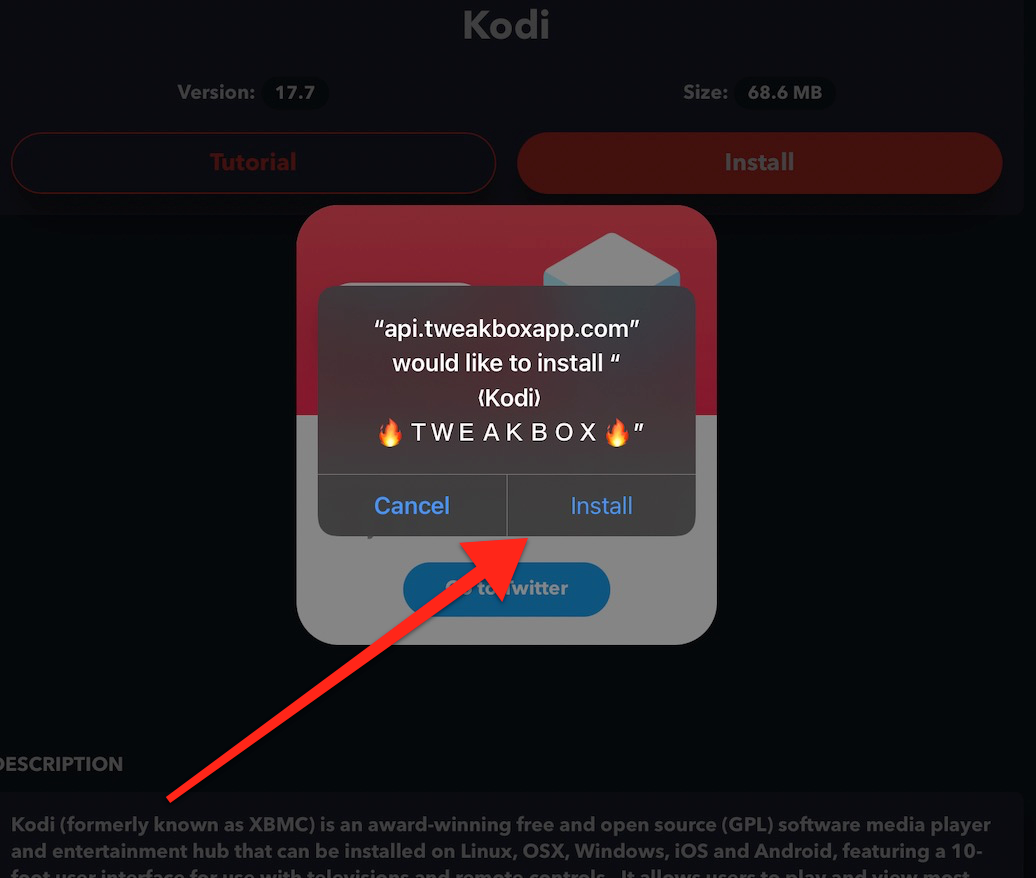 Now go back to the home screen and find Kodi.
Once the installation is over, you will see the Kodi app on your device.
Well done! You've successfully installed Kodi.
The Tweakbox method may not always work. If Tweakbox fails to install Kodi, it may prompt a pop notification as shown in the screenshot below.
Tweakbox may fail to install Kodi using an iOS beta version. Another reason why it may not work is if you have reinstalled the app without deleting the previous version.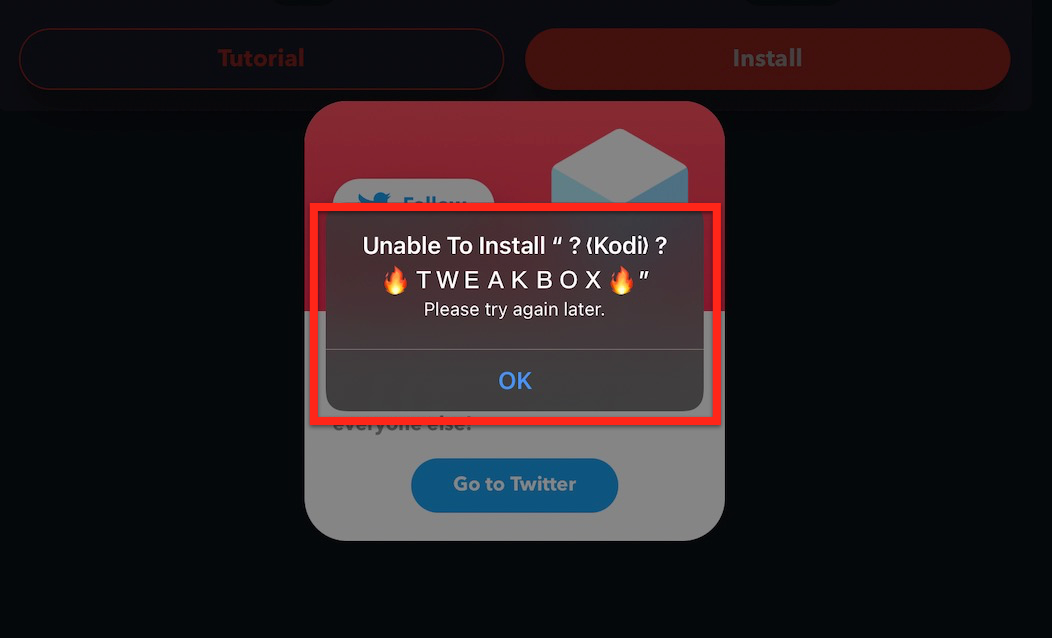 If you receive any notification like this, click OK. You can also uninstall Tweakbox to save space on your device. Also, don't worry, there is another easy method to install Kodi.