Roku is an amazing device for streaming content. NordVPN is one of the most secure VPNs. So using NordVPN on Roku is a no brainer.
NordVPN offers one of the most powerful security features with double VPN encryption and more than 5500 servers across 60 countries. Plus, it supports many operating systems and devices thus installing it is a breeze.
However, for Roku things are working a bit differently.
Roku TV excels in streaming as it has an excellent lineup of media players that allow you to stream your favorite content easily. Though streaming services on Roku are powerful, a lot of content is geo-restricted.
Moreover, Roku itself doesn't support VPN directly and there are no built-in option either.
To unblock the geo-restricted content and stream safely, you must have a VPN on your device.
To use VPN on Roku, you'll need to implement some alternative techniques. Using NordVPN on Roku is sadly not as straightforward as on other devices like mobile phones as you can't install a VPN directly on the Roku device.
But there are a few powerful options to create a set up in which you the best from both NordVPN as well as Roku.
Keep reading to see all your options to get NordVPN on Roku.
Why NordVPN on Roku?
Yes, NordVPN can work with Roku devices but the setup is a bit complex because Roku doesn't support VPN apps. The Roku devices don't support the built-in VPN technology that other streaming devices do, and that's the main issue. Fortunately, we have some alternative ways that allow us to install NordVPN on Roku. You can set up NordVPN on your router directly and enjoy your favorite TV shows and movies. This way, you'll be able to use VPN on devices that don't support VPNs.
There are other ways to install NordVPN Roku too. For instance, you can use the SmartDNS or connect Roku to the VPN connection from Windows. However, you must also note that a Roku device needs an advanced VPN, so you can't just install any VPN because of its geo-restricted content. For this reason, we considered using NordVPN as compared to any unreliable free VPN.
Perks Of Using NordVPN
NordVPN is a strong contender when it comes to VPN connections, it offers speed, reliability, and privacy. Besides that, it also offers amazing long-term subscription offers that allow you to save a lot if you intend to use it frequently. Following are the main advantages of using NordVPN:
Easily bypasses geo-restrictions: NordVPN masks your real identity by hiding your IP address and replacing it with another country's IP address from where you're trying to access the content. Thus, you can watch content from around the world without worrying about geo-blocked content.
No DNS Leaks and fast speeds: Besides speed testing for a VPN, you must also conduct a DNS leak test to determine if the VPN hides your real IP. You can compare your actual IP address with those addresses that are shown on the site and check. Your actual IP address shouldn't match with the other IP addresses, and NordVPN does this replacement very well.
Kill switch for privacy: A Kill switch is an important feature that prevents your identity from being revealed when the server goes down. NordVPN uses two versions of kill switch so that your privacy is never compromised.
Six simultaneous connections: NordVPN allows you to connect six connections simultaneously through one account and allows you to use other devices option. Plus, it supports a wide variety of platforms which means you can keep all of your devices secure.
How Do I Setup NordVPN on Roku?
Nord VPN Roku can be installed using various methods which we'll discuss in this section. You can install the VPN using a physical router setup and through the NordVPN virtual router setup method. Following are the methods:
1. Setup NordVPN On Router
NordVPN allows you to install the software on a router which helps you to connect six devices simultaneously. When you install the VPN on the router, your smart TV will connect automatically. This way, you just have to connect your Roku device to your Smart TV, and the VPN connection will run on it too. However, you must check the router model and see the setup method that suits it. The NordVPN official website has tutorials for different router models that it supports. To give you a general idea, we have jotted down the steps to configure NordVPN on a physical router. Following are the steps to install:
Check if your router model is compatible with NordVPN on this page.
Go through the NordVPN guide for setting up a router.
After installation, choose a VPN server that your Roku device will use.
Connect Roku to your Smart TV and then open Roku.
You can now watch your favorite content on Roku with NordVPN's secure connection.
Keep in mind that the more devices you connect to the router, the slower the VPN speed will be. If you can't install NordVPN on your router, you can try the 'flashing your router' method. Through this method, you can update the firmware of your physical router to newer and more efficient software.
2. Set Up Smart DNS On The Router
NordVPN features a Smart DNS option which allows you to bypass geo-restrictions for streaming devices. This feature replaces the metadata that shows your location with other data that is linked to a whitelisted country for particular content or service. It uses a special proxy that changes the DNS settings and reroutes the traffic. Since Smart DNS doesn't use encryption, it offers better speeds while you stream on Roku. Follow these steps to set up Smart DNS on your router:
1. Disable any VPN connection or proxy on your Roku device.
2. Open your NordVPN account, go to 'Additional Features' and choose 'SmartDNS'. When it's activated it will show you your SmartDNS. There are always two. One main server and one backup. Leave the window open as you'll need the servers IP addresses in one of the next steps.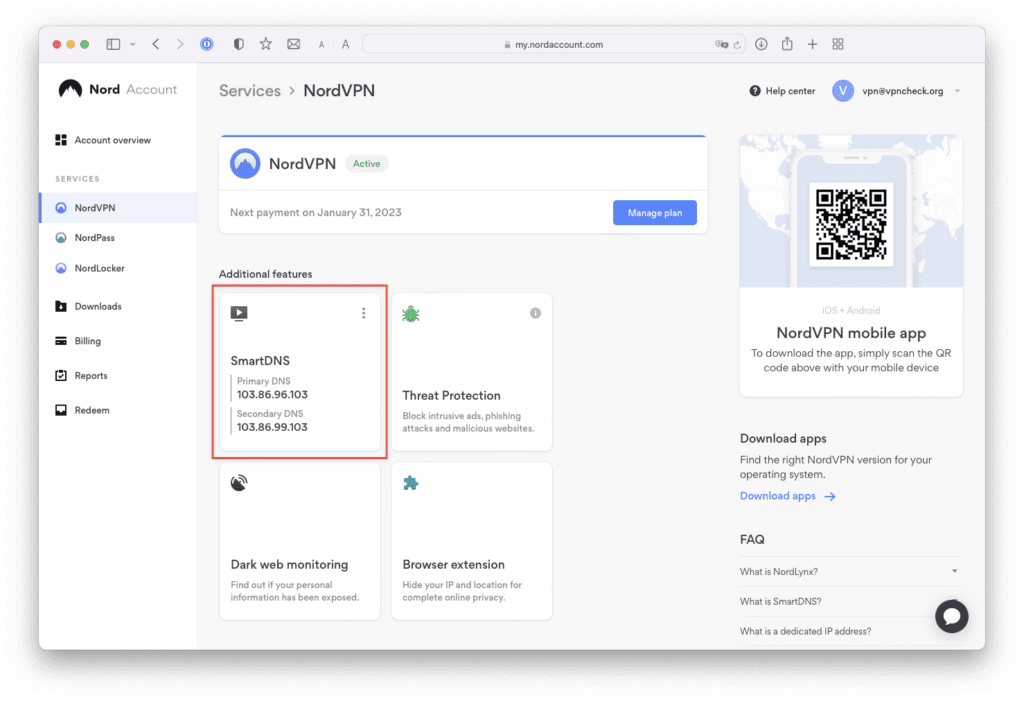 3. You will also shortly receive an email from NordVPN for confirmation that SmartDNS is enabled if you turned it on.
4. Go to your router's control panel. Use these addresses to change the DNS. In my case I have to first deselect the Auto setting which then reveals the fields for entering the new DNS servers.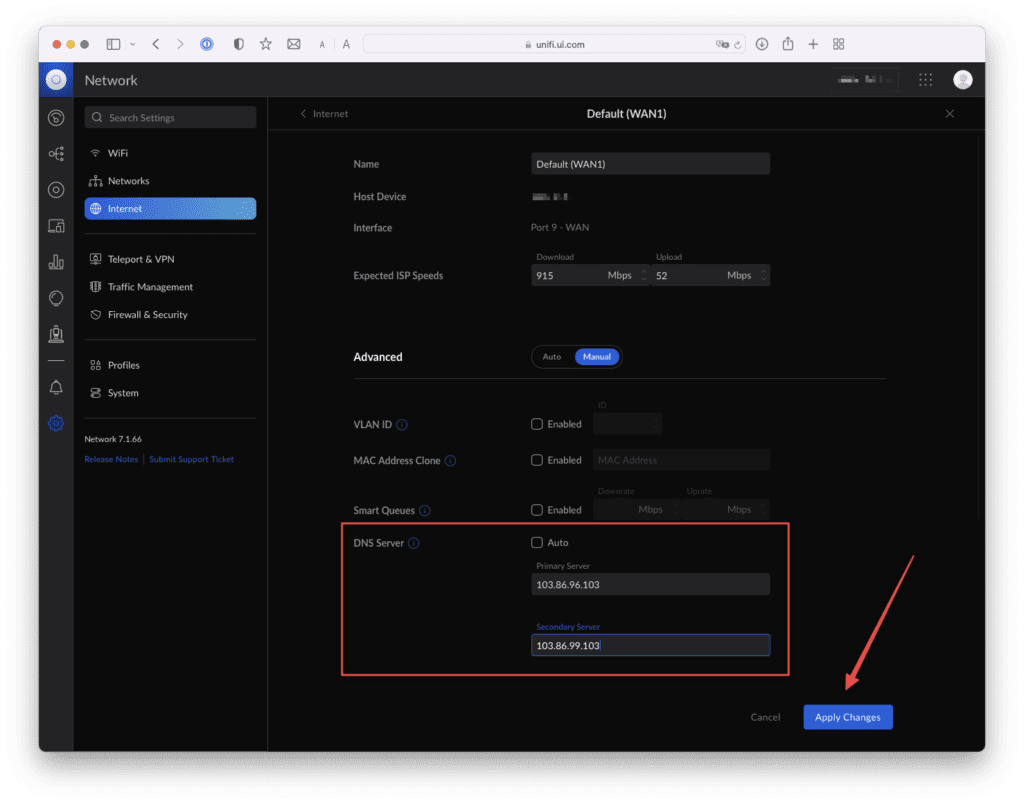 5. Go to your router's settings and click on 'Custom firewall rules. Block Google's DNS on your router from here. This is done because Roku devices come with built-in Google DNS which you can't change. When setting this up, make sure you create two firewall rules, one for the main Google DNS server 8.8.8.8 as well as the backup 8.8.4.4.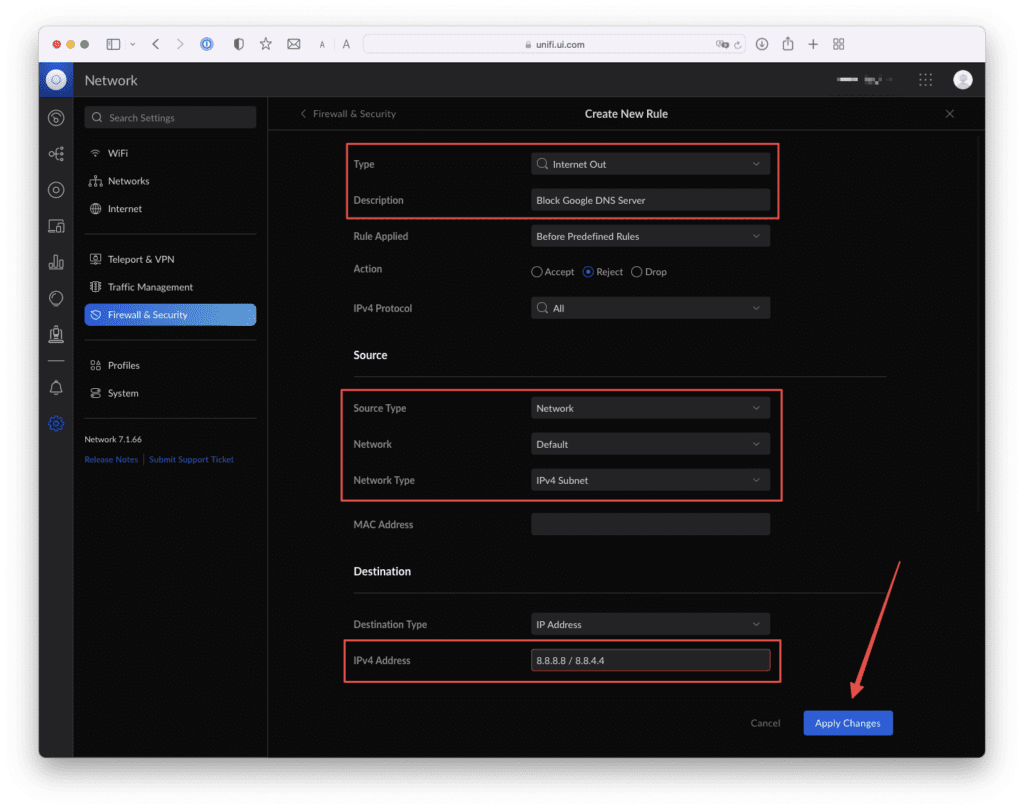 6. After you've blocked DNS on your router, you can start using a VPN connection on your Roku device.
3. Share VPN Connection Over Ethernet
You can also share your VPN connection over ethernet if you feel that your wireless connection is not stable. Before you share a VPN, make sure that you haven't already connected to NordVPN on Roku. To share your VPN connection over ethernet, follow these steps:
1. In the Windows Start Menu, navigate to ethernet.
2. Click on 'Change Adapter Options'.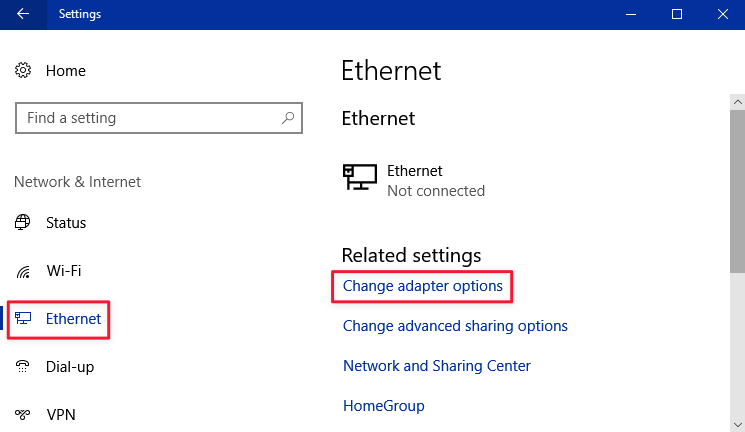 3. Go to the sharing option and check the 'Allow other network users to connect through this computer's internet connection' box.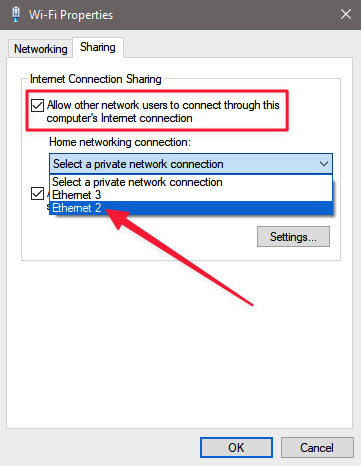 4. Take an ethernet cable and connect your smart TV to the device through the cable.
5. Connect to NordVPN on your computer after your smart TV is verified by the ethernet connection.
6. Choose a server, open Roku, and start using the streaming services.
4. Share VPN Connection Over Wi-Fi
You can also set up a virtual router by sharing the internet connection of your computer via Wi-Fi. That's the way to go if your computer is connected to the internet via ethernet cable. Then you can simply connect your media devices to the Wi-Fi hotspot of your computer. All the traffic will then be routed through your computer's VPN connection.
To do so, you'll have to create a mobile hotspot and then share NordVPN on a Roku device. For this method too, make sure that you haven't already connected to NordVPN. Follow these steps to share a VPN connection over Wi-Fi using a virtual router:
1. Go to the Start Menu on Windows and search for the mobile hotspot option.
2. Find the related Settings option and click on 'Change Adapter Options'.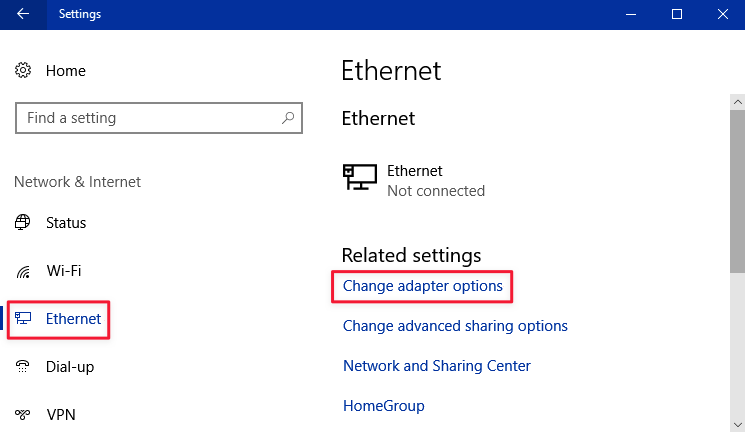 3. Then check the box that says 'Allow other network users to connect through this computer's internet connection' option.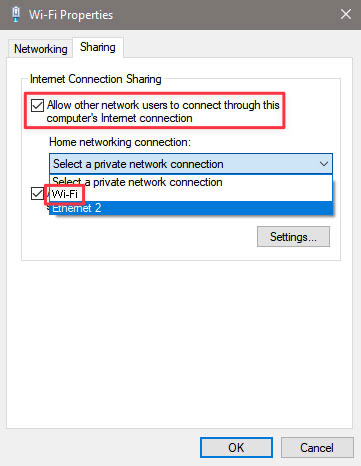 4. Now start a Wi-Fi Hotspot on your computer.
5. Go to your NordVPN app and choose a server to connect to and connect.
6. Now move over to your smartTV and Roku box.
7. Go to the settings of your Roku box and go to Internet Settings.
8. Choose connect to the internet via Wi-Fi and enter the credentials of the Wi-Fi hotspot you just set up on your computer.
9. Start streaming and all of the Roku's traffic will be routed over your WiFi and through your computer's vpn connection.
5. Get A Dedicated VPN Router
If you want to avoid the whole setup process of VPN on the router, you can also buy a dedicated VPN router. Installing a VPN on a router can be troublesome but if you buy a VPN router, your job will become easier. Many routers already come with NordVPN installed on them. NordVPN has on Overview of all supports routers and firmware on their website.
Frequently Asked Questions
Can NordVPN work on my Roku device?
Yes, NordVPN can work on Roku. In this post, we have explained different methods to install NordVPN on Roku. Even though this VPN doesn't have a native app to support Roku, you can use other methods to install it and start streaming from it.
How to Load NordVPN on Roku Stick?
Roku stick works with NordVPN but through the stick, you won't be able to change the server or the VPN's client. However, you can install NordVPN on a Roku stick using the same methods we discussed in this post. Roku Stick has software similar to all the other Roku hardware and thus it is easy to install or load VPN on it too.
Can I put a VPN on Roku?
Since Roku doesn't support the VPN built-in technology you can't put a VPN on Roku. By this, we mean that you can't use a VPN client on Roku but use other ways to use VPN with Roku as we discussed in the post.
What should I do if NordVPN doesn't work with Roku?
There can be a lot of other issues that can stop NordVPN from working on Roku. For instance, if your router is outdated, you'll have to upgrade the firmware. Moreover, if you have connected to a very distant server, you'll experience lagging and buffering with the VPN services. Plus, if you use unofficial streaming apps you might face issues with the NordVPN connection too.
Can I use My Roku in Europe?
Yes, Roku has recently extended its TV licensing program for Europe. Thus, if you want to watch the content from your Roku in Europe, you can use it for the purpose.
Why should I use NordVPN to unblock Roku?
NordVPN allows you to connect to servers from anywhere in the world where the Roku content is available. It does this by changing your IP address so that you access the geo-blocked and restricted content. Since NordVPN uses SmartPlay technology and offers high speed, security, and excellent customer support, you must use it to unblock Roku.
Wrap Up!
Roku doesn't support VPN apps directly, but you can still install NordVPN on Roku using our installation guide. Choose a method according to your convenience and start streaming content from your Roku in a secure way. No matter which method you choose, you'll no longer face any obstacle to the frustrating geo-restrictions by the streaming services on Roku TV.